AN ITALIAN THANKSGIVING
PART ONE
---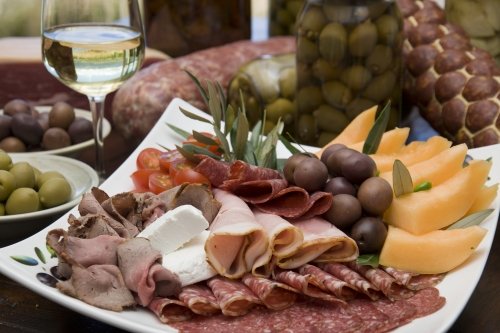 ---
Turkey Day
Another year has gone by and it's time to gather our family and friend together to celebrate the great feast of Thanksgiving. Many families have traditional American Thanksgivings which consist of turkey, cranberries and stuffing. Celebrating Thanksgiving Italian style gives you the opportunity to enjoy many authentic Italian recipes along with your turkey, stuffing and cranberries.
A traditional Italian-American table will consist of antipasti, lasagna, stuffed shells, meatballs, sausage, pastas, meats and desserts. Aren't we lucky! So here are few recipes you and your family may enjoy.
This newsletter will focus on antipasti, pastas and desserts and the following newsletter right before Thanksgiving will concentrate on meats, stuffing and side dishes.
Happy Thanksgiving! Enjoy!
Antipasti
Antipasto Tray
INGREDIENTS
1/2lb. of a Smoked Honey Ham sliced thin
1/2lb. of Prosciutto sliced thin
1/2lb. of hot or mild Copacolla sliced thin
1/2lb. of Genoa Salami sliced thin
1/4lb. of Pepperoni sliced thin
12oz. of Fresh Buffalo Mozzarella cheese
2lb. of Fontinella cheese
1lb. of Asiago cheese
12oz. jar of Imported Pepperoncini
12oz. jar of Roasted Red Peppers
12z. jar of Marinated Artichoke Hearts
1/2pd. of Marinated Italian Green Olives
1/2pd. Of black olives
1 loaf of Fresh Italian Bread
1 or 2 bottles of Italian Red Wine

PREPARATION
Roll the ham, prosciutto, capacolla and salami into toothpicks and arrange on a serving platter.
Arrange the pepperoni on the platter.
Slice the mozzarella into 1/4 inch pieces and arrange.
Slice the fontinella and asiago cheese into 1/2 inch pieces and arrange.
Slice the red peppers, artichokes and arrange.
Place the pepperoni and olives on the plate.
Slice the bread.

Pour the wine in a glass and your ready to eat.

Stuffed Artichokes

INGREDIENTS
4 large artichokes
2 cups of seasoned bread crumbs
3/4 cups of freshly grated Romano cheese
2 cloves of garlic finely chopped
1 small bunch of long green onions finely chopped
1/2 cup of chopped fresh parsley
1/2 tsp of salt
1/2 tsp of fresh ground black pepper
1/2 cup of lemon juice
2 cups of chicken broth

PREPARATION
Prepare artichokes by cutting the stems off the bottom.
Carefully cut the off the tops of the artichokes and pull off the small tough leaves at the bottom.
Snip the pointy tips off the remaining leaves.
Wash thoroughly. Lay the artichokes top down and press with the palm of your hand to loosen the leaves.
Pull out the center of the artichoke.
Immediately dip the artichoke into the lemon juice to prevent them from turning brown.
I usually spoon some in the middle and place the artichokes top down on a plate full of lemon juice while I prepare the breadcrumb mixture.
In a bowl mix the breadcrumbs, cheese, garlic, onions, parsley, salt and pepper.
Stuff the center and the leaves of the artichokes.
In a large pot add the artichokes and pour the chicken broth on top and around the artichokes.
Simmer over medium heat for around 1 hour until the bottom of the leaves are tender.
Just pull a leaf off and make sure they're not tough.
After around 30 minutes check to make sure there is enough broth. If not just add some more.

This dish will serve 4 people.

Pasta Gnocchi with Roasted Garlic, Sage and Tomatoes

INGREDIENTS
1 pound of fresh or packaged gnocchi
1 head of garlic
4 Tbls of extra-virgin olive oil
10 fresh sage leaves
32oz can of chicken broth
1 15oz can of diced tomatoes
1/2 tsp salt
1/2 tsp of fresh black pepper
1/4 cup of fresh grated parmesan cheese

PREPARATION
Pre-heat the oven to 350 degrees
Cut the top of the garlic off.
Drizzle the garlic with 2 Tbls of olive oil
Wrap the garlic in aluminum foil and bake for 1 hour.
Squeeze the garlic pulp into a bowl.
In a small frying pan sauté the sage in the remaining olive oil until they are crisp.
Remove the leaves and drain on a paper towel.
Reserve the oil
Cook the gnocchi in the chicken broth until done.
Drain the gnocchi reserving 1/2 cup of broth.
Toss the gnocchi in the bowl with the garlic.
Add the remaining broth, diced tomatoes, sage oil and pepper.

Serve with parmesan cheese. Serves 4 people

Broccoli and Provolone Alfredo

INGREDIENTS
1 pound of linguini
1 bunch of broccoli, cut into pieces
3 Tbls of butter
2 Tbls of flour
2 cups of heavy whipping cream
1/2 cup of milk
1/4 cup of fresh grated parmesan cheese
8oz of provolone cheese, shredded
1/2 tsp of salt
1/2 tsp of fresh ground black pepper

PREPARATION
In 6 quarts of boiling salted water, cook the pasta until al dente. Around 8 to 10 minutes.
In a large pan sauté the broccoli in the one and a half butter until tender.
In a medium size saucepan melt the remaining butter and stir in the flour.
Add cream and milk and bring to a boil stirring constantly until the mixture thickens slightly.
Stir in the parmesan and provolone cheese and stir until cheese is melted.
Add the broccoli and linguini to the sauce and mix.

Serves 4 people.

Desserts

Pumpkin Cheesecake

INGREDIENTS
7 large egg whites
1 and 1/2 pounds of ricotta cheese
2 large egg yolks
1 cup of sugar
1 and 1/2 cups of pureed canned pumpkin
1 and 1/2 Tbls of vanilla extract
1 and 1/2 tsp of pumpkin pie spice
1 tsp of baking powder
1/4 cup of powdered sugar

PREPARATION
Pre-heat the oven to 350 degrees.
In a large bowl, beat the egg whites until stiff.
In a separate large bowl mix together the ricotta cheese, egg yolks, sugar, pumpkin, vanilla, pumpkin pie spice and baking powder.
Fold in the egg whites.
Pour the mixture into an 8 inch greased and floured spring foam pan.
Bake for 50 minutes to 1 hour.
Cool and refrigerate overnight.
Dust with powdered sugar before serving.

Serves 8 people.

Chocolate Mousse

INGREDIENTS
8oz of semi-sweet chocolate chips
3 eggs
1 cup of whipping heavy cream
1 container of whipped cream
1/4 cup of grated chocolate

PREPARATION
Place the chocolate pieces in a microwavable bowl and microwave for 1 minute or less until soft.
Let the chocolate cool a little.
In a small bowl beat the eggs.
In a larger bowl beat the cream until stiff.
Add the eggs to the chocolate a little at a time, beating on low speed.
Fold the chocolate mixture into the cream.
Refrigerate overnight.
Serve topped with whipped cream and chocolate shavings.

Serves 6 people.



---
Don't forget to click on the logo below and subscribe to my
NEW NEWSLETTER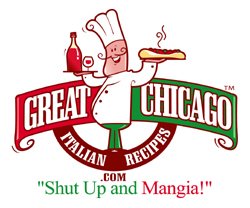 That's a discovery! That' Italian! That's
Great-Chicago-Italian-Recipes.com
Leave Thanksgiving Part One and Return to Italian Recipes
---
---
---
Home | The Italian Grocer | Italian Heritage | Italian Chefs | New Contest | What's New | Restaurant Reviews | Your Reviews | Appetizer Recipes | Soup Recipes | Salad Recipes | Bread Recipes | Vegetable Recipes | Pasta Recipes | Poultry Recipes | Beef Recipes | Pork Recipes | Veal Recipes | Lamb Recipes | Seafood Recipes | Pizza Recipes | Cooking for Kids | Italian Cheese | Italian Wine | Dessert Recipes | Coffee and Espresso| Italian Dinner Music | Food Glossary | About the Cook | Sitemap | Share This Site | Contact | Privacy Policy | Disclaimer | Submit Your Recipes | Your Italian Recipes | Archived Menus