---
Hark! Hark to the wind! 'Tis the night, they say, When all souls come back from the far away- The dead, forgotten this many a day! - Virna Sheard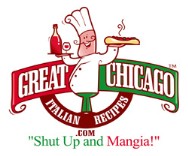 ---
Benvenuto
The October 16st issue of "Shut Up and Mangia!" will touch on two of my favorite subjects, Italian Heritage and Halloween.
October is Italian Cultural Heritage Month and we have been celebrating all month with special dinners and family gatherings.
This past Saturday Chicago hosted it's annual Columbus Day Parade and thanks to good friends, my children had the opportunity to ride on the Chrysler Mancari "Santa Maria" float in this years parade. It was a great experience for them and helped them understand the importance of their heritage.
This years parade theme - Italian-Americans Salute the Performing Arts - honored some of the greatest Italian and Italian-American performers of our time. It was a wonderful celebration of Italian pride and culture and was enjoyed by all.
On October 31st we celebrate Halloween. The kids are already gearing up for the day of the Great Pumpkin by planning their costumes and parties. Though Halloween in Italy is becoming more popular for adults and children, it is normally celebrated on November 1st "All Saints Day" and November 2nd "All Souls Day". Traditionally, these days are reserved to honor family members, friends, saints and martyrs who have passed on.
This October 16th issue will contain more interesting information about Halloween in Italy, five great recipes you can make on Halloween, two great Halloween sites and a couple of great Halloween books. Plus what to do in Chicago to celebrate the holiday.


---
Site News
In keeping up with Italian Cultural Heritage Month please visit my Italian-American Heritage Section and include your stories about your Grandparents, Parents, Aunts or Uncles who immigrated to the United States from Italy. This section is a great place to record your family's name, struggles and successes for future reference.
As promised, the my new Amazon astore, The Great Italian Music Store is open and ready for business. Here you will find a great selection of music performed by your favorite Italian and Italian-American artists all in one place.
If anyone noticed I haven't added any recipes in past couple of weeks due to other commitments. I should be back on track in another week. In the meantime if anybody has some great Italian Recipes they would like to share, please send them through my Share Recipes section as usual. I could use all the help I could get.
Thanks again to everyone for supporting the site by purchasing products from The Italian Grocer and my Cafepress store. These are great products are specifically chosen for all your Italian cooking needs.


---
Restaurant News
A Mano
located at 335 North Dearborn is the latest Italian restaurant brought to you by the folks from Bin 36. This contemporary Roman trattoria boasts hand-made pasta, wood-fired pizza and some very creative Italian dishes brought to you by Chef John Caputo. For reservations call 312-629-3500.
La Madia
is located at 59 West Grand Avenue. This restaurant describes itself as a "refined pizzaria" with a 125 seat dining room and a private wine and pizza tasting room. In addition to pizza they will be serving some great risotto, pasta and cheeses to compliment their huge wine list. For reservations call 312-329-0400.
Macello
is located at 1235 West Lake Street. This new Italian hotspot is brought to you from Giovanni DeNigris from Trattoria Trullo. The Puglia menu features pizza, pastas and more. Along with great food this place features a market where you can purchase cured meats, cheeses and other fine Italian foods from Puglia. For reservations call 312-850-9870.


---
Great Halloween Books
Here are few good books for the kids on Halloween. Scary Stories Boxed Set
by Alvin Schwartz and Stephen Gammell is a great set of stories for the kids to read.
Another book for the little monsters is one of my favorite, Tim Burton's The Nightmare Before Christmas
.
Sit back on Halloween and enjoy these two great books with the kids.


---
Chicago Events
Beginning on October 13th threw October 31st, Chicago hosts The 9th Annual Halloween Pumpkin Plaza located at the Daly Center Plaza. Daley Plaza hosts the Haunted Village which is transformed into Pumpkin Plaza with pumpkin decorating, spooky storytellers and more to thrill and chill. Each day there are performances from the high flying aerial entertainers, Midnight Circus. Daily performances at 11:30am, 12:30pm and 2pm; Thursday-Sunday includes evenings 5:30pm & 7pm.
Every October Chicago's Navy Pier is transformed into Navy Fear. The place is decked out with Halloween decorations and events for the entire family. There is a haunted house with maze rooms, face painting for the kids, inflatable games and storytellers and much more. Navy Fear is located at 600 East Grand Avenue and began on October 8th. For more information visit Navy Pier.com.
For more information on all the Halloween events in Chicago see Chicagoween.us.
---
Great Halloween Sites
Here are a couple of great Halloween sites I found on the net. The first is Halloween.com. one of the best sites for all your Halloween needs.
The second site I found is Halloween-Online.com. These are the only two sites you'll need to enjoy your holiday.


---
Great Italian Halloween Recipes
Here's a few simple recipes you can make to enjoy your holiday. First start off with Blood Orange Prosecco for a nice refreshing drink. Then we have a nice Halloween Pasta Salad, a Pumpkin Risotto, hearty Crock-Pot Italian Roast Beef Sandwiches and for dessert, traditional Beans of the Dead cookies. Just Click Here for your Halloween recipes.


---
Final Thoughts Feel free to email this newsletter to a friend so they can Subscribe to "Shut Up and Mangia!" and begin to enjoy the many Italian recipes we have to offer.

Take Care and have a Happy and Safe Halloween,

Phillip J. Speciale


That's a discovery! That's Italian! That's
Great Chicago Italian Recipes.com




---