"Shut Up and Mangia!"
---
"Saint Joseph was a just man, a tireless worker, the upright guardian of those entrusted to his care. May he always guard, protect and enlighten families".
~ Pope John Paul II
---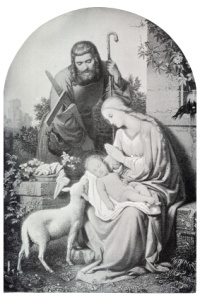 ---
Benvenuti Amici
Festa San Giuseppe
Welcome to the 33rd issue of "Shut Up and Mangia!". This special St. Joseph's day issue will focus on food, family and tradition.
On March 19th we celebrate St. Joseph with a lavish feast. Tavola di San Giuseppe or The St. Joseph's Table is originally a Sicilian tradition which is now celebrated throughout Italy and in Italian-American neighborhoods all over the United States and Canada.
Allegedly this tradition began centuries ago in Sicily during a famine which was caused by drought. During this time no rain fell, the crops did not grow and many people starved. The villagers prayed to St, Joseph to intercede with God to help end this terrible famine. They promised if rain would fall they would prepare a feast in honor of God and St. Joseph.
This year we will be celebrating St. Joseph Day at a friend's house so I will be preparing a few traditional must have St. Joseph's Day dishes for the occasion. Below you will find the complete menu of a few things I'll be cooking that day. Enjoy!
---
Site News
A lot has been happening over the past few weeks including a new look for "Great Chicago Italian Recipes.com". Check it out and let me know what you think. Your opinion counts so if there is anything you would like to see just let me know.
We are looking to increase our readership so if you enjoy Great Chicago Italian Recipes.com, please email our site to your friends and family, post on Facebook or Tweet about a recipe. Circulation of this site is very important to our future. Thank You!
We are happy to announce that our new "Mangia Italiano 2010 Recipe Contest" has begun. Just send us your favorite Italian recipe for a chance to win some great prizes. See below for more details.
"Mangia Italiano Spring 2010
Recipe Contest"


Great Chicago Italian Recipes is proud to present our second Italian recipe contest. Enter your favorite Italian recipe and win any one of these great prizes:

1st place - $100.00 Amazon.com gift certificate
2nd place - wins a "Great Chicago Italian Recipes" Sweatshirt
3rd place - Wins a "Great Chicago Italian Recipes" Cooking Apron
4th place - Wins a "Great Chicago Italian Recipes" Tote Bag
5th place - Wins a "Great Chicago Italian Recipes" Coffee Mug


To enter just fill out the Recipe Contest Form.
Please read our Official Rules before you begin.

Good Luck!
If you get a chance, take a a little time to visit my new site "Mia Cucina Pazzo.com". It's a fun place where I get to write anything I want and share my thoughts on a variety of Italian subjects. Feel free to post your comments anytime. From time to time I will be adding new recipes to both sites.
Great Chicago Italian Recipes is dedicated to adding new and traditional Italian recipes for your enjoyment. The site is getting bigger and better with the addition of "The Italian Grocer" and the"The Great Italian Music Store". Thank You for supporting this site.


---
Great St. Joseph's Day Article
Here is a great article on setting up a St. Josephs Table at In Italy.com
---
St. Joseph's Day Recipes
Here is a list of the featured recipes for your table:

St. Joseph's Bread,
Stuffed Artichokes,
Baccala Alla Siciliana,
Penne Milanese,
Sicilian Cauliflower with Bucatini Pasta,
Sfingi,
St. Joseph's Cream Puffs.
Just click here for a complete menu. Mangia Italiano!
---
Great Recipe Book
If you are looking for new exciting recipes you can always check out my new ebook Mia Cucina Pazzo.

---
Final Thoughts
If you enjoy our newsletter please feel free to email this newsletter to a friend so they can Subscribe to "Shut Up and Mangia!" and begin to enjoy all the Italian recipes we have to offer.
Have a great St. Joseph's Day!
Mangia Italiano!
Take Care,
Phillip J. Speciale