"Mangia Italiano Fall/Winter
Italian Recipe Contest"
Official Rules
---
---
This page contains the official rules. Be sure to read over this information before entering the "Mangia Italiano Fall/Winter Italian Recipe Contest".
When to Enter Contest: The contest begins at midnight (12:00 am) on September 15, 2010 and officially ends just before midnight (11:59 pm) on March 15, 2011. All recipes must be submitted electronically through our recipe submission form on this website.
How to Submit Recipe: Each recipe submission must contain a brief story/description (250 words or less) of what the recipe means to you, your family and/or friends. Your recipe entry must be original, that is, not previous published and/or copyrighted in any form. A photo of the dish must accompany the recipe. The recipe you submit must be an "Italian "Main Dish" recipe only". This means no appetizers, side dishes or desserts.
Recipes must be in standard measurements. List ingredients and quantities in order of use and include complete easy to follow step-by-step preparation and cooking instructions, cooking times, cooking temperatures and number of people recipe serves.
All fields on the recipe submission form must be completed in order for YOU to be an eligible contestant. We assume no responsibilities for entries that are unable to be processed due to internet access problems, service outages or delays, or any other computer technical difficulties or glitches.
Judging: The winner will be determined based on the number of votes and comments submitted by visitors to this site. In the event of a tie, the tied winners will compete against each other for the most visitor votes and comments.
Please Note: We are allowing only one IP address per comment/vote, per recipe. Duplicate IP addresses will be deleted and not counted as a vote.
The grand prize will be awarded as long as there are a sufficient number of eligible entries by the end of the contest. Winners will be notified by email shortly after the contest ends.
Prizes: The recipe submission receiving the most visitor votes and comments will win an "Italian Gift Basket with Keepsake Colander", for 1st Place, 2nd Place wins a CucinaPro 150 Imperia Pasta Machine", 3rd Place wins a "Deruta Orvieto 10 inch Pasta Bowl", 4th Place wins a copy of "The Spiaggia Cookbook: Eleganzia Italiana In Cucina" and 5th Place wins a "Great Chicago Italian Recipes.com" Cooking Apron. In the event of a tie, the tied recipe entries will compete against each other and the recipe receiving the most votes will be declared the winner.
This prize is not transferable and no substitutions are allowed, except by Sponsor due to unavailability, in which case a prize of equal or greater value will be awarded.
If the selected winner is ineligible, unreachable, or fails to claim the prize within seven (7) days, the winners will forfeit their prizes and a runner-ups will be contacted.
Eligibility and Conditions: This contest is open only to legal U.S. and Canadian residents age 18 and over. Professional cooks and chefs as well as home cooks are encouraged to enter this contest. All federal, state and local laws and regulations apply. Void where prohibited. Taxes, if any, are the sole responsibility of the individual winner.
Legal Stuff: By submitting your recipe, you signify acceptance of these Official Contest Rules and, except where prohibited by law, you consent to the use of your first and last name, state or province, country, and/or prize information, without limitation for promotional purposes and without further payment. Your EMAIL Address is safe and will not be shared with anyone.
With each submission, you release great-chicago-italian-recipes.com and affiliated companies from any and all liability for any claims, costs, injuries, losses, or damages of any kind arising out of or in connection with the prize (including, without limitation, claims, costs, injuries, and losses related to personal injuries, death, damage to or destruction of property, or rights of publicity or privacy).
How to Find Out If You Won: The winning recipe will be featured in our March 2011 issue of our newsletter Shut Up and Mangia and the contestant will be emailed once the results are known, on the day following the close of the contest.
Final Points: You agree to be bound by these Official Contest Rules, which are final and binding in all respects.
These Official Contest Rules constitute the entire agreement of the parties with respect to the subject matter addressed here and may not be altered except by a written document signed both parties involved.
To the maximum extent permitted by law, we reserve the right to change these Official Rules at any time. Any entrant who violates these Official Rules will be subject to disqualification.
Return to Recipe Contest
---
Don't forget to click on the logo below and subscribe to my
NEW NEWSLETTER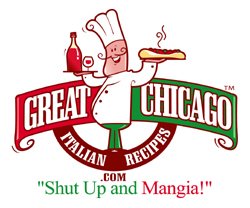 That's a discovery! That' Italian! That's
Great-Chicago-Italian-Recipes.com
Leave "Mangia Italiano Summer 2009 Recipe Contest" Official Rules
and Return to Italian Recipes
---
---
---
Home | The Italian Grocer | Italian Heritage | Italian Chefs | New Contest | What's New | Restaurant Reviews | Your Reviews | Appetizer Recipes | Soup Recipes | Salad Recipes | Bread Recipes | Vegetable Recipes | Pasta Recipes | Poultry Recipes | Beef Recipes | Pork Recipes | Veal Recipes | Lamb Recipes | Seafood Recipes | Pizza Recipes | Cooking for Kids | Italian Cheese | Italian Wine | Dessert Recipes | Coffee and Espresso| Italian Dinner Music | Food Glossary | About the Cook | Sitemap | Share This Site | Contact | Privacy Policy | Disclaimer | Submit Your Recipes | Your Italian Recipes | Archived Menus