"Shut Up and Mangia!"
---
Love is a canvas furnished by Nature and embroidered by imagination.  ~Voltaire
---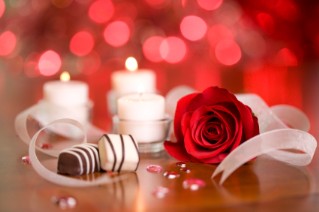 ---
Benvenuti Amici
Buon San Valentino
Welcome to the 31st issue of "Shut Up and Mangia!". This special St. Valentine's day issue will focus on food, love and romance. All three go very well together.
On February 14th, couples all over the world will exchange gifts and share a special meal with someone they love. So I put together a simple menu to help you celebrate this great day. All you need is a little music, some chocolate and that special someone in your life.
The best way to enjoy this menu is to cook it together. Shop for the ingredients together, cook together, eat together then use your imaginations. Enjoy!
---
Site News
Take a a little time to visit my new site "Mia Cucina Pazzo.com". It's a fun place where I get to write anything I want and share my thoughts on a variety of Italian subjects. From time to time I will be adding new recipes to both sites.
Also it's almost ready. I'm currently finishing up the final touches on "iMangia.tv". Visit the site now for a sneak preview. If you are a chef or a home cook or know of anybody who want to promote their restaurants or websites, please let them know. We're building an online community focusing just on Italian cuisine only. Membership is free.
Great Chicago Italian Recipes is dedicated to adding new and traditional Italian recipes for your enjoyment. The site is getting bigger and better with the addition of "The Italian Grocer" and the"The Great Italian Music Store". Thank You for supporting this site.


---
Great Romantic Cookbooks
This first book A Taste for Love: A Romantic Cookbook for Two
by Elizabeth Harbison is not only full of great romantic recipes but also includes poetry and decorating advice. Also included included is advice on what music to play in order to get you lover in the mood. The second book, The Seduction Cookbook: Culinary Creations For Lovers
by Diane Brown, features much more than romantic recipes.
---
Fun Valentine's Day Site
Here is a fun St. Valentine's Day site I found that is full of great ideas and surprises. Visit "St. Valentines Day.org" for more details.
---
Chicago Restaurants for St. Valentines Day
Vivo
is located at 838 West Randolph St. in Chicago This restaurant is one of the best romantic places in the city. Vivo is offering a special 3 course Valentines Day menu all weekend long. For reservations call 1-312-373-3379.

Merlo on Maple
located at 16 West Maple. This restaurant will be serving up festive holiday specials for you and your loved one. For reservations call 1-312-335-8200.
Fred's at Barneys New York
located at 15 West Oak Street. Fred's is offering a special Valentine's menu and a special gift for your sweetheart. For reservations call 1-312-596-1111.

Tuscany on Taylor
located in the heart of little Italy at 1014 West Taylor St. has an extensive Chef's menu and a special Valentine's Day dessert. For reservations call 1-312-829-1990.
---
Valentine's Day Italian Style Recipes
Here is a list of the featured recipes for this holiday. First is theBresaola with Arugula then followed by Chicken Tortellini Soup, Peppered Filet Mignon with a Wine Sauce, Raspberry Chicken and White Chocolate Fondue.
These recipes are perfect for a great romantic evening. Just click here and enjoy. Mangia Italiano!
---
Mia Cucina Pazzo
If you are looking for new exciting recipes you can always check out my new ebook Mia Cucina Pazzo.

---
Final Thoughts
If you enjoy my site please feel free to email this newsletter to a friend so they can Subscribe to "Shut Up and Mangia!" and begin to enjoy the many Italian recipes we have to offer. Have a great St. Valentine's Day!
Mangia Italiano!
Take Care,
Phillip J. Speciale