St. Valentines Day
Italian Style
---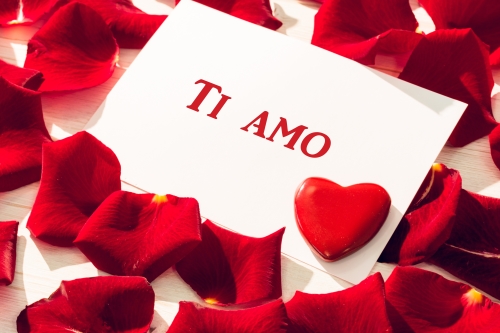 ---
Romantic
Bring the romance of Italy into your home by preparing an elegant Italian Style dinner for two. A little dinner, some wine, a great movie and a box of Baci Perugina chocolates will guarantee a great evening.
In Italy, the romantic Festival of St. Valentine's Day is celebrated by lovers who express their love and affection for each other by exchanging gifts throughout the day. In the early days St. Valentines day was simply celebrated by young people who strolled in gardens listening to music and reading poetry.
You can celebrate St. Valentine's Day by decorating the table with linen, scented candles and flowers. Create a delicious meal, dim the lights and don't forget the Italian music. This menu will definitely help set the mood.
---
Buon San Valentino
A simple elegant dish to start with is Bresaola with Arugula. It is made with salted and seasoned aged beef which is produced in Valtellina. The meat must be thinly sliced and should be tender, lean and moist. This recipe is very common in Italy and can be ready in a few minutes.
INGREDIENTS
8oz of thinly sliced Bresaola
1 cup of Parmesan cheese, shaved
Around 4oz of arugula
5 Tbls of extra virgin olive oil
salt and fresh ground black pepper to taste

PREPARATION
Cover a serving platter with the Bresaola overlapping the edges.
Sprinkle the shaved cheese over the top.
Wash and dry the arugula.
Place the pieces of arugula over the cheese and meat.
Drizzle with olive oil
Season with salt and pepper.
---
The next dish will be a nice bowl of Chicken Tortellini Soup to warm your heart.
INGREDIENTS
1 pound package of frozen tortellini
5 carrots sliced into circles
4 stalks of celery cut into small pieces
1 large yellow onion sliced
2 cloves of garlic, chopped
3 Tbls of extra virgin olive oil
6 cups of chicken broth
2 bay leaves
3 boneless chicken breast
15oz cans of diced tomatoes
Salt and pepper to taste
1/2 cup of Parmesan cheese

PREPARATION
In a large pot sauté the carrots, celery, onions, and garlic in the olive oil for 2 minutes.
Add the chicken broth and the bay leaves and bring to a boil
Add chicken and cook for around 15 minutes.
Reduce heat and simmer for about a half hour
Remove chicken, shred and return to soup.
Add the tomatoes and season with salt and pepper
Add tortellini for around 10 to 15 minutes and your ready to serve.

Don't forget to remove the bay leaves before serving. Ladle the soup in a bowl and top with Parmesan cheese.
---
These next two entrees are simple and elegant. Choose one for your Valentine's Day dinner.
Peppered Filet Mignon with a Wine Sauce
INGREDIENTS
2 6oz filet mignon steaks 1 and ½ inches thick
Coarsely crushed fresh black pepper
1 tsp salt
3 Tbls of extra virgin olive oil
2 Tbls of butter
1 shallots, sliced
6 baby portabella mushrooms, sliced
1 clove of garlic, chopped
½ tsp of dried oregano
½ tsp of dried basil
1 60z can of tomato paste
½ cup of beef broth
2 cups of red wine
2 Tbls of butter

PREPARATION

PREPARATION
Generously season the steaks with salt
Grind the peppercorns onto a plate.
Roll the sides of the filets into the pepper.
Heat the oil and butter in a large frying pan.
Fry the steaks for around 5 minutes on each side.
Remove the steaks and cover with foil
Add the shallots, mushrooms, garlic, oregano and basil to the pan and sauté for 2 to 3 minutes.
Stir in the tomato paste and cook for another 2 minutes.
Pour in the broth and deglaze the pan while scrapping all the brown bits off the bottom.
Stir in the wine and bring to a boil.
Reduce the heat and simmer until the sauce is reduced to less than half
Add 2 Tbls of butter
Pour the sauce onto a plate and top with the fillets.
Serve extra sauce on the side in a gravy bowl.

Serve with sautéed string beans or sautéed spinach and two boiled potatoes.
---
Raspberry Chicken
INGREDIENTS
2 boneless chicken breasts
1/2 cup of flour, for dredging
1/4 tsp of salt
1/8 tsp of fresh ground black pepper
3 Tbls of butter
1 Tbls of vegetable oil
1 bunch of long green onions, finely chopped
1/2 cup of Sweet Marsala wine
1/2 pound of fresh raspberries
1/4 cup of raspberry jam
1/2 cup of heavy whipping cream
1/4 tsp of dried tarragon

PREPARATION
Butterfly the chicken breasts and pound thin.
In a medium size bowl mix together the flour, salt and pepper.
Dredge the chicken in the flour
In a large frying pan sauté the chicken in the butter and oil for 2 minutes on each side.
Remove the chicken from the pan and set aside. Keep warm.
Add the onions to the pan and cook for 2 minutes.
Deglaze the pan with the Marsala wine.
Add the raspberries, jam, cream and tarragon.
Heat through for about 2 to 3 minutes.
Plate the chicken and pour over the raspberry sauce

Serve with sautéed baby spinach with a raspberry vinaigrette
---
White Chocolate Fondue
INGREDIENTS
1 cup of heavy whipping cream
½ stick of unsalted butter
1 12oz packages of white chocolate morsels or dark chocolate if you prefer.
1 apple, cored and sliced
2 bananas, cut into pieces
8 strawberries
Cookies
Pretzels

PREPARATION
In a large saucepan bring the cream and butter to a simmer.
Remove the pan from the heat.
Stir in chocolate morsels until melted.
Transfer chocolate to a bowl or fondue pot and serve with fruit, pretzels and cookies.

Have a great St. Valentines Day

Mangia Italiano!



---
Don't forget to click on the logo below and subscribe to my
NEW NEWSLETTER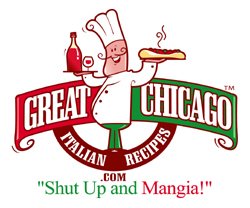 That's a discovery! That's Italian! That's
Great-Chicago-Italian-Recipes.com
Leave Valentine Day Italian Style and Return to Italian Recipes
---
Home | The Italian Grocer | Italian Heritage | Italian Chefs | New Contest | What's New | Restaurant Reviews | Your Reviews | Appetizer Recipes | Soup Recipes | Salad Recipes | Bread Recipes | Vegetable Recipes | Pasta Recipes | Poultry Recipes | Beef Recipes | Pork Recipes | Veal Recipes | Lamb Recipes | Seafood Recipes | Pizza Recipes | Cooking for Kids | Italian Cheese | Italian Wine | Dessert Recipes | Coffee and Espresso| Italian Dinner Music | Food Glossary | About the Cook | Sitemap | Share This Site | Contact | Privacy Policy | Disclaimer | Submit Your Recipes | Your Italian Recipes | Archived Menus