---
ďOnly the pure in heart can make a good soupĒ
- Ludwig van Beethoven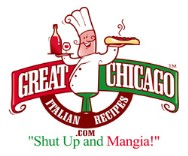 ---
Benvenuto
The October 1st issue of "Shut Up and Mangia!" will focus on some great Italian Soups recipes.
Whether itís Italian or not, soup always makes a great meal. In Italy there are just about as many soups as there are pasta recipes. Soups in Italy are just about as diverse as their regions.

There is Venitian Rice and Peas, Stracciatta from Rome, Tortollini in Brodo from Bologna and the every popular Pasta e Fagioli from Tuscany. And letís not forget the very hearty Ministrone soup from Naples and the Campagnia Region. Since Italy is a coastal county surrounded by water on three sides, each town has their own variation of Zuppe di Pesce, the infamous fish soup.
No matter what soup you decide to make always remember the fresh stock is always the best. I understand that in this day and age itís very time consuming to make a fresh stock. In order to expedite any soup recipe, canned broth can be substituted. Just remember canned stock is high on sodium and preservatives. Use the low fat, low sodium brands for the best results.
This newsletter will provide you with five soup recipes plus there are still a few good Soup Recipes on the site for you to choose from. Enjoy!


---
Site News
Coming up this week I will be adding another Amazon store that focuses on Italian Dinner Music. Here you can choose items from an extensive list of Italian and Italian-American artists and composers. Music is an important part of Italian cuisine and culture, so I thought it was a good idea to include this section.
Coming up by the first of the year I will be adding Content 2.0 to the site to make it easier for everyone to contribute recipes, heritage stories, comments and suggestions.
In the meantime if anyone has any great recipes they would like to add just submit them through the Share Recipes section as usual.
Thanks to everyone supporting for the site by purchasing products from The Italian Grocer and my Cafepress store. These are great products are specifically chosen for all your Italian cooking needs.


---
A Great Place for Soup
The SoupBox
is one of the very best spots for great soup. This place serves up twelve fresh soups every day during the winter. In the summer the place turns into the Icebox that serves some of the best Italian ice in the city. The SoupBox is located at 2943 North Broadway, 50 East Chicago Avenue and at 500 West Madison Avenue. Visit them at The SoupBox.com
---
Great Italian Soup Books
Author Ann Bianchiís great book Zuppa: Soups From The Italian Countryside
is a must have in any kitchen. The book is devoted to soups in the Northern Tuscan region of Italy and filled with authentic Italian soup recipes.
Another great book to have is Good & Garlicky, Thick & Hearty, Soul-Satisfying, More-Than-Minestrone Italian Soup Cookbook
. This book, by Joe Famularo, include soups from many regions of Italy. Soups like Abruzzi Chickpea and Chestnut Soup and Five-Fish Soup from Livorno are featured in the book including many others.
---
Events
The Chicago International Film Festival begins on October 4th thru October 17th . The Festival is your chance to preview many incredible films before they hit the mainstream. From the latest Brad Pitt movie to artistic films from Paris to high-budget monster movies, the Chicago International Film Festival has an option for everyone. The events are located throughout various theaters throughout Chicago. For more information visit The Chicago International Film Festival.org.
Beginning on October 13th and ending on October 31st Chicago hosts The 9th Annual Halloween Pumpkin Plaza located at the Daly Center Plaza. Daley Plaza hosts the Haunted Village which is transformed into Pumpkin Plaza with pumpkin decorating, spooky storytellers and more to thrill and chill. Each day there are performances from the high flying aerial entertainers, Midnight Circus. Daily performances at 11:30am, 12:30pm, & 2pm; Thursday-Sunday includes evening, 5:30pm & 7pm
---
Great Soup Sites
A great site for all different kind of soups visit Soup Song.com. This site is fun and informative and has everything you need to know about soup.
Another great site for soups is Techsoup.org. This site has a delicious recipe for Tuscan Bean Soup plus plenty of other soup recipes to keep you busy for a long time.
---
Great Italian Soup Recipes
Here are a few of my favorite Soup recipes which are not included on my site. Try the Italian Red Onion Soup, the Italian Sausage and Tortellini Soup, the delicious Escarole and Lentil and the Italian Cabbage Soup recipe, plus an excellent Sweet Yellow Pepper Soup.
---
Final thoughts
Feel free to email this newsletter to a friend so they can Subscribe to "Shut Up and Mangia!" and begin to enjoy the many Italian recipes we have to offer.
Take Care,
Phillip J. Speciale

That's a discovery! That's Italian! That's
Great Chicago Italian Recipes.com
---