---
Life is uncertain. Eat dessert first. - Ernestine Ulmer
---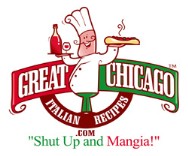 Benvenuto
This September 1st issue of "Shut Up and Mangia!" will focus on Just Desserts. While writing this section I just ate an ťclair before dinner. Was that wrong? I donít think so. Though I did make my kids wait until after dinner.
Italian desserts are usually light considering that the main dishes are usually made with pastas, rich sauces and cheeses. If your lucky, youíll have room for tiramisu or a cannoli after a great Italian meal.
This issue will include five dessert recipes, some great dessert sites, great Chicago dessert restaurants and some of my favorite dessert books.


---
Site News
Thanks to all of you for supporting the site by purchasing our "Shut Up and Mangia!" products from my Cafepress store.
Also if you need specialty Italian foods donít forget The Italian Grocer where youíll find some great Italian product.
---
Top Dessert Restaurants in Chicago
Ghirardell Chocolate Shop and Soda Fountain
located at 830 North Michigan Avenue is a must if your ever in Chicago. You canít walk by this place without smelling chocolate from the sidewalk. There is nothing better than chocolate from one of Italyís best chocolate maker.
Bittersweet
at 1114 west Belmont Ave. is a great spot to stop for dessert. Serving up anything from tiramisu to cheesecakes, this pastry shop in Chicagoís Lake View neighborhood is sure to delight young and old.
Sweet Thang
located at 1921 W. North Ave. features excellent cakes and pastries. This brightly decorated establishment is a great place to enjoy a cup of coffee and desserts.
GibsonĎs Steakhouse
located at 1028 North Rush St. has the most delicious desserts. I canít help mentioning my friends at Gibsonís since I actually had dessert their last Sunday. Service is always the best and the desserts are huge. Definitely try the Macadamia Turtle Pie or the Chocolate Mousse Pie.
---
Book Review Here are two great dessert books to get you started. The first book, Cooking Light Desserts, is 144 pages of light desserts to compliment any meal. This book is definitely for anybody that eats too much pasta.

The second book, Wine Lovers Dessert Cookbook is two books in one. Not only do you get delicious dessert recipes, it also tells you which dessert wines go with your favorite dessert. I hope you enjoy these two books as much as I did.
---
Events
In keeping with our dessert theme, get ready for The 11th Annual Eli's Cheesecake Festival on September 15th and 16th. Located at 6701 West Forest Preserve Drive, this festival hosts plenty of activities and all the cheesecake you can eat. Visit their site at The 11th Annual Eli's Cheesecake Festival. for all the details.
Also in September, Chicago features the World Music Festival 2007 on September 14 through the 20th. Visit their site for scheduled events at World Music Festival 2007.
---
Italian Dessert Sites
Here is a few of my favorite Italian Dessert Sites just in case mines not enough. I've found some great traditional recipes at Life in Italy.com and Italian-Desserts.com
---
Great Dessert Recipes
Here are a few of my favorite dessert recipes which are not included on my site. Try the Amaretti Cookies, the Coconut Ball Cookies, the delicious Chocolate Torte and Tortoni recipes, plus Marscapone with Peaches.
---
Final thoughts
Feel free to email this newsletter to a friend so they can Subscribe to "Shut Up and Mangia!" and begin to enjoy the many Italian recipes we have to offer.
Take Care,
Phillip J. Speciale

That's a discovery! That's Italian! That's
Great Chicago Italian Recipes.com
---