---
Part of the secret of success in life is to eat what you like and let the food fight it out inside. - Mark Twain
---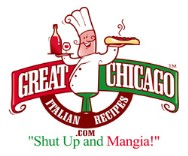 Benvenuto
The August 15th issue of "Shut Up and Mangia!" will focus on our love of pizza. Since the kids are getting ready to go back to school, a pizza party would be a nice send off. Besides eating pizzas, the best part is getting the whole family together to make them. Unfortunately my kids prefer "Pizza Hut" over my homemade pizza but we still make it every so often.
---
Site News
For those of you who emailed me regarding our "Shut Up and Mangia!" logo, you can now visit my store at Cafepress to purchase your t-shirts, sweatshirts, chef's aprons, etc..
The wine section should hopefully be finished by the middle of next month. I'm still waiting on the wine pairing to be completed along with the other remaining pages.
Thanks again for purchasing products through The Italian Grocer. I've posted a wide variety of Italian products to help prepare some of your favorite dishes.
---
Top Pizza Places in Chicago
Pizzaria Uno
is the home to Chicago's first deep dish pizza and is located at 29 East Ohio Street. Phone 312-321-1000 for reservations.
Phil's Pizza
is my favorite South Side pizza place. I order from here once a week no matter what. Phil's is located at 1102 West 35th Street. Phone 773-523-0947 for delivery.
Giordano's
world famous stuffed pizza is located at 730 North Rush. Phone 312-951-7988 for reservations.

Lou Malnati's
is one of my favorite sit down pizza places. You can also have their pizza delivered anywhere in the USA. Lou Malnati's is located at 439 North Wells Street. Phone 312-828-0746 for reservations. Plus they have 24 other locations.
Gino's East
is a long standing Chicago pizza place with over forty years in the business. Gino's East located at 633 North Wells. Phone 321-943-1124 for reservations.
---
Book Review
"The Great Chicago-Style Pizza Cookbook" by Pasquale Bruno Jr. is a must for any pizza lover. This book features some classic deep-dish pizza recipes as well as a variety of stuffed and thin crust recipes. Best of all it instructs you on pizza making techniques and describes all the tools necessary to making a great tasting pizza.






---
Events
The Chicago Air and Water Show is scheduled for August 18 and 19 at the lakefront between Fullerton Ave. to Oak Street. Starting at 9:00a.m., the show will feature performances from the U.S. Air force Thunderbirds, the Lima Lima Flight Team, and the Aero Shell Aerobatic Team among a host of others. For futher information visit The Chicago Air and Water Show.
The 29th Annual Chicago Jazz Festival begins August 30 and runs through September 2nd. Chicago's longest running lakefront music festival is the place to be Labor Day weekend. For location and a schedule of events visit Chicago Jazz Festival
---
Pizza, Pizza, Pizza
Here is a couple of great pizza sites to help you understand the true science of pizza. Pizza is not a food, it's a lifestyle. One great site I visited was Pizza Therapy.com the other is About Pizza.com. Both of these site have an unbelievable amount of information on preparing the perfect pizzas.
If your looking for great pizza places throughout the country, visit Pizza Joints.com. They'll help you find any pizza place wherever you are.
---
Great Pizza Recipes
As promised here are a few of my favorite pizza recipes not included on my site. Try the "Portabello Pizza", the "Asparagus and Procsiutto Pizza", the "Shrimp and Fontina Pizza" and the "Mediterranean Pizza". I also threw in a "Chocolate Cookie Pizza" recipe for dessert.
---
Final thoughts
Feel free to email this newsletter to a friend so they can Subscribe to "Shut Up and Mangia!" and begin to enjoy the many Italian recipes we have to offer.
Take Care,
Phillip J. Speciale

That's a discovery! That's Italian! That's
Great Chicago Italian Recipes.com
---