"Shut Up and Mangia!"
---
A mother is a person who seeing there are only four pieces of pie for five people, promptly announces she never did care for pie.  ~Tenneva Jordan
---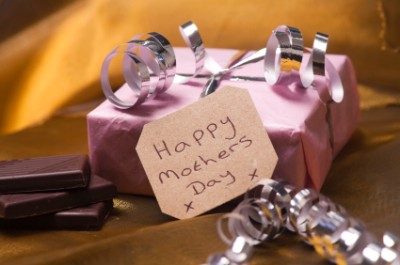 ---
Benvenuti Amici
Felice Festa della Mamma
Welcome to the 34th issue of "Shut Up and Mangia!". This special Mother's Day issue will focus on Mamma and her favorite recipes.
I remember my Mother cooking in the kitchen expertly preparing meals that she learned to prepare from her Mother. In an Italian Mother's world, food is love and you get plenty of it whether your related or not.
Though my Mother is not with us anymore, I thought it fitting to prepare a menu using the dishes she enjoyed the most. I remember in her later years how her eyes would light up if I just mentioned pasta and cauliflower or stuffed artichokes. When she stopped cooking it was up to me to make all her favorites which she demanded on a regular basis.
It still amazes me how food can put us in time and place. It brings a smile to my face when I recall all the great times we had cooking and sharing meals together. So if your Mother is still with you cook for her. This is something she will appreciate more than anything else.
---
Site News
This is just a reminder that our contest will end in a little over one month from now so enter "Mangia Italiano 2010 Recipe Contest" now. Just send us your favorite Italian recipe for a chance to win some great prizes. See below for more details.
"Mangia Italiano Spring 2010
Recipe Contest"


Great Chicago Italian Recipes is proud to present our second Italian recipe contest. Enter your favorite Italian recipe and win any one of these great prizes:

1st place - $100.00 Amazon.com gift certificate
2nd place - wins a "Great Chicago Italian Recipes" Sweatshirt
3rd place - Wins a "Great Chicago Italian Recipes" Cooking Apron
4th place - Wins a "Great Chicago Italian Recipes" Tote Bag
5th place - Wins a "Great Chicago Italian Recipes" Coffee Mug


To enter just fill out the Recipe Contest Form.
Please read our Official Rules before you begin.

Good Luck!
If you haven't had a chance to visit my new site "Mia Cucina Pazzo.com" do so now. It's a fun place where I get to write anything I want and share my thoughts on a variety of Italian subjects. Feel free to post your comments anytime. I'm doing my best to add new recipes and some interesting articles on various Italian topics..

Great Chicago Italian Recipes is dedicated to adding new and traditional Italian recipes for your enjoyment. The site is getting bigger and better with the addition of "The Italian Grocer" and the"The Great Italian Music Store". Thank You for supporting this site.


---
Mother's Day Recipes
Here is a list of the featured recipes for you to celebrate Mother's Day.
Stuffed Artichokes
Tomato, Onion and Cucumber Salad,
Mostaccioli with Cauliflower,
Breaded Pork Cutlets with Red Gravy,
Ricotta Cheesecake.

Just click here and enjoy. Mangia Italiano!
---
Great Recipe Book
If you are looking for new exciting recipes you can always check out my new ebook Mia Cucina Pazzo.

---
Final Thoughts
If you enjoy our newsletter please feel free to email this newsletter to a friend so they can Subscribe to "Shut Up and Mangia!" and begin to enjoy all the Italian recipes we have to offer.
Have a Happy Mother's Day!
Mangia Italiano!
Take Care,
Phillip J. Speciale