Mothers Day Menu
---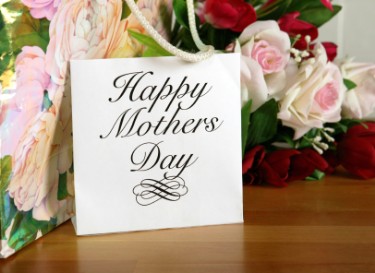 ---
Felice Festa della Mamma
Here is a great Mother's Day menu I hope you will enjoy. It's made up of my Mother's favorite dishes which I'm sure she would be happy to share with everyone.
There is no better way to show your love and appreciation than to cook for your Mother on her special day. Either choose a dish from the menu below or find out what her favorite dish is and prepare it.
I remember many memorable moments cooking for my Mother. She would always complain when I didn't make things exactly the way she wanted. So I would keep on cooking until I got it right. Enjoy the day and enjoy the time spent with your Mamma.
Stuffed Artichokes
INGREDIENTS
4 large artichokes
2 cups of seasoned bread crumbs
3/4 cups of freshly grated Romano cheese
2 cloves of garlic finely chopped
1 small bunch of long green onions finely chopped
1/2 cup of chopped fresh parsley
1/2 tsp of salt
1/2 tsp of fresh ground black pepper
1/2 cup of lemon juice
2 cups of chicken broth

PREPARATION
Prepare artichokes by cutting the stems off the bottom.
Carefully cut the off the tops of the artichokes and pull off the small tough leaves at the bottom.
Snip the pointy tips off the remaining leaves. Wash thoroughly. Lay the artichokes top down and press with the palm of your hand to loosen the leaves. Pull out the center of the artichoke.
Immediately dip the artichoke into the lemon juice to prevent them from turning brown. I usually spoon some in the middle and place the artichokes top down on a plate full of lemon juice while I prepare the breadcrumb mixture.
In a bowl mix the breadcrumbs, cheese, garlic, onions, parsley, salt and pepper.
Stuff the center and the leaves of the artichokes.
In a large pot add the artichokes and pour the chicken broth on top and around the artichokes.
Simmer over medium heat for around 1 hour until the bottom of the leaves are tender. Just pull a leaf off and make sure they're not tough. After around 30 minutes check to make sure there is enough broth. If not just add some more.

Serves 4 people



---
Tomato, Onion and Cucumber Salad
INGREDIENTS
1 large cucumber
2 beef steak tomatoes
1 red onion
1 tsp dried basil
1 tsp of dried oregano
1/4 cup extra virgin olive oil
1/4 cup of red wine vinegar

PREPARATION
Wash tomatoes and cucumber
Cut tomatoes and cucumber into cubes
Cut onion into slices
Add oil and vinegar
Sprinkle with basil and oregano
Season with salt and pepper
Toss and chill

Serves 4 people
---
Mostaccioli with Cauliflower
INGREDIENTS
1 pound of mostaccioli
2 heads of cauliflower
4 or 5 cloves of garlic chopped
3 bunches of long green onions chopped
1 sticks of butter
2 Tbls of vegetable oil
1 cup of seasoned bread crumbs
Salt to taste
Freshly ground black pepper to taste
Freshly grated Parmesan cheese

PREPARATION
Boil cut up pieces of cauliflower in 6 quarts of water until tender.
Sauté long green onions, garlic and about a half a cup of bread crumbs in one stick of butter for about 5 minutes or until breadcrumbs are slightly brown.
With a slotted spoon remove cauliflower and add to the breadcrumb mixture.
Stir adding remaining butter and bread crumbs.
Cook the pasta in the cauliflower water until done. Around 10 minutes.
Add around a cup of cauliflower water to the breadcrumb mixture to moisten.
Mix the mostaccioli and cauliflower together .

Top with freshly grated Parmesan cheese and you ready to serve.
---
Breaded Pork Cutlets with Red Gravy
INGREDIENTS
6 to 8 pieces of pork cutlets
2 large eggs 1/4 cup of milk
1 cup of seasoned Italian bread crumbs
5 medium sized white potatoes cut peeled and cut into large chunks
1 can of sweet peas
Salt and fresh ground black pepper to taste.
1/4 cup of vegetable oil
1/4 cup of water
Around 2 cups of your favorite Italian gravy.

PREPARATION
Mix egg and milk together in a dish.
Place bread crumbs in another dish.
Dip cutlets into the egg mixture the bread crumbs.
Set aside and refrigerate for about a half hour.
In a large skillet heat oil and fry cutlets just until they are browned on both sides.
Drain cutlets on a paper towel.
Place pork cutlets in a roasting pan and add potatoes, peas and sauce with around 1/4 cup of water.
Cover and bake at 350 degrees for about an hour and fifteen minutes until meat if tender.
Watch to see that the sauce is not burning or drying out. If so just add a little more water.

Serves 4 people
---
Ricotta Cheesecake
INGREDIENTS
2 pounds of ricotta5 eggs room temperature
1/3 cup of all purpose flour
1 cup of sugar
2 tsps of vanilla extract
1 tsp of lemon zest
1/4 tsp of ground cinnamon
1/8 tsp of salt

PREPARATION
Put the ricotta in a large mixing bowl and blend with a spatula or egg beater until smooth.
Gradually blend in the sugar and flour.
Blend in the eggs one at a time.
Blend in vanilla, lemon zest, cinnamon and salt.
Pre-heat oven to 300 degrees.
Butter and flour a 9 inch spring foam pan.
Pour the ricotta mixture into the pan.
Place the pan in the middle of the oven and bake for 1 hour and 15 minutes.
Cool on a wire rack.
Place in the refrigerator to chill before serving.

Serves 6 to 8 people
---
Don't forget to click on the logo below and subscribe to my
NEW NEWSLETTER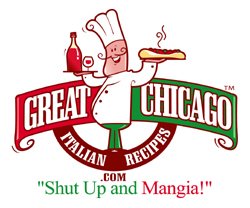 That's a discovery! That's Italian! That's
Great Chicago Italian Recipes.com
Leave Mothers Day Menu and Return to Italian Recipes
---
---
Home | The Italian Grocer | Italian Heritage | Italian Chefs | New Contest | What's New | Restaurant Reviews | Your Reviews | Appetizer Recipes | Soup Recipes | Salad Recipes | Bread Recipes | Vegetable Recipes | Pasta Recipes | Poultry Recipes | Beef Recipes | Pork Recipes | Veal Recipes | Lamb Recipes | Seafood Recipes | Pizza Recipes | Cooking for Kids | Italian Cheese | Italian Wine | Dessert Recipes | Coffee and Espresso| Italian Dinner Music | Food Glossary | About the Cook | Sitemap | Share This Site | Contact | Privacy Policy | Disclaimer | Submit Your Recipes | Your Italian Recipes | Archived Menus