"Shut Up and Mangia!"
---
Easter is the demonstration of God that life is essentially spiritual and timeless.
  ~Charles M. Crowe
---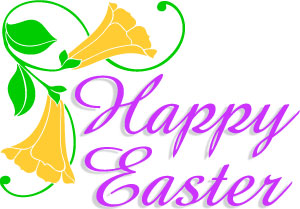 ---
Benvenuti Amici
Buona Pasqua!
Welcome to the 34th issue of "Shut Up and Mangia!". This special Easter issue will focus on some traditional Italian recipes and a few non-traditional ones.
I'll be the first to admit that I repeatedly make the same holiday recipes over and over again. Granted there are a few things you should never change since family and friends look forward to certain dishes year after year. So this year I'm only going to make the Taganu D'Aragona and the Easter Bread.
These are the two main things my guests will expect when they come over. The rest of the menu I'm going to change up a bit. These two recipes have been on my site for a long time. If you haven't tried them yet you are truly missing out on something very special.
---
Site News
The biggest and best news we have this month is that "Great Chicago Italian Recipes.com" has been selected by "Cool Site of the Day" to be their featured Cool Site on Saturday April 3rd. It's a privilege to be chosen by this site considering they have been around since 1996 and choose their sites from thousands of websites per day. So if you enjoy Great Chicago Italian Recipes.com, please vote for us on April 3rd in the voting frame at Cool Site of the Day!
This is just a reminder that our contest will end in a little over two months from now so enter "Mangia Italiano 2010 Recipe Contest" now. Just send us your favorite Italian recipe for a chance to win some great prizes. See below for more details.
"Mangia Italiano Spring 2010
Recipe Contest"


Great Chicago Italian Recipes is proud to present our second Italian recipe contest. Enter your favorite Italian recipe and win any one of these great prizes:

1st place - $100.00 Amazon.com gift certificate
2nd place - wins a "Great Chicago Italian Recipes" Sweatshirt
3rd place - Wins a "Great Chicago Italian Recipes" Cooking Apron
4th place - Wins a "Great Chicago Italian Recipes" Tote Bag
5th place - Wins a "Great Chicago Italian Recipes" Coffee Mug


To enter just fill out the Recipe Contest Form.
Please read our Official Rules before you begin.

Good Luck!
If you haven't had a chance to visit my new site "Mia Cucina Pazzo.com" do so now. It's a fun place where I get to write anything I want and share my thoughts on a variety of Italian subjects. Feel free to post your comments anytime. I'm doing my best to add new recipes and some interesting articles on various Italian topics..
Great Chicago Italian Recipes is dedicated to adding new and traditional Italian recipes for your enjoyment. The site is getting bigger and better with the addition of "The Italian Grocer" and the"The Great Italian Music Store". Thank You for supporting this site.


---
Easter Recipes
Here is a list of the featured recipes for you to celebrate Easter. Deviled Eggs, Risotto with Peas , Stuffed Crown Roast of Pork, Rapini with Garlic, Potatoes with Onion and Rosemary, and Ricotta Pie.
Just click here and enjoy. Mangia Italiano!
---
Great Recipe Book
If you are looking for new exciting recipes you can always check out my new ebook Mia Cucina Pazzo.

---
Final Thoughts
If you enjoy our newsletter please feel free to email this newsletter to a friend so they can Subscribe to "Shut Up and Mangia!" and begin to enjoy all the Italian recipes we have to offer.
Have a Happy Easter!
Mangia Italiano!
Take Care,
Phillip J. Speciale