Easter Bread
---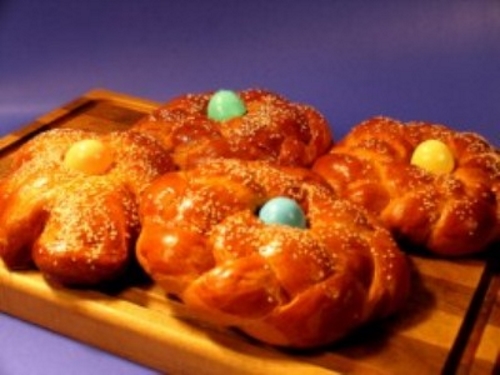 ---
Sweet Bread
It's that Easter Bread time of the year. Spring is here and Easter is soon upon us. I would disappoint a lot of people if I didn't make Easter Bread for my family and friends. The Easter bunny wouldn't even stop by to see me and Easter just wouldn't be the same.
This fantastic bread, filled with brightly colored Easter eggs and sprinkled with brightly colored candies, will add an extra touch to your festive holiday dinner. This bread is traditionally shaped to look like a wreath but if you are an exceptionally creative baker, which I'm not, you could shape it into baskets or bunnies or whatever you like.
I am very lucky to get it to turn out at all, let alone making it into different shapes. I will admit this recipe is not for the faint of heart. It's a little more complicated and time consuming than most bread recipes but it is well worth the effort. You reap what you sow. The taste of this bread certainly out weights the work you put into it and the kids just love it.
I'll usually start making Easter Bread at least two days before Easter and I always make enough to share with the neighbors. Plan on spending the whole day baking. You'll be fine. A little tired but fine.
INGREDIENTS
2 packages of active dry yeast
1 cup of warm water (110 degrees)
3/4 cup of shortening
2 Tbl of lemon juice
1 Tbl of grated lemon peel
1 cup of sugar
2 eggs
1 egg white
5 cups of all purpose flour
1 egg yolk and 1 Tbl of milk to wash to top of the bread
Candy sprinkles

PREPARATION
Color the five uncooked eggs with food coloring according to package directions and set aside.
Add the 2 packages of yeast to 1/2 cup of warm water.
Let yeast stand for around 10 minutes until soften.
In a large bowl add the other half of warm water and mix in 1 and 1/2 cups of sifted flour.
Stir the softened yeast and add to the flour water mixture.
Beat until very smooth, cover with a towel and place in a warm spot for about 2 hours.
In a bowl cream the shortening with the lemon juice and grated lemon peel.
Add gradually the sugar and salt creaming until fluffy.
In a separate bowl beat the 2 eggs and the egg white until thick.
Add the eggs 1/3 at a time to the sugar mixture beating thoroughly after each addition.
Add the yeast mixture to the sugar mixture, mixing well.
Add about 1/2 of the flour and beat with a wooden spoon until smooth.
Mix in some of the remaining flour to make a soft dough.
Place the dough on a floured surface and knead for about 10 minutes.
Place the dough in a large greased bowl and turn once to coat the dough.
Cover the bowl with a towel and let it rise in a warm place for about 2 hours.
Punch down and divide into two equal pieces and let stand covered for around 15 minutes.
On a lightly flowered surface roll each ball into two long 3 foot rolls around 1 and 1/2 inches thick.
Place them side by side to form a loose braided ring and make sure you leave enough room for the colored eggs.
place on a greased baking dish, insert the eggs and cover again until doubled.
Pre-heat oven to 350 degrees for 15 minutes,
Brush the dough with the egg yolk and milk mixture and sprinkle the candy on top.
Bake the Easter bread for around 40 minutes until golden brown.

I forgot to mention to take a stick of butter out of the fridge to soften. You'll want to dig in right away. Believe it or not this recipe makes 1 loaf of Easter B.



---
Don't forget to click on the logo below and subscribe to my
NEW NEWSLETTER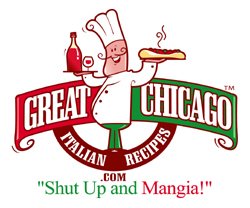 That's a discovery! That's Italian! That's
Great Chicago Italian Recipes.com
Leave Easter Bread and Return to Italian Recipes

Leave Easter Bread and Return to Italian Bread Recipes
---
---
Home | The Italian Grocer | Italian Heritage | Italian Chefs | New Contest | What's New | Restaurant Reviews | Your Reviews | Appetizer Recipes | Soup Recipes | Salad Recipes | Bread Recipes | Vegetable Recipes | Pasta Recipes | Poultry Recipes | Beef Recipes | Pork Recipes | Veal Recipes | Lamb Recipes | Seafood Recipes | Pizza Recipes | Cooking for Kids | Italian Cheese | Italian Wine | Dessert Recipes | Coffee and Espresso| Italian Dinner Music | Food Glossary | About the Cook | Sitemap | Share This Site | Contact | Privacy Policy | Disclaimer | Submit Your Recipes | Your Italian Recipes | Archived Menus