---
Chicago-Style Italian Beef Seasoning

We are proud to share with you what our customers are saying about our "Chicago-Style Italian Beef Seasoning":
"The spice is perfect. Used it once. Too hot here in Utah to cook indoors. Will use it again in September." Mike Tribble - Sandy, Utah
" Thank you so much for your amazing Chicago-Style Seasoning!!! this stuff is absolutely wonderful! Thank you so much again. you know have a life time coustomer" Tony Lovan - Lomita, CA
"Love your seasoning, Phil ... reminds me of momma's and nonna's cooking ... I use it in many dishes to add that extra flavor!!" Marianne Davis - Las Vegas, NV
"It was great everyone raved how good the beef tasted" Edward J. Kuleck, Jr. - Ottawa, Il
"I really liked this,will be ordering more very soon. Grazie!" Marge Aiello Provost - Willsboro, NY
" Dear Phillip, So happy to review your Chicago-Style Italian Beef Seasoning.
Born and raised in inner city Chicago, I needed my Italian Beef fix out here in California! Nothing out here at all close to the rich, spicy, peppery, flavor of your seasoning. Add that to thin sliced top or bottom round, and I might even enjoy a Cubs game again!
I've gone to the lengths of ordering Portillos and having it shipped up here to the Lost Coast. Al's, on Taylor St., nor Mr. Beef on Orleans, offer that option.
I have been eating Italian beef's ( hot and sweet, dipped) since my childhood in the sixties....my Father took me to Carl's stand on 146th ( I think), when I was a youngster!
We'd bring home a dozen for everyone. ...the best gardinerre being at Mr. Beef. Your seasoning should be sold in quart jars! I use a whole one each time I make it! The best part about your fantastic seasoning is giving these old hippies out here a taste of the best of what the Chicago meat packing district still has to offer.
I've tried others... but none that I lie about and tell people I made! Thanks for my notoriety out here....I've even posted your seasoning in Facebook!" Skylar Blue - Hydesville, CA
Chicago-Style Italian Beef Seasoning is availabe online only. So give it a try and let us know what you think and we'll send you a free copy of our ebook Mia Cucina Pazzo. We would love to hear from you.
---
Sunday Gravy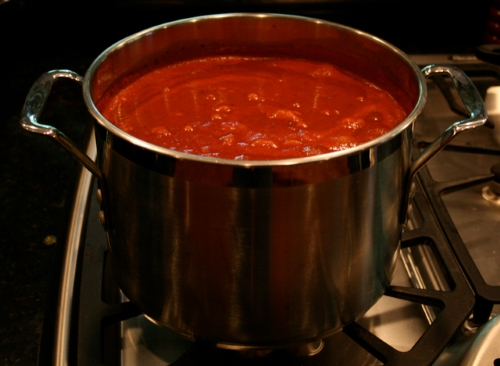 Here is a repeat of our gravy recipe. Due to hundreds of email requests and Facebook messages we decided it was best to again send out an email blast so everyone can have and share this great recipe with there friends and family. Share through Facebook, emails or any other way to get this recipe into everyone's hands.
We hope you and your family enjoy it as much as we do.
Sunday Gravy
Rich and delicious Sunday Gravy has always been a traditional favorite in my family and many Italian families for generations. The benefits of cooking the gravy for hours and braising a variety of cuts of meat in tomato sauce creates a flavor that surpasses any type of tomato based sauce you can prepare. This is the type of gravy that adheres to your ribs and satisfies your taste buds.
There is nothing I would rather cook than Sunday gravy. The aroma puts a smile on every ones face. It brings families and friends together in celebration and creates wonderful memories. Any occasion or holiday would not be the same if this red gravy didn't exist.
So I hope you enjoy my traditional Sunday Gravy recipe. Use it to create your own memories that your family will remember for the rest of there lives. Read More
---
Site Announcements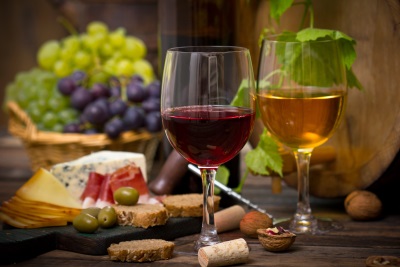 This issue of "Shut Up and Mangia" is just a site progress update. During the recent months or so some great changes have taken place to give you a better experiance. Two of the major changes that we made is the addition of our "Printer Friendly" button and a "Pinterest" button under all our photos. Pinterest will make it easier for you to share our recipes.
We have launched three new products. The newest being our own special blend of Chicago-Style Italian Beef Seasoning which we are very proud of. You can now re-create the flavors of a Great Chicago-Style Beef Sandwich in the comfort of your own home.
The second product that was created are three beautiful Italian inspired prints. These "Limited Edition" prints capture the essence of old world Italy and would look great in any home or office.

For further information and detailed images of these beautiful limited edition prints just visit our "Fine Italian Prints" page.
The third product is a new addition to our eBook library. This eBook will give you 30 of our favorite pizza recipes. So if you love pizza as much as we do you can purchase and download "Pizza" right here.
We have also added two knew article pages. The first is "Italian Food Tips and Info". This section is will help you prepare some great Italian food. The second section is "The Italian Experience" which features great stories about Italian products, people and culture.
Along with all these changes we also added many new recipes. Check out five of our favorites:
Chicago Style Breaded Stead Sandwich
Gnocchi Carbonara Chicken Voldostano Italian Sausage Puttanesca Meatball Parmesan Sandwich
While Great Chicago Italian Recipes is still being renovated, our newsletter "Shut Up and Mangia" will still be delayed for a few more weeks. In the meantime you will be able to access all the recipes, old and new, by just visiting Great Chicago Italian Recipes or our Facebook Page for daily recipes.
Thank You for your patience,
Phillip J. Speciale
---
Site News
If you haven't joined us yet please visit my Facebook Fan page. Besides our rss feed, all new recipes and site announcements will appear on this page.
We have over 6000 fans so far and it keeps getting bigger everyday. Thanks. We'd appreciate it if you share this page with all your FB friends.
Great Chicago Italian Recipes is dedicated to adding new and traditional Italian recipes for your enjoyment. The site is getting bigger and better. Don't forget the addition of "The Italian Grocer" and the "The Great Italian Music Store" for your convenience. Thank You for supporting this site.


---
Final Thoughts
If you enjoy our newsletter please feel free to email this newsletter to a friend so they can Subscribe to "Shut Up and Mangia!" and begin to enjoy the many Italian recipes we have to offer.
Mangia Italiano!
Take Care,
Phillip J. Speciale