"Shut Up and Mangia!"
---
We are indeed much more than what we eat, but what we eat can nevertheless help us to be much more than what we are. ~ Adelle Davis
---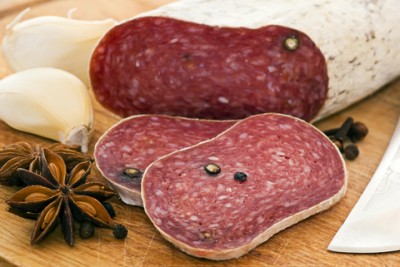 ---
Benvenuti Amici
Cooking with Soppressatta
Welcome to the 36th issue of "Shut Up and Mangia!". This special issue will focus on cooking with that delicious dried aged Italian sausage called Soppressatta.
This special issue is in honor of Frank Balestri's Soppressatta Contest. This contest will be held on Sunday September 26th, 2010 between 3:00p.m. to 7:00p.m. at Park Place of Countryside Banquet Hall located 6240 Joliet Road in Countryside, Illinois 60525 Phone: (708) 588-1752.
Admission to the contest is only $10.00 per person which includes dinner and a cash bar. The best part is that all profits from this event will be donated to the Italian American War Veterans Post #2 located at 1015 S Rte 83 in Elmhurst, Illinois. All participating contestants must bring one pre-sliced homemade soppressatta to enter. Prizes include trophies plus Italian Gift Baskets and a Homemade Soppressatta Press will be raffled off.
---
Site News
There is a lot going on lately. It's been a long summer now it's time to hit the books. If you haven't joined us yet please visit my Facebook Fan page. Besides our rss feed, all new recipes and site announcements will appear on this page.

Another contest has begun. This is our biggest and best contest ever with great new prizes to be awarded to the top five best "Main Dish" recipes. The "Mangia Italiano Fall/Winter Italian Recipe Contest" began September 15, 2010 and will continue until March 15, 2011. Just enter you favorite recipe and view all the great prizes we picked out for you. Please read the official rules for details.
Take a a little time to visit my new site "Mia Cucina Pazzo.com". It's a fun place where I get to write anything I want and share my thoughts on a variety of Italian subjects. From time to time I will be adding new recipes to both sites.
Plus other sites are still in development and will hopefully be finished soon. I know I been promising this for a while now but two things keep getting in the way, time and money. Isn't that always the case?
Great Chicago Italian Recipes is dedicated to adding new and traditional Italian recipes for your enjoyment. The site is getting bigger and better with the addition of "The Italian Grocer" and the"The Great Italian Music Store". Thank You for supporting this site.


---
Great Books about Sausage Making
Here are two great books I found about sausage making and curing. The first book by Rytek Kutas is Great Sausage Recipes and Meat Curing
. This is the most comprehensive book available on sausage making.
The second book by John Kinsella is called Professional Charcuterie: Sausage Making, Curing, Terrines, and Pts
. This book is has over 200 recipes for sausage making plus a ton of information on cooking, curing and smoking.
---
Grocers Where You Can Find Soppressatta
Bari Foods located at 1120 West Grand Ave., Chicago, Ill 60622. This place has the best Italian specialty items you can find. Sausages and imported cheese plus an assortment of great foods.
Conte Di Savoia is at 1438 West Taylor Street, Chicago, Ill. 60607. This place has been around a long time. One of the best places for sandwiches and Italian specialty items.
Tony's Italian Deli is located at 6708 N. Northwest Hwy, Chicago, Ill. 60631. This family owned Italian deli has all kinds of specialty meats and cheese. You should have no problem finding great soppressatta there.
---
Cooking with Soppressatta Recipes
Here are a few of my favorite recipes:
Asparagus Soppressatta Frittata
Tomato Sauce with Soppressatta,
Soppressatta Stromboli,
Soppressatta Pizza,
Farfalle with Spinach and Soppressatta
All great recipes for you and your family to enjoy. Just click here and enjoy. Mangia Italiano!
---
Great Recipe Book
If you are looking for new exciting recipes you can always check out my new ebook Mia Cucina Pazzo.

---
Final Thoughts
If you enjoy our newsletter please feel free to email this newsletter to a friend so they can Subscribe to "Shut Up and Mangia!" and begin to enjoy the many Italian recipes we have to offer.
Mangia Italiano!
Take Care,
Phillip J. Speciale