Frank Balestri's 5th Annual
Soppressatta Contest
---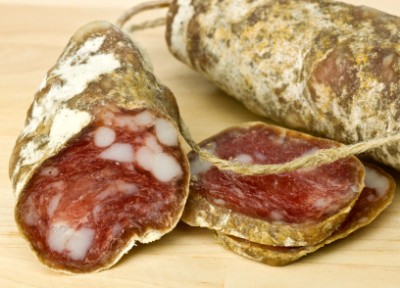 ---
An Italian Tradition
Dear Readers,
Tradition is the backbone of any Italian family as it should be for families of all nationalities. It defines who we are in such a way that I find it hard to express. It's a feeling of belonging. A feeling of discovery and a feeling of pride.
Years ago we would depend on our Grandparents and Parents to make the traditional Italian dishes that we learned to love while growing up. When they are no longer here you realize, I'll never drink that wine or taste the food that brought me so much happiness ever again. My children will never begin to enjoy what I've experienced all those years.
It's this realization that brings you to the conclusion that it is the responsibility each generation to keep their family traditions alive. Whether it's wine making, sausage making or a favorite family pasta recipe. It doesn't matter as long as it's something that connects us to our roots. It's important to know who you are and where you came from before you can figure out where you're going.
This leads me to one to one Italian tradition that has been popular in my neighborhood ever since I could remember. That is the making of soppressatta. For those of you who don't know what soppressatta is it's a salumi made from seasoned ground pork butt which is cured for around two months.
Soppressatta is like gold. Family and friends invest there time and money to recreate old family recipes that have been handed down to them from generation to generation. Who makes the best soppressatta? We'll soon find out.
So in order to determine who makes the best soppressatta, my friend Frank Balestri started Chicago's first soppressatta contest back in 2007. Frank first got the idea when he visited an Italian festival in Pennsylvania and what a great idea it was to bring it back to us here.
This year Frank Balestri's 5th Annual Soppressatta Contest will be on Sunday September 25th 2011. Dinner at 3:00p.m. the Contest begins at 4:30. at Park Place of Countryside Banquet Hall located 6200 Joliet Road in Countryside, Illinois 60525 Phone: (708) 588-1756. I am very proud to be part this years fundraising/organizing committee.
Admission to the contest is only $20.00 per person which includes a great dinner, live entertainment by The Tony Ocean Show and a cash bar. The best part is that all profits from this event will be donated to Nicholas Tobar, son of Lt. Anthony Tobar CFD and Dawn Tobar for needed ongoing after care resulting from Nicolas's recent heart surgery.
All participating contestants must bring one pre-sliced homemade soppressatta to enter. Prizes include trophies plus Italian Gift Baskets and a Homemade Soppressatta Press will be raffled off. Other raffles will include gift certificates from some of the best restaurants in the city
This contest is a perfect example of keeping our Italian traditions alive while benefiting others. Finally, this contest also gives someone the opportunity to say their soppressatta in the best in Chicago.
Best of Luck,
Phillip J. Speciale
Great Chicago Italian Recipes has been given permission to re-print Frank Balestri's Soppressatta Recipe plus I've added a link to his videos. It's truly a great thing to watch how the family gets involved and just watching the process of making homemade soppressatta is unbelievable. It truly is a labor of love. Enjoy!
Click here to view Frank's Soppressatta Recipe.



---
Don't forget to click on the logo below and subscribe to my
NEW NEWSLETTER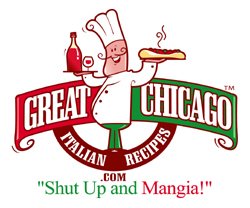 That's a discovery! That's Italian! That's
Great Chicago Italian Recipes.com
Leave Sopressatta Contest and Return to Italian Recipes
Leave Sopressatta Contest and Return to Easy Pork Recipes
---
---
Home |The Italian Grocer |Italian Heritage |Italian Chefs | New Contest |What's New | Restaurant Reviews | Your Reviews |Appetizer Recipes | Soup Recipes | Salad Recipes | Bread Recipes | Vegetable Recipes | Pasta Recipes | Poultry Recipes |Beef Recipes | Pork Recipes |Veal Recipes |Lamb Recipes | Seafood Recipes |Pizza Recipes | Cooking for Kids | Italian Cheese | Italian Wine | Dessert Recipes |Coffee and Espresso|Italian Dinner Music | Food Glossary |About the Cook |Sitemap |Share This Site |Contact |Privacy Policy | Disclaimer |Submit Your Recipes |Your Italian Recipes | Archived Menus