Mom's Chicken Soup with Meatballs
by Laura F.
(Depew, NY, USA)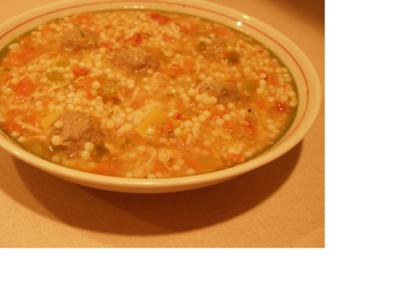 Bowl of Heaven
Just a "soup" you say? Let me assure you, this soup is a meal in itself! And, it cures everything from the common cold to a broken heart, too!

Each year when the colder weather comes, one of the first things I think about is making a huge pot of this magical elixir. Since they were younger, my kids have dawdled around the kitchen when they know this soup is simmering, just waiting for me to say the magic words, "Dinner's ready!" ...just like I did when I was a kid and my mom was making it.

Warning: Fighting over the meatballs is common.

INGREDIENTS

Soup


1 whole chicken, or your favorite chicken pieces

3-4 carrots, peeled and cut into large chunks

3-4 stalks celery, leaves and all, sliced

1 onion, diced

1 tsp garlic powder

1 tsp onion powder

1 tsp Italian seasoning

1/4 cup dried parsley

2-3 whole dried bay leaves
salt and pepper to taste

1 14 1/2 oz. can diced tomatoes, drained

1 cup Acini de Pepe pasta

Meatballs


1 lb. ground beef

1 egg

1/2 cup seasoned Italian breadcrumbs

1/2 tsp onion powder

1/2 tsp garlic powder

1 Tbsp dried parsley

Salt and pepper to taste

1/4 cup warm water

PREPARATION


Place first 10 ingredients in a large soup pot and cover with water up to an inch of the rim.

Bring to a boil and simmer for about an hour.


Make meatball mixture and form into one inch meatballs.


After the hour, remove chicken to a plate to cool.


Remove carrot chunks, mash with a fork and return to pot.

Add the diced tomatoes and the meatballs.


Remove skin from chicken, pull meat off the bones, rip into bite-sized pieces, and return to pot.

Simmer another 15-20 minutes until meatballs are cooked through.


In a separate pot, cook the Acini de Pepe according to package directions. Do not drain!


Mix some of the soup mixture with a ladle of the pasta /cooking water mixture.


Serve with a generous amount of grated Parmesan or Pecorino Romano cheese.

NOTE: Mix the pasta w/ water together with the remaining soup before storing the leftovers - if there are any!!!