Nonna Flora's Pasta Genovese
by Ann Minard
(Duncan, SC)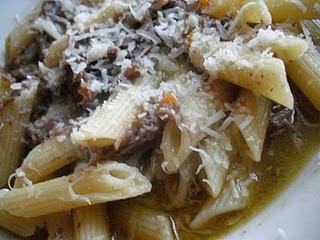 La Genovese is a bit of a mystery because it does not come from Genoa but from Naples and some even say that this is one of Naples best kept secrets! Pasta Genovese is in fact one of the highest praised dishes to come out of the Neapolitan housewife's kitchen and this recipe in particular is worthy of my praise because it comes out of my Nonna's kitchen!


Every time I make this dish I can picture My Nonna Flora showing my Mother how to cook her son's favorite meal in her tiny kitchen on a cast iron two burner cook top in Naples, Italy. I feel honored to have this very special recipe from my sweet Nonna Flora who is now in her late 90's still living in Naples and whom I have only met in person twice.
In person I have only known her as an older lady with crippling arthritis and a memory going but through these recipes, family stories, and old photos I feel like I have met and known the younger, beautiful, kind, and just a bit feisty Flora Cerino Casolaro.
Flora Cerino was born in the city of Naples, Italy August 6 of 1918. Her Mother died young and so Flora was sent to a special school to learn the skills she would need in order to be a wife and Mother there discovering her real talent being in dress making. For years until arthritis stole away her two joys, cooking & sewing, she made every piece of clothing she wore.
Upon graduating she met my Nonno Gaetano Casolaro a hair dresser at a beauty salon in downtown Naples, Italy. They married when she was only 17 and they moved to Casoria, a small town just outside of Naples.They rented an apartment above a shop where my Nonno ran a hair salon. Flora was known for her talented cooking and unmatched seamstress skills.
My Zia Antonietta says she was very gentle, kind, and quite friendly. But she also had a bit of an ornery side, she was known to carry the key to the pantry around her neck and no none was allowed to get anything with out her permission! I also remember seeing her give my Dad an Italian Hand Gesture on more than one occasion : ) Love it!
My mother who recently wrote down memories of her first visit to Italy and she had this to say of my Nonna Flora:
During the day when Andrea was at work I spent quite a bit of time with Mama Flora learning to cook or sew or make patterns or darn socks, etc. all the usual wifely duties. I never ceased to be amazed at the quality and the taste of the food Mama Flora managed to produce out of that primitive kitchen with just a cast iron 2-burner cook top and one big pot and one small pot and one stirring spoon and one knife.
Nona Flora was, without exaggeration, the greatest cook I have ever encountered in my life to this day.
How thankful I am for this precious recipe. I just love how treasured family recipes like this
can almost magically connect us directly to our past.
Pasta Genovese: Nonna Flora Casolaro
INGREDIENTS
1 roast pork or beef lean and with most fat removed, about 2 or 3 pounds (This is the funny part: My Mom swears it to be a pork butt with most fat removed but my Dad swears it to be a lean beef roast, I have tried both and each work equally well)

2 pounds yellow onions sliced very thin

1 clove garlic

2 or 3 leaves fresh basil or 1/2 teaspoon dried.

1/2 tsp dried oregano

salt and pepper to taste

1/2 cup extra virgin olive oil

2 carrots, grated

1/2 cup dry white wine (optional)

1/4 cup grated pecorino cheese (or other sharp cheese)

1 pound ziti or penne or my favorite mini penne (My Nonna Flora used bucatini that she would then break into smaller pieces)

PREPARATION


Saute the meat in olive oil just for browning on all sides and remove the meat to the a plate.
Add the carrots to the pot and saute for 2 minutes in the olive oil.

Add chopped garlic, do not brown. Add all the onions and seasonings.

Add back the meat and cook, covered on med to low for about 3 hours.

Check here and there to see if it needs liquid (water) The Onions will turn very soft and beige and saucy and the meat will fall apart as you stir it. When this happens remove cover.

Add the wine and cheese and simmer on a slow boil for about 1/2 hour or more until the sauce thickens.

Taste for salt and add it at this time.
Remove the lid and allow it to simmer for another 5 minutes.The meat and onions will have become a nice sauce.

You can help this by breaking everything up with a fork. At this point I add the pasta directly to the sauce pot and allow the two to cook together and meld for about 2-3 minutes.
Then I serve it directly from this pot. Serve with a drizzle of olive oil and more grated cheese!

My Own Crockpot Version!

This is a version I made up for the years when I was busy homeschooling and changing diapers and I found this is the best way to make it by far! The crock pot does all the tenderizing and breaking down of the sauce beautifully.

Do as the above recipe states up to adding back the meat to the carrots and onions. Now dump it all, including the meat and wine and cheese, into the crock pot and cook on low all day long or for atleast 6 hours. You are looking for very tender falling apart meat. Just before serving turn it off and let it rest. Give it a good stir and breaking up with a fork. The onions and meat will have become a sauce. Taste and add salt. At this point I add the pasta directly to the crockpot and allow the two to cook together and meld for about 2-3 minutes. Then I serve it directly from this pot. Serve with a drizzle of olive oil and more grated cheese!