Paul's Stuffed Tomatoes
by Paul
(Los Angeles)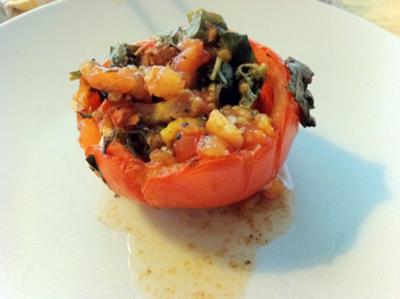 There are no measurements for the herds and spices. The great thing about this recipe is that you can change it up a little every time you make it.

INGREDIENTS:


4 Beefsteak Tomatoes

4 Pieces of Mozzarella Cheese

2 Diced Garlic Cloves

3 tbs. Balsamic Vinegar

1 tbs. Soy Sauce

Chopped Basil

Ground Oregano

Garlic Salt

Lemon Pepper

Ground Nutmeg

Poultry Mix

PREPARATION:


Preheat your oven to 350˚F.

Cut the tomatoes open pumpkin style.

Take out the meat, and chop it up.

Chop up the tomatoes' "hats".

Put the tomato meat and hats into a medium-sized bowl.

Arrange the tomatoes in a Pyrex pan.

Pour the balsamic vinegar and soy sauce into the bowl.

Mix in the herbs and spices.

Place the mozzarella pieces inside the tomatoes. They should not completely fill them up. Leave room for some melty goodness.

Pour the contents of the bowl over the tomatoes.

Put the Pyrex tray in the oven, and let the tomatoes bake for 20-30 minutes.

Take your food out of the oven. Serve and enjoy!

Servings: Makes 4 Tomatoes
Join in and write your own page! It's easy to do. How? Simply click here to return to Mangia Italiano Fall/Winter Italian Recipe Contest.