Ravioli Lasagna
by Megan Barton
(Victor, NY, USA)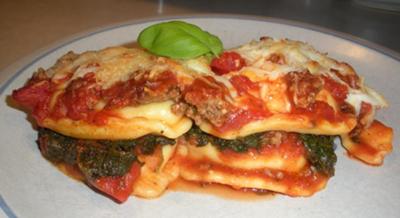 INGREDIENTS


1 can spaghetti sauce

1 can diced tomatoes

1 can tomato sauce
spices/garlic to taste

1-lb ground beef

1 package of frozen spinach, thawed and drained

1 large package of frozen cheese ravioli

2 cups shredded mozzarella cheese for the top

PREPARATION


Preheat oven at 350


Mix the spaghetti sauce, tomato sauce, diced tomatoes, garlic, various Italian spices, and about a cup of water in a saucepan on low heat.


In a separate pan, brown the ground beef and drain off the excess fat.


Build your ravioli lasagna in the following layers:
1) Spread 1/4 of the sauce on the bottom of a 9x13 baking dish
2) Cover the bottom of the dish with half of the ravioli
3) Half of the sauce
4) Ground beef
5) Spinach
6) Remaining ravioli
7) Remaining sauce
8) Mozzarella cheese


Bake in your 350 degree oven for 45 minutes.

Serves 8.