Penne with Pancetta,
Spinach and Treviso

---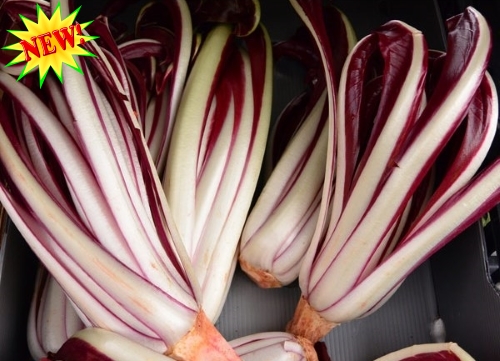 ---
Best Tasting Pasta

If you would like to try something different, this delicious pasta dish, Penne with Pancetta, Spinach and Treviso is a perfect choice. It is made with roasted garlic, crisp pancetta, fresh baby spinach, fresh basil, and a vegetable known a Treviso di Rosso or Radicchio di Treviso.
The treviso comes from the Italian region of Veneto. It has a mild, bitter taste and is usually eaten raw or grilled with a little olive oil. then chopped up in salads. It is a milder form of domestic raddichio and has a distinct flavor when combined with the pasta and other ingredients.
Another great way to enjoy this unique vegetable is to brush it with olive oil, season it with salt and fresh ground pepper , grill it, then top it with a smoked mozzarella or Scamorza cheese. This dish is excellent with a nice dry wine, preferably a Valpolicella.
Ingredients:
1 whole head of garlic
4 tsp of extra virgin olive oil
1lb of penne pasta
2oz of pancetta, diced
1 medium onion, diced
1 small shallot , diced
1 cup of chicken or vegetable broth
2 medium heads of Treviso, chopped
10oz of baby spinach
½ tsp of salt
½ tsp of fresh grated blach peppercorn
¼ tsp of crushed red pepper flakes
1 cup of fresh grated Pecorino-Romano cheese.
Preparation:
Drizzle the garlic with a little olive oil and wrap in aluminum foil.
Roast the garlic in a 350 degree oven for about 40 minutes.
Let the garlic cool, then squezze galic into a small bowl
In 6 quarts of boiling salted water, cook the pasta until al dente. Around 10 to 15 minutes.
Meanwhile, in a larger skillet, heat the remaining oil and butter and saute pancetta, onion and shallots for about 12 minutes until onions are slightly golden and panchetta is slightly crisp.
Add the chicken broth and stir in the roasted garlic.
Add the raddichio, spianch and basil and cook until they wilt.
Season with salt, black pepper. And red pepper flakes.
Drain the pasta and place in a large pasta bowl.
Toss in the radicchio mixture with the cup of cheese.
Serves 4
---
---
Don't forget to click on the logo below and subscribe to my
NEW NEWSLETTER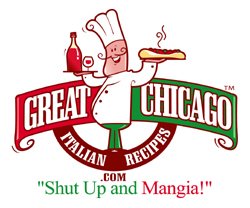 That's a discovery! That's Italian! Thats
Great-Chicago-Italian-Recipe.com
---
Leave Penne with Pancetta, Spinach and Treviso
Leave Penne with Pancetta, Spinach and Trevisp and
Return to Best Tasting Pasta Recipes

---
---
Copyright 2014 by Great Chicago Italian Recipes.com. All Rights Reserved