Frank Balestri's
Soppressatta Recipe
---
Spicy
We are privileged to have permission to re-print Frank Balestri's Soppressatta Recipe. There is an art to making dried sausages and I'm sure Frank has perfected it. In my neighborhood there a few families left that still make this sausage. Competition is intense as to who makes the best.
Sticks of soppressatta are exchanged for favors, wars have been started over it and yes lives have been lost. Yet they continue to pass on their recipes from generation to generation knowing the consequences of their actions. But if you've ever tasted homemade soppresatta you would understand.
In order to make Frank Balestri's Soppressatta Recipe you'll need the proper equipment. You'll need a meat grinder to grind the pork, a sausage stuffer and a soppresatta press which is normally homemade . Plus you'll need plenty of room that's just the right temperature to hang all the sausages.
Click on the link below to view Frank's "Sodfather Videos". It's great to see the whole family getting involved. The rule is if you don't help make it you don't get any. Best of luck with this one. It's a lot of work and commitment but well worth the effort.
INGREDIENTS
100 lbs of pork butts
40 oz of salt
1 lb of paprika
1 lb of crushed red pepper
10 oz of ground fennel seeds
8 oz of red wine

PREPARATION
Trim the pork butts, then grind them coarsely.
Thoroughly mix the meat together with all the spices.
Stuff the mixture into 2½ inch casings ( beef middle casings ) and tie the end with string.
Hang in a cool place for a week (38-40 degrees)
Then place them into a press to be flattened.
Hang them back up for about 8 weeks until they become hard.
Once they are cured place them in a bucket and fill the bucket with oil.

This recipe makes around 100 sticks of soppressatta

View Frank's video's The Sodfather Makes Soppressatta on Youtube. They will be a lot of help.



---
Don't forget to click on the logo below and subscribe to my
NEW NEWSLETTER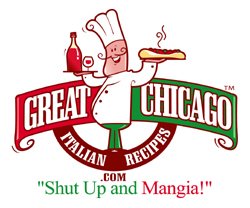 That's a discovery! That's Italian! That's
Great Chicago Italian Recipes.com
Leave Soppressatta Recipe and Return to Italian Recipes
Leave Soppressatta Recipe and Return to Easy Pork Recipes
---
---
Home |The Italian Grocer |Italian Heritage |Italian Chefs | New Contest |What's New | Restaurant Reviews | Your Reviews |Appetizer Recipes | Soup Recipes | Salad Recipes | Bread Recipes | Vegetable Recipes | Pasta Recipes | Poultry Recipes |Beef Recipes | Pork Recipes |Veal Recipes |Lamb Recipes | Seafood Recipes |Pizza Recipes | Cooking for Kids | Italian Cheese | Italian Wine | Dessert Recipes |Coffee and Espresso|Italian Dinner Music | Food Glossary |About the Cook |Sitemap |Share This Site |Contact |Privacy Policy | Disclaimer |Submit Your Recipes |Your Italian Recipes | Archived Menus