Broiled Chicken with Parmesan Risotto
---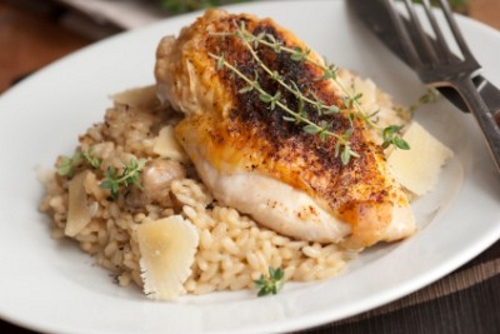 ---
The Great Flavor of Parmesan
This Broiled Chicken with Parmesan Risotto is just delicious. The combination of chicken with Parmesan is always a tasty idea. Combining chicken with a nice creamy Parmesan risotto is just ingenious.
Never be intimidated when making risotto. It's a little time consuming but the whole meal can be made in around forty minutes. Just take your time to make sure all the broth is adsorbed into the rice. Adding the Parmesan at the end pulls together the whole dish,
Broiling the chicken will just take minutes. The best part of this Broiled Chicken with Parmesan Risotto recipe is the Parmesan that's shaved over the top. It's just plain delicious.
INGREDIENTS
4 boneless chicken breasts, skin on
1 tsp of salt
1 tsp of fresh ground black pepper
1 tsp of dried oregano
1 tsp of dried basil
1 tsp of dried thyme
1 Tbs of fresh rosemary
3 Tbls of extra virgin olive oil
2 shallots, finely chopped
2 cloves of garlic, chopped
1 cup of Arborio rice
1/2 cup of dry white wine
6 cups of chicken broth
4 Tbls of butter
1 cup of fresh grated Parmesan cheese
1/2 cup of fresh flat leaf Italian parsley

PREPARATION
Prepare the chicken for the broiler.
Season the chicken on both sides with the salt, pepper, oregano, basil, thyme and rosemary.
Place the chicken on top of a broiling pan skin side down.
In a medium size pan, heat the broth to a simmer.
In a larger pot saute the shallots and garlic over medium heat in the olive oil for 2 to 3 minutes.
Add the rice and stir until the rice is slightly browned.
Stir in the wine until it is absorbed by the rice.
Add the 1 cup of broth and stir until all the broth is absorbed.
Repeat above until all the broth is used,
Turn on the broiler to low and broil the chicken around 6 inches away from the flame for about 5 minutes.
Turn the chicken skin side up and broil another 4 to 5 minutes.
Finish the risotto by stirring in the butter, parmesan cheese and parsley.
Separate the risotto onto 4 plates and shave some extra parmesan on top.
Top with a chicken breast and your ready to serve.

This Broiled Chicken dish serves 4 people.



---
Don't forget to click on the logo below and subscribe to my
NEW NEWSLETTER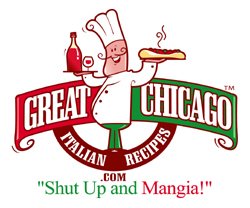 That's a discovery! That' Italian! That's
Great-Chicago-Italian-Recipes.com
Leave BroiledChicken and Return to Italian Recipes

Leave Broiled Chicken and Return to Italian Poultry Recipes
---
---
Home | The Italian Grocer | Italian Heritage | Italian Chefs | New Contest | What's New | Restaurant Reviews | Your Reviews | Appetizer Recipes | Soup Recipes | Salad Recipes | Bread Recipes | Vegetable Recipes | Pasta Recipes | Poultry Recipes | Beef Recipes | Pork Recipes | Veal Recipes | Lamb Recipes | Seafood Recipes | Pizza Recipes | Cooking for Kids | Italian Cheese | Italian Wine | Dessert Recipes | Coffee and Espresso| Italian Dinner Music | Food Glossary | About the Cook | Sitemap | Share This Site | Contact | Privacy Policy | Disclaimer | Submit Your Recipes | Your Italian Recipes | Archived Menus