Boneless Chicken Cacciatore
with Parmesan Risotto
---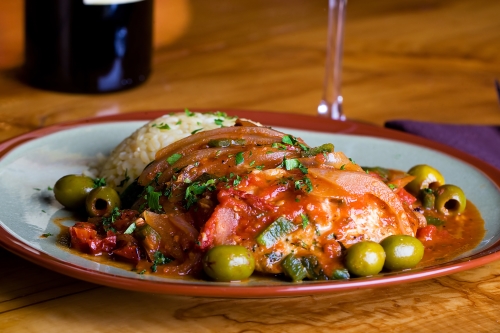 ---
Delicious


Boneless chicken cacciatore is one of the most rustic chicken dishes you can possibly make. This style of chicken exists all over Italy. It also refers to game like rabbit or venison. This dish is exceptional and should be made in a slow cooker or crock pot for the best results.
Of course I've made this chicken before on the bone. Anything on the bone adds more depth of flavor. But in this case I prefer this Chicken Cacciatore recipe because you don't have to pick out the bones and all you need to do is put it together and leave it alone. It's a quick and easy recipe anybody can make.
Just let the flavors of the onion, mushrooms, tomatoes and spices mingle together along with the chicken and you'll have chicken that will melt in your mouth. Make it with pasta or the way I prefer it is with a creamy Parmesan risotto.
Boneless Chicken Cacciatore
INGREDIENTS
4 boneless chicken breasts
4 boneless chicken thighs
3 Tbls of extra virgin olive oil
1 red bell pepper, sliced
1 green bell pepper, sliced
1 yellow onion, sliced
1 carrot, chopped
2 stalks of celery, chopped
3 cloves of garlic, chopped
1 cup of dry red wine
1/2 cup of chicken broth
1 cup of green olives
1 15oz. Can of diced tomatoes
1 tsp of dried oregano
1 tsp of dried thyme
1/2 tsp of salt
1/2 tsp of fresh ground black pepper
¼ cup of fresh parsley, chopped

PREPARATION
Pre-heat the oven to 350 degrees
In a large casserole dish sauté the chicken in the olive oil until slightly brown.
Remove from pan and set aside.
Over medium heat sauté the peppers, onion, carrot, celery and garlic for 2 to 3 minutes.
Deglaze the pan with the red wine and chicken broth while stirring.
Add the green olives,tomatoes,oregano, thyme, salt and pepper.
Return the chicken to the casserole dish.
Cover and place in the oven for around 1 and a half hours until chicken is tender and the sauce is a deep red color.
Plate the chicken and top with vegetable sauce and sprinkle with fresh parsley.
Serve with pasta or a simple creamy parmesan risotto. (Recipe Below)

Creamy Parmesan Risotto

INGREDIENTS
4 to 5 cups of chicken broth
1/2 stick of butter
2 Tbls of extra virgin olive oil
1 bunch of long green onions, chopped
2 cloves of garlic, chopped
1 cup of Arborio rice
1 cup of dry white wine
1/2 tsp of salt
1/2 tsp of fresh ground black pepper
1 cup of fresh grated parmesan cheese

PREPARATION
In a small sauce pan bring the chicken broth to a simmer.
In a large pot sauté the onions and garlic in the butter and olive oil for 2 minutes.
Add the rice and stir until the rice is slightly brown. Not to much.
Add the cup of wine to deglaze the pan while stirring until all the liquid is absorbed.
Add the chicken broth one cup at a time until each cup is absorbed by the rice. Keep stirring during this time.
Repeat the above step until all the broth is gone. This should take around twenty minutes.
Turn off the burner and stir in the cheese.

Simply delicious! Serve with Cacciatore and crusty Italian bread.



---
Don't forget to click on the logo below and subscribe to my
NEW NEWSLETTER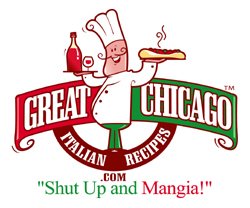 Leave Boneless Chicken Cacciatore and Return to Italian Recipes

Leave Boneless Chicken Cacciatore and Return to Italian Poultry Recipes
---
---
Home | The Italian Grocer | Italian Heritage | Italian Chefs | New Contest | What's New | Restaurant Reviews | Your Reviews | Appetizer Recipes | Soup Recipes | Salad Recipes | Bread Recipes | Vegetable Recipes | Pasta Recipes | Poultry Recipes | Beef Recipes | Pork Recipes | Veal Recipes | Lamb Recipes | Seafood Recipes | Pizza Recipes | Cooking for Kids | Italian Cheese | Italian Wine | Dessert Recipes | Coffee and Espresso| Italian Dinner Music | Food Glossary | About the Cook | Sitemap | Share This Site | Contact | Privacy Policy | Disclaimer | Submit Your Recipes | Your Italian Recipes | Archived Menus