Chicken Asparagus Lasagna
---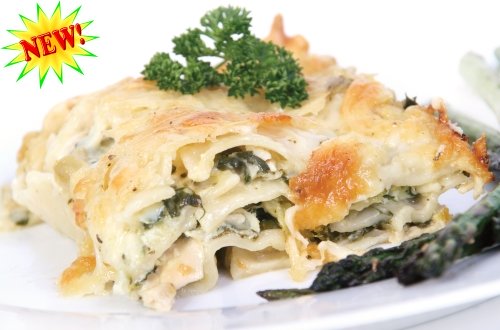 ---
Layers of Flavor
Chicken Asparagus Lasagna is different. Lasagna doesn't always have to be made in the traditional way and this lasagna is far from it. There is great flavor when you combine chicken and asparagus with a rich well seasoned cream sauce. The fresher the asparagus the sweeter the taste. The best thing about this recipe is you can substitute the asparagus with broccoli or spinach.
Instead of using dried lasagna you can make fresh crepes and layer or roll them filled with the chicken and asparagus mixture.
Chicken Asparagus Lasagna
can be made a day ahead of time to give all the flavors a chance to mingle overnight.
INGREDIENTS
1 bunch of asparagus, cut into pieces
3 boneless chicken breasts, cut into pieces
1/2 tsp of salt
1/2 tsp of fresh ground black pepper
1 bunch of long green onions, chopped
2 cloves of garlic, chopped
3 Tbls of butter
1 Tbls of extra virgin olive oil
1/2 cup of flour
2 cups of milk
2 cups of chicken broth
1 tsp of dried thyme
1/4 tsp of fresh grated nutmeg
1/4 cup of fresh parsley, chopped
12 lasagna noodles
1/2 pound of asiago cheese, shredded
!/2 pound of mozzarella cheese, shredded
1/4 pound of Monterey jack cheese, shredded

PREPARATION

Blanch the asparagus in boiling water and set aside in an ice bath.
Season the chicken with salt and pepper.
Sauté the chicken, garlic and onions in the butter and olive oil until chicken is browned and the garlic and onions are slightly tender.
Stir in the flour.
Slowly stir in the milk and broth until the mixture thickens.
Season with thyme , nutmeg and parsley.
In 6 quarts of salted boiling water cook the lasagna noodles until al dente.
Rinse the lasagna with cold water and coat with a little olive oil to prevent them from sticking together.
Pre-heat the oven to 350 degrees.
Rub the bottom of a baking dish with a little oil.
Place a layer of lasagna on the bottom of the baking dish.
Add a layer of chicken and asparagus.
Top with the cream mixture.
Sprinkle the top with the three cheeses.
Repeat with another layer of lasagna, chicken cream mixture, asparagus, and cheese.
Place a top layer of lasagna and add a little more sauce and cheese.
Bake uncovered for around 30 minutes until heated through.

Serves 6 to 8 people



---
Don't forget to click on the logo below and subscribe to my
NEW NEWSLETTER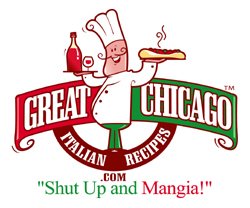 That's a discovery! That' Italian! That's
Great-Chicago-Italian-Recipes.com
Leave Chicken Asparagus Lasagna an Return to Italian Recipes

Leave Chicken Asparagus Lasagna an Return to
Italian Poultry Recipes
---
---
Home | The Italian Grocer | Italian Heritage | Italian Chefs | New Contest | What's New | Restaurant Reviews | Your Reviews | Appetizer Recipes | Soup Recipes | Salad Recipes | Bread Recipes | Vegetable Recipes | Pasta Recipes | Poultry Recipes | Beef Recipes | Pork Recipes | Veal Recipes | Lamb Recipes | Seafood Recipes | Pizza Recipes | Cooking for Kids | Italian Cheese | Italian Wine | Dessert Recipes | Coffee and Espresso| Italian Dinner Music | Food Glossary | About the Cook | Sitemap | Share This Site | Contact | Privacy Policy | Disclaimer | Submit Your Recipes | Your Italian Recipes | Archived Menus