Chicken Cutlets
---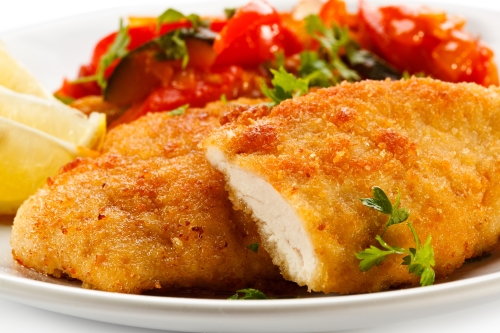 ---
Crisp
Delicious Chicken Cutlets topped with a spicy tomato sauce is a great summertime dish. I like using fresh bread crumbs on most occasions but especially for this dish. You can easily balance out the flavors by adding your own herbs and spices to the bread crumbs.
The sauce for this chicken dish should also be made using fresh ingredients. Vine ripened tomatoes and fresh basil and parsley is what turns this recipe into a refreshing meal. By adding a little crushed red pepper to the tomatoes you get a burst of unexpected flavor that goes very well with the chicken.
The Chicken Cutlet should be pounded nice and thin and basically made Milanese style. The sauce should be chunky like an Italian salsa not like your normal gravy used on spaghetti. I would definitely serve this dish with a nice salad. Keep it light, fresh and simple. Enjoy!
INGREDIENTS
Cutlets
4 boneless chicken breasts, butterflied and pounded thin
3 cups of fresh bread crumbs
1/4 cup of fresh Italian flat leaf parsley, chopped
1/2 cup of fresh grated parmesan cheese
1/4 cup of roasted pine nuts, finely chopped
1 tsp of dried oregano
1/2 tsp of salt
1/2 tsp of fresh ground black pepper
2 eggs
1/2 cup of milk
1/4 cup of extra virgin olive oil

Sauce
1 bunch of long green onions, chopped
2 cloves of garlic
6 white button mushrooms of baby portabella mushrooms, sliced
2 Tbls of extra virgin olive oil
2 large Roma tomatoes or 4 smaller vine ripened tomatoes
1 tsp of crushed red pepper flakes
6 fresh basil leaves, chopped
1/2 tsp of salt
1/2 tsp of fresh ground black pepper
1/2 cup of Kalamata olives, chopped
2 Tbls of capers
1/4 cup of fresh flat leaf Italian parsley, chopped

PREPARATION
In a large bowl thoroughly mix together the bread crumbs, parsley, cheese, pine nuts, oregano, salt and pepper.
In another large bowl mix together the eggs and milk
Dip the chicken into the egg and then into the bread crumbs.
Heat the olive oil in a large skillet and fry the chicken breasts on both sides until golden brown adding more oil if necessary.
Set the chicken aside and keep warm.
In a medium size saucepan, sauté the onions and garlic until tender. About 2 to 3 minutes.
Add the mushrooms for another 2 minutes.
Add the tomatoes, red pepper, basil, salt and black pepper and cook for about 15 to 20 minutes.
Stir in the olives capers and parsley.
Serve warn on top of the crispy chicken cutlets.

Serves 4 people



---
Don't forget to click on the logo below and subscribe to my
NEW NEWSLETTER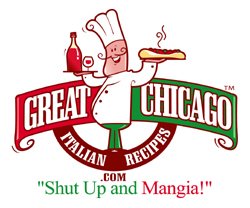 Leave Chicken Cutlets and Return to Italian Recipes

Leave Chicken Cutlets and Return to Italian Poultry Recipes
---
---
Home | The Italian Grocer | Italian Heritage | Italian Chefs | New Contest | What's New | Restaurant Reviews | Your Reviews | Appetizer Recipes | Soup Recipes | Salad Recipes | Bread Recipes | Vegetable Recipes | Pasta Recipes | Poultry Recipes | Beef Recipes | Pork Recipes | Veal Recipes | Lamb Recipes | Seafood Recipes | Pizza Recipes | Cooking for Kids | Italian Cheese | Italian Wine | Dessert Recipes | Coffee and Espresso| Italian Dinner Music | Food Glossary | About the Cook | Sitemap | Share This Site | Contact | Privacy Policy | Disclaimer | Submit Your Recipes | Your Italian Recipes | Archived Menus