Chicken Tetrazzini with Broccoli
---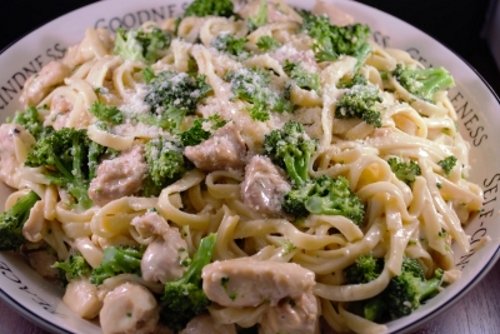 ---
THE SECRET IS IN THE NUTMEG
Here's a short story behind this Chicken Tetrazzini recipe. I have to share it because these things drive me crazy and I thought this would be a good place I'd get it out of my system.
I've been going to a place called Papa John's in Oak Lawn, Illinois for lunch almost every week for about two years now. It has good Italian food. Not the greatest but good. Anyway, the other day I ordered the special which was Chicken Nepolitano, which I was told is Chicken Tetrazzini with Broccoli and without onions. OK, fine!
This dish was so delicious I couldn't get enough and I was disappointed because I couldn't get the recipe. So here's the crazy part. I couldn't identify the herb or spice that was making this dish taste so good. It might have been nutmeg, it could be thyme or it could be sage. I still couldn't figure it out and I'm pretty good at identifying ingredients. It's not to often that I get this stressed out over food.
So the following week I went out and bought all the ingredients I needed and made it three different ways. One with the nutmeg, one with the thyme and one with the sage. I know that's crazy in itself but I had to find out and I definitely new it was one of the three.

So here's my version of the Chicken Tetrazzini that I had. It was the nutmeg folks. I feel so much better now.
INGREDIENTS
1 pound of mostaccioli, linguini or spaghetti
4 boneless chicken breasts cut up into small pieces
1 bunch of fresh broccoli
1 pound of button mushrooms, sliced
1 medium yellow onion, chopped
1 can of sweet peas, drained
2 cloves of garlic, chopped
5 Tbls of butter
1 Tbls of vegetable oil
1/3 cup of flour
1/4 cup of dry white wine
1 cup of heavy whipping cream
1 cup of chicken broth
3/4 tsp of freshly grated nutmeg
1/2 cup of freshly grated parmesan cheese
1/4 tsp of salt
1/4 tsp of fresh ground black pepper
1/4 cup of fresh parsley chopped
1 package of fresh mozzarella cheese, sliced


PREPARATION
In a steamer steam the broccoli until tender, about 10 minutes, then set aside.
In a large skillet sauté the onions, garlic and mushrooms in the oil and butter, about 1 minute.
Add the chicken pieces and cook through for about 10 minutes.
Season with salt and pepper.
Stir in flour and add more butter if necessary.
Stir in wine and broth reduce for 2 minutes
Stir in cream and cook until sauce thickens.
Stir in parmesan cheese
Add peas and broccoli.
Grate the nutmeg all over the mixture and cook for one minute.
Cook the pasta in 6 quarts of water until done, about 10 minutes.
Drain the pasta mix it into the chicken mixture.
Place everything in a casserole dish and top with mozzarella cheese and parsley.
Place the casserole dish under the broiler to lightly brown the cheese. Be careful not to burn the top, the cheese cooks quickly.

This Chicken Tetrazzini recipe serves 6. Serve with garlic bread and more Parmesan cheese.

In case your wondering, when I used the other two ingredient it turned out very good, but I needed that same taste I had at the restaurant.

Enjoy!



---
Don't forget to click on the logo below and subscribe to my
NEW NEWSLETTER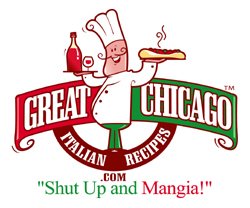 That's a discovery! That's Italian! That's
Great Chicago Italian Recipes.com
Leave Chicken Tetrazzini and Return to Italian Recipes

Leave Chicken Tetrazzini and Return to Best Tasting Pasta Recipes
---
---
Home | The Italian Grocer | Italian Heritage | Italian Chefs | New Contest | What's New | Restaurant Reviews | Your Reviews | Appetizer Recipes | Soup Recipes | Salad Recipes | Bread Recipes | Vegetable Recipes | Pasta Recipes | Poultry Recipes | Beef Recipes | Pork Recipes | Veal Recipes | Lamb Recipes | Seafood Recipes | Pizza Recipes | Cooking for Kids | Italian Cheese | Italian Wine | Dessert Recipes | Coffee and Espresso| Italian Dinner Music | Food Glossary | About the Cook | Sitemap | Share This Site | Contact | Privacy Policy | Disclaimer | Submit Your Recipes | Your Italian Recipes | Archived Menus