Crusty Chicken with Broccoli
---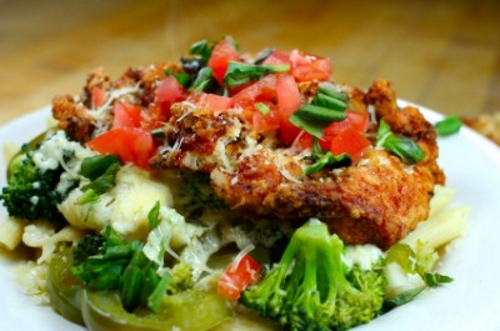 ---
Crispy
The breading on this
Crusty Chicken
recipe is unbelievable. It's a little mixture of fresh seasoned Italian breadcrumbs mixed with Panko breadcrumbs and Parmesan cheese.
You'll definitely need stale Italian bread for this recipe. I season it with a little dried basil, oregano, marjoram and garlic. Then mix in the Panko and Parmesan and you have a delicious coating for your chicken.
I then serve this Crusty Chicken with fresh steamed broccoli and top it with shredded fresh basil, chopped Roma tomatoes and fresh grated Parmesan. It's just plain delicious.
INGREDIENTS
4 boneless skinless chicken breasts
2 eggs
1/4 cup of milk
1/2 cup of Italian breadcrumbs
1/2 cup of Panko breadcrumbs
1/4 cup of fresh grated Parmesan or Romano cheese
1/2 tsp of dried basil
1/2 tsp of oregano
1/2 tsp of marjoram
1/2 tsp of garlic powder
1/2 tsp of salt
1 tsp of fresh ground black pepper
2 Tblsof extra virgin olive oil
1 Tbls of butter
1 bunch of broccoli
1/4 cup of fresh basil, shredded
1 cup of Roma tomatoes, chopped
1 avocado, (optional)
1/4 cup extra fresh grated Parmesan cheese

PREPARATION
In a medium bowl beat together the eggs and milk.
In another bowl mix together the breadcrumbs, cheese, dried basil, oregano, marjoram, garlic powder, salt and pepper.
Dip the chicken into the egg mixture then coat with the breadcrumbs and refrigerate for 10 minutes.
Using a steamer, steam the broccoli until tender.
In a large frying heat the oil and butter and cook the chicken until browned and crisp on both sides. Around 10 minutes on each side.
Place the chicken on a paper towel to drain the oil.
Plate the broccoli and optional avocado and top with the chicken breast.
Top the chicken with chopped tomatoes, basil and Parmesan and serve.

Serves 4 people



---
Don't forget to click on the logo below and subscribe to my
NEW NEWSLETTER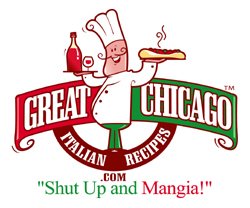 That's a discovery! That' Italian! That's
Great-Chicago-Italian-Recipes.com
Leave Crusty Chicken and Return to Italian Recipes
Leave Crusty Chicken and Return to Italian Poultry Recipes
---
---
Home | The Italian Grocer | Italian Heritage | Italian Chefs | New Contest | What's New | Restaurant Reviews | Your Reviews | Appetizer Recipes | Soup Recipes | Salad Recipes | Bread Recipes | Vegetable Recipes | Pasta Recipes | Poultry Recipes | Beef Recipes | Pork Recipes | Veal Recipes | Lamb Recipes | Seafood Recipes | Pizza Recipes | Cooking for Kids | Italian Cheese | Italian Wine | Dessert Recipes | Coffee and Espresso| Italian Dinner Music | Food Glossary | About the Cook | Sitemap | Share This Site | Contact | Privacy Policy | Disclaimer | Submit Your Recipes | Your Italian Recipes | Archived Menus