Italian Cured Meat
---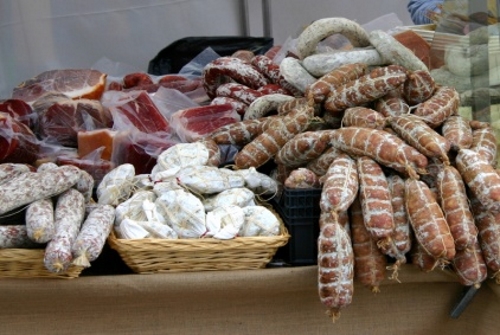 ---
Delicious Italian Salumi Italians have perfected the art of  making
cured meat
.  Out of necessity, these meats were salted, smoked or air dried in order to preserve the meat for future meals.  Meats like Prosciutto,  Coppa, Pancetta and others are made from whole pieces of meat whereas meats like soppressata, salami, sausages and others are made from ground meats stuffed into casings.
These meats, simple called Salumi in Italian, are sold at the many regional Sulumeria throughout Italy.  Here you can find Prosciutto di Parma, Mortadella plus Soppresata and more along with  specialties of the specific region that you won't find in any other part of Italy.
Some cured meats like pancetta are used for cooking while others are simply sliced and served as appetizers or on a antipasti tray drizzled with olive oil and lemon juice. Meats from the Southern region of Italy tend to be spicier than meats from the Northern part.  Aromatic spices like cinnamon, cloves, nutmeg and fennel along with herbs such as rosemary, thyme and marjoram are used frequently  in the making of these fine quality meats.
Two of Italy's best know varieties of ,b>cured meats are Prosciutto di Parma and Prosciutto San Danielle.  These brands of thin sliced, velvety, salty-sweet Italian ham  are known worldwide.  The four ingredients that are needed to make prosciutto are Italian pigs, course salt, air and time.
The varieties of casing stuffed salumi is endless.  My favorite and the one that I grew up with here in Chicago is  soppresata.   Groups of friends and neighbors would pitch in and make soppresata in large batches in their basements and distribute it to family and friends throughout the neighborhood.  Every year it gets harder and harder to find homemade soppresata due to the fact that the tradition is not being passed along.  Unfortunately,  you sometimes have to resort to the store bought variety.
In my neighborhood and a few others, soppresata is like gold.  People invest their time and money and usually trade it for favors.  If someone gives you a stick of soppresata, you owe something somewhere along the line.  It may not be right away but sooner or later that person will remind you , "Hey,  remember when I gave you that soppresata?".  Souls have been sold over this stuff.  Fights have been fought and bodies have yet to be found over this delicious Italian cured meat delicacy.
The process of making soppresata is the same.  The ground pork is  seasoned, stuffed, pressed and dried.  The only thing that varies from family to family is how the meat is seasoned.  Each family in my neighborhood has their own secret recipe.
So if your lucky enough to have tasted this delicious meat, be thankful in knowing all the tradition, love and labor that went into the making of it.
---
Don't forget to click on the logo below and subscribe to my
NEW NEWSLETTER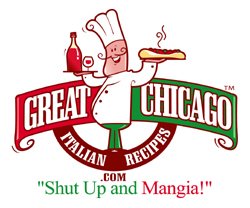 That's a discovery! That' Italian! That's
Great-Chicago-Italian-Recipes.com
Leave Italian Cured Meat and Return to Italian Recipes

Leave Italian Cured Meat and Return to Italian Food Articles
---
---
Home | The Italian Grocer | Italian Heritage | Italian Chefs | New Contest | What's New | Restaurant Reviews | Your Reviews | Appetizer Recipes | Soup Recipes | Salad Recipes | Bread Recipes | Vegetable Recipes | Pasta Recipes | Poultry Recipes | Beef Recipes | Pork Recipes | Veal Recipes | Lamb Recipes | Seafood Recipes | Pizza Recipes | Cooking for Kids | Italian Cheese | Italian Wine | Dessert Recipes | Coffee and Espresso| Italian Dinner Music | Food Glossary | About the Cook | Sitemap | Share This Site | Contact | Privacy Policy | Disclaimer | Submit Your Recipes | Your Italian Recipes | Archived Menus