Pan Fried Babary Duck Breast
Rosemary-Onion Marmalade
Rum Chocolate Sauce
Platano Frito
By
Culinary Artist & Master Chef Gianfranco Chiarini
From His Book
"The New Renaissance
of Italian Fusion Cuisine 1.0"
---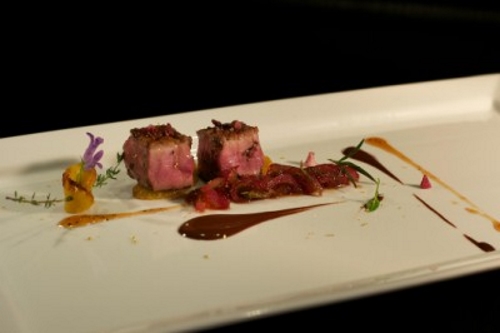 ---
Modernistic
This Italian/Caribbian and South American Fusion (Venezuela) recipe from Chef Chiarini is a delicious example of fusion cuisine. The flavors of the marmalade, rum sauce and platano are expertly blended with the savory flavor of the tender duck breast.
Fusion cuisine began in France during the 1970's. Then it was known as "Nouvelle Cuisine" which was mainly comprised of French and Japanese cooking. As it grew from nation to nation each country would blend their own traditional elements to create distinctly unique flavorful dishes.
Chef Chiarini is a master at creating these types of dishes. It demands that he constantly take different elements and present them in an appealing and appetizing light.
This recipe looks intimidating at first glance but Chef Chiarini's recipes are written so not only a professional chef can prepare them but so can a home cook such as myself. Enjoy!
INGREDIENTS:
Pan-fried Barbary Duck Breast
2 - (Large) Barbary duck breasts (400 gm = 14 oz. after trimming)
Black pepper (crushed) to taste
Mozzer's Finest Pyramid Cranberry salt (to taste)

Rosemary-Onion Marmalade
500 gm =  18 oz. Onion, red or yellow, peeled, cut in half, sliced thinly
50 ml = 1.6 fl oz. Olive oil
2.4 gms = 1/2 tea spoon Sea salt
1.2 gms = 1/4 teaspoon Crushed black pepper
2 - Bay leaves
1 - Rosemary sprig (separate the leaves)
90 gm = 3 oz. Soft brown sugar
40 ml = 1.3 fl oz. Dry white wine
30 ml = 1 fl oz. Alan Coxon's Roman Vinegar
10 ml = 0.3 fl oz. Balsamic vinegar

Rum-Chocolate sauce:  
50gm = 2 oz. Dark Chocolate (Maracaibo Clasificado 65% ), grated
180ml = 6 fl. oz. Fresh Beef Stock
25gm = 1 oz. Butter (unsalted)
1 - Shallot, (finely chopped)
120ml = 4 fl. oz. Venezuelan Rum (Cacique 500 Extra Añejo Rum)
30 gm = 2 tablespoons Balsamic Vinegar
Mozzer's Finest Pyramid Salt from the Indian Ocean (to taste)

Plantano frito:
1 - Large platano maduro (ripened plantain)
180 ml = 6 fl oz. Oil for frying.

PREPARATION:
Approx preparation and cooking time: 2 hours
Approx serving time: 30 minutes
Difficulty level: 3/5
Serves: 4

Pan-fried Barbary Duck Breast:  
Score the fat on the duck breasts (leave the skin on) and cut each duck breast into four even squares, to obtain a total of 8 (2 per serving).
Season with Cranberry salt.
Into a hot pan add the duck breasts, skin side down.
Fry for approximately four minutes, turn over and repeat on the other side.
Timing is obviously variable depending on size of duck breast. I like my duck quite pink in the middle (not super-rare as I do beef). Four minutes each side would be about right for me.
Once cooked to your liking, remove the duck from the pan, cover with foil and leave it to rest while you make the side dish and the sauce.

Rosemary-Onion marmalade:  
Heat the olive oil in a heavy frying pan and add the finely sliced onions; toss to make sure they all have a coating of oil.
Cover and cook over a gentle heat until they start to color.
Add the salt, pepper, bay leaves and rosemary, cooking for a further 15 to 20 minutes, until the herbs have wilted.
Take off the lid and add the sugar, wine and vinegars.
Bring to the boil, stirring all the time; then lower the heat and simmer for 20 to 30 minutes until the liquid is all dissolved and the onions are soft and sticky.
You will need to be very careful towards the end of the cooking, stirring all the time so the onions do not stick and become burnt and scorched.
Pick out the bay leaves and spoon the confit into a clean, dry and sterilized jar; seal straight away and store in the fridge to be eaten cold.

Rum-Chocolate Sauce  
Preheat a large sauté pan, melt the butter, add the shallots and cook gently for 3 minutes, stirring.
Add the Cacique 500 Extra Añejo Ron, and balsamic vinegar to the shallots, raise the heat and boil rapidly for 2-3 minutes.
Add the stock and rosemary, return to the boil then remove from the heat and whisk in the chocolate until it melts and slightly thickens.
Reserve for assembling.

Plantano frito:  
This procedure is very simple: preheat oil in a medium, deep skillet over medium-high heat.
Peel the plantains and cut into 1cm (0.3 inch) slices.
Fry the pieces until browned and tender.
Drain excess oil on paper towels.

Let's go now directly to assemble this wonderful dish.

Assembly:  

This dish is one of the most exotic in the book due to the rare products involved. The Rum, the Chocolate and the platanos give a real South-American heart to this beauty.
Let's begin by making 2 little nests of plantains and a front line of onion marmalade as shown, and place a duck breast cube on top of each nest.
Spread sideways the Rum-Chocolate sauce as indicated and garnish with the platano slices as in the picture; or as usual I encourage you to use your imagination.

I grew up and lived a significant part of my life in Venezuela and the combination of Criollos and the immigrant Italians there taught me that this particular combination of flavors would be a wonder to the palate. As usual, Buon Apetito and I hope you'll love this culinary marvel as much as I do.

Chef Gianfranco Chiarini



Don't forget to visit Chef Chiarini's website at
Executive Chef Gianfranco Chiarini.com.







---
Don't forget to click on the logo below and subscribe to my
NEW NEWSLETTER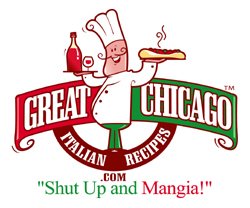 Leave Duck Breast and Return to Italian Recipes

Leave Duck Breast and Return to Italian Poultry Recipes
---
---
Home | The Italian Grocer | Italian Heritage | Italian Chefs | New Contest | What's New | Restaurant Reviews | Your Reviews | Appetizer Recipes | Soup Recipes | Salad Recipes | Bread Recipes | Vegetable Recipes | Pasta Recipes | Poultry Recipes | Beef Recipes | Pork Recipes | Veal Recipes | Lamb Recipes | Seafood Recipes | Pizza Recipes | Cooking for Kids | Italian Cheese | Italian Wine | Dessert Recipes | Coffee and Espresso| Italian Dinner Music | Food Glossary | About the Cook | Sitemap | Share This Site | Contact | Privacy Policy | Disclaimer | Submit Your Recipes | Your Italian Recipes | Archived Menus