The Great Enrico Caruso
---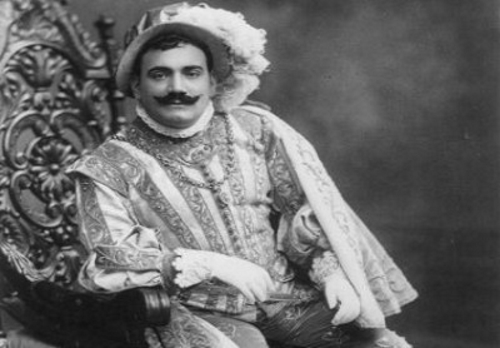 ---
The Great Tenor
Enrico Caruso was born on February 25th, 1873 in Naples, Italy.  Considered the greatest operatic tenor who ever lived, Caruso made his operatic debut in 1894 at the Teatro Nuovo in Naples and apprenticed in many small theaters singing a variety of roles.
After a performance of L'elisir d'amore in February of 1901 famed conductor Arturo Toscanini said  "Per dio! Se questo Napoletano continua a cantare così, farà parlare di sè il mondo intero." (By Heaven! If this Neapolitan continues to sing like this, he will make the whole world talk about him.)   Giacomo Puccini (even more impressive !) who when Caruso auditioned for La Bohéme mumbled: "Who sent you to me? God himself?"
He achieved greater triumph when he made his American debut at the New York Metropolitan Opera in 1903.  Here he remained with the company for the next 18 seasons and achieved a record of 863  appearances.
Caruso was also one of the first musicians to document his voice on gramophone recordings.  He made more than 260 recordings for Victor Talking Machine Company within a 16 year span.   "Vesti la giubba" from  Pagliacci was the first recording to ever sell over one million copies.
Caruso's achievements during his career made him the most celebrated tenor of his time.  Besides being supremely gifted for opera, Caruso's passion for food and cooking was also well known.  He sponsored the citizenship of more than a dozen chefs from his hometown of Naples and  helped them open restaurants in Brooklyn.   Not only did help them but when the tenor wasn't singing he could be found cooking in the kitchen preparing meals for his many friends.
One dish named in his honor was "Spaghetti alla Caruso". This dish consisted of chicken livers, San Marzano tomatoes, mushrooms, onions and garlic.  During the 1950's this dish appeared on menus all over the United States.  Caruso always proudly said that his food was the sweetest, the simplest and the least expensive in the world.
When Caruso passed away from chronic pleurisy on August 2, 1921 at the age of 48, he left a legacy of music that millions of us are still able to enjoy today.  I found a great website that features many of Caruso's recordings.  I listened to most of them while writing this.  Visit www.enricocaruso.dk and you'll be able to hear "The Great Caruso". We salute Enrico Caruso!   Enjoy!
---
Don't forget to click on the logo below and subscribe to my
NEW NEWSLETTER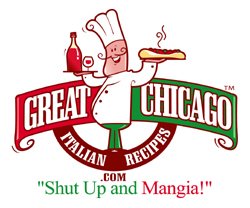 That's a discovery! That' Italian! That's
Great-Chicago-Italian-Recipes.com
Leave Enrico Caruso and Return to Italian Recipes
Leave Enrico Caruso and Return to The Italian Experience
---
---
Home | The Italian Grocer | Italian Heritage | Italian Chefs | New Contest | What's New | Restaurant Reviews | Your Reviews | Appetizer Recipes | Soup Recipes | Salad Recipes | Bread Recipes | Vegetable Recipes | Pasta Recipes | Poultry Recipes | Beef Recipes | Pork Recipes | Veal Recipes | Lamb Recipes | Seafood Recipes | Pizza Recipes | Cooking for Kids | Italian Cheese | Italian Wine | Dessert Recipes | Coffee and Espresso| Italian Dinner Music | Food Glossary | About the Cook | Sitemap | Share This Site | Contact | Privacy Policy | Disclaimer | Submit Your Recipes | Your Italian Recipes | Archived Menus