Fresh Herbs with Gnocchi
---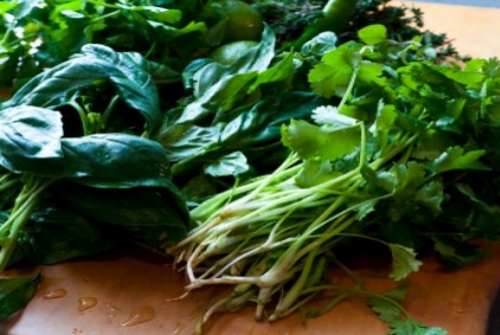 ---
Fresh
Using
Fresh Herbs
are essential in preparing any Italian meal.  The thought of preparing a great meal without fresh
garlic,  parsley, basil, sage, rosemary, oregano
or
thyme
is unimaginable.  Just the aroma of these herbs conjure up images of various dishes.  Who doesn't love herb infused oils  mixed with fresh grated Parmigiano Reggiano or a wonderful pesto sauce for your pasta.
Basil, oregano and garlic are the most important Fresh Herbs.  I seem to use these herbs most often.  Actually dried oregano has more flavor but fresh oregano can be used in many dishes to create a more  subtle flavor. Flat leaf Italian parsley is more flavorful than it's decorative curly counterpart and can be used for soups, stews and vegetable dishes. 
I crave Fresh Herbs like sage that I use in making a cream sauce and of course it's impossible to make  Saltimbocca without it.    The flavors of Lamb, pork and fish are always enhanced by fresh rosemary and I couldn't think about making a risotto without fresh thyme.   Just the smell of these two herbs makes my mouth water.
Now as far as garlic is concerned, if you don't use it then don't cook anything Italian.  My taste calls for plenty of garlic in my dishes and that is why I keep plenty of it on hand.  If you use powdered garlic or granulated garlic then just don't cook at all.  If anything needs to be fresh it's the garlic.
I hope you enjoy this great Fresh Herbs and Gnocchi I made the other day.  Homemade gnocchi is always the best but if your in a hurry you can use package gnocchi.
INGREDIENTS
Gnocchi
2 lbs of russet potatoes, cut into 1/2 inch pieces
3 Tbls of butter
1 large egg, beaten
2 and 1/2 cups of all purpose flour
1 tsp of salt

Sauce
1/2 cup of extra virgin olive oil
3 cloves of garlic, finely chopped
1 Tbls of fresh oregano
1 Tbls of fresh basil
1/2 Tbls of fresh parsley
1/2 tsp of salt
1/2 tsp of fresh ground black pepper
1/4 cup of fresh grated Parmesan cheese

PREPARATION
In around 5 quarts of boiling salted water, cook the potatoes until tender.  Around 10 to 15 minutes. Drain well.
Press the hot potatoes through a strainer or a sieve into a large bowl.
Add the salt, butter, egg and 1 and 1/2 cups of flour and mix together.
Turn out the mixture onto a floured board and knead while adding the remaining flour until a smooth, sticky dough is formed.
Roll the dough into a couple of ropes around 3/4 inch thick.
Cut into 1/2 inch piece and roll over a fork.
Set aside on top of a floured board.
In 4 quarts of boiling salted water, cook the gnocchi in small batches for 2 to 3 minutes or until the gnocchi float to the top.
Remove the gnocchi with a slotted spoon and place in a large bowl.
In a medium size saucepan saute the garlic in the olive oil until slightly golden.
Remove the oil from the heat and add the oregano, basil and parsley.
Add the herb mixture to the gnocchi and season with salt and pepper.
Serve with Parmesan cheese and a loaf of warm Italian bread.

Serves 4 people



---
Don't forget to click on the logo below and subscribe to my
NEW NEWSLETTER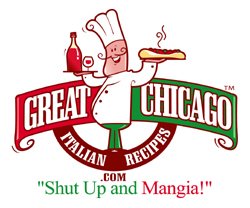 That's a discovery! That' Italian! That's
Great-Chicago-Italian-Recipes.com
Leave Fresh Herbs and Return to Italian Recipes

Leave Fresh Herbs and Return to Best Tasting Pasta Recipes
---
---
Home | The Italian Grocer | Italian Heritage | Italian Chefs | New Contest | What's New | Restaurant Reviews | Your Reviews | Appetizer Recipes | Soup Recipes | Salad Recipes | Bread Recipes | Vegetable Recipes | Pasta Recipes | Poultry Recipes | Beef Recipes | Pork Recipes | Veal Recipes | Lamb Recipes | Seafood Recipes | Pizza Recipes | Cooking for Kids | Italian Cheese | Italian Wine | Dessert Recipes | Coffee and Espresso| Italian Dinner Music | Food Glossary | About the Cook | Sitemap | Share This Site | Contact | Privacy Policy | Disclaimer | Submit Your Recipes | Your Italian Recipes | Archived Menus