Hand Sandwich and Linguini
with Eye Balls
---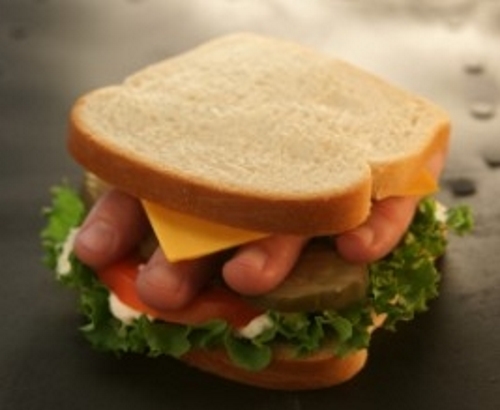 ---
Hand Sandwich
Here are two of my favorite Halloween recipes for lunch and dinner. The first is a deliciously tender Hand Sandwich. It's a simple recipe that is great for lunchtime.
Try to use the freshest hand you can find. I prefer the left hand because it's not used as much as the right. The right hand tends to be a little chewy. Be careful of the bones when eating this sandwich. Just serve the sandwich with a finger bowl.
This Hand Sandwich is just as good grilled. Enjoy!
INGREDIENTS
1 fresh hand, preferably the left
Sandwich bread or buns, (non-human)
Lettuce
Tomato
Mayonnaise
Pickles
American cheese

PREPARATION
Place the Mayo on the bread
Add the lettuce, tomato and pickle
Slap on the hand
Top with cheese and enjoy

Serves 1 person
---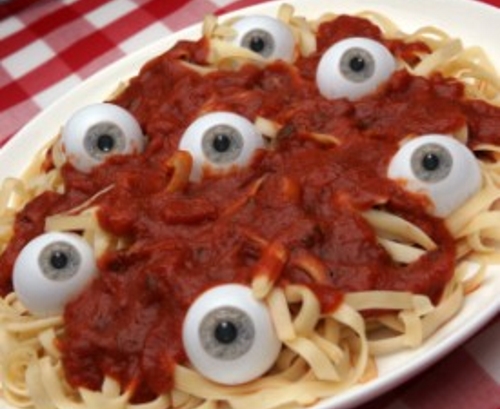 ---
Linguini with Eyeballs
My second recipe is great for dinner. Who doesn't love Linguini and Eyeballs. I remember when I was growing up it was always a favorite around our house. There's nothing better than that welcoming look you get when that plate is placed in front of you. It's the look of love.
These little morsels are great by themselves or with the pasta of your choice. Serve them as appetizers or as a delicious meal and don't forget the bread and wine. Here's looking at you! Enjoy!
INGREDIENTS
1 pound of linguini
12 fresh eyeballs
Your favorite spaghetti sauce
1/2 cup of fresh grated Parmesan cheese

PREPARATION
In a large pot of salted boiling water, cook the pasta until dente. Around 10 minutes.
In the meantime heat the sauce in a medium size pot.
Add the eyeballs and let simmer for at least 1 hour.
Drain and plate the pasta.
Top with the eyeball sauce.
Serve with the Parmesan cheese.

Serves 4 people

NOTE: Do not make the recipes above. It is just a Halloween joke. Unless your a Zombie then be my guest. Enjoy!



---
"Have a Safe and Happy Halloween Everyone!"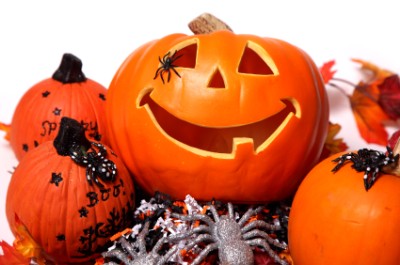 ---
Home | The Italian Grocer | Italian Heritage | Italian Chefs | New Contest | What's New | Restaurant Reviews | Your Reviews | Appetizer Recipes | Soup Recipes | Salad Recipes | Bread Recipes | Vegetable Recipes | Pasta Recipes | Poultry Recipes | Beef Recipes | Pork Recipes | Veal Recipes | Lamb Recipes | Seafood Recipes | Pizza Recipes | Cooking for Kids | Italian Cheese | Italian Wine | Dessert Recipes | Coffee and Espresso| Italian Dinner Music | Food Glossary | About the Cook | Sitemap | Share This Site | Contact | Privacy Policy | Disclaimer | Submit Your Recipes | Your Italian Recipes | Archived Menus