Lasagna con Cavolifiore
---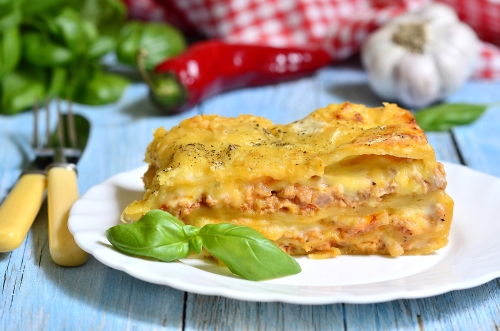 ---
A Tasty Lasagna
Nice long lasagna noodles compliment this cauliflower and ricotta dish. Add a little garlic and tomatoes and your in heaven. Lasagna can be made a variety of different ways, stuff it with a wide choice of cheese, meats or vegetables and top it with mozzarella and you'll never go wrong.
The best part of this dish is watching the family's reaction when it comes bubbling out of the oven and onto the dinner table. Traditionally this dish is made with bolognaise or marinara sauce and ricotta, but this recipe is a nice twist on the traditional version.
Once in a while I'll add some sautéed spinach and asparagus to the cauliflower. It all depends on what you have a taste for. Right now try this version and see if you like it then you could always experiment with other ingredients later.
INGREDIENTS
1 pound of lasagna noodles
1 1/2 pounds of ricotta strained
4 egg yolks
1/2 cup of fresh parsley
1 tsp of freshly grated nutmeg
1/4 cup of parmesan cheese
1 large head of cauliflower cut into pieces
1 bunch of long green onions chopped
3 cloves of garlic chopped
1/2 cup of seasoned bread crumbs
1 Tbs extra virgin olive oil
2 Tbs of butter
1 15oz can of diced tomatoes
1/2 tsp of salt
1/2 tsp of freshly ground black pepper
1 package of 8oz Mozzarella cheese

PREPARATION
In a small bowl cream the ricotta with 2 egg yolks, parsley, nutmeg, 1/2 cup of mozzarella and parmesan cheese. Refrigerate until you're ready to use.
Cook noodles in 6 quarts of boiling, salted water until almost done. About 10 minutes.
Remove noodles and place on a large cloth to dry.
In a skillet sauté onions, cauliflower and garlic in oil and butter for 5 minutes.
Add bread crumbs and sauté for 2 minutes
Add diced tomatoes and cook another 2 minutes
Season with salt and pepper .
In a large buttered baking dish place a layer of noodles, a layer of cauliflower mixture and then a thin layer of the ricotta mixture.
Repeat the layering one more time and top with the remaining noodles.
Spoon the remaining egg yolks over the lasagna and top with remaining mozzarella cheese.
Bake covered for around 20 minutes.
Uncover and baked another 10 to 15 minutes to brown the mozzarella.

This dish can actually be served hot or cold depending on your preference. I prefer hot one day and cold the next. Enjoy!



---
Don't forget to click on the logo below and subscribe to my
NEW NEWSLETTER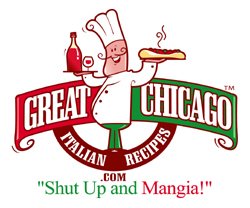 That's a discovery! That's Italian! That's
Great Chicago Italian Recipes.com
Leave Lasagna con Cavolifiore and Return to Italian Recipes

Leave Lasagna con Cavolifiore and Return to Best Tasting Pasta Recipes
---
---
Home | The Italian Grocer | Italian Heritage | Italian Chefs | New Contest | What's New | Restaurant Reviews | Your Reviews | Appetizer Recipes | Soup Recipes | Salad Recipes | Bread Recipes | Vegetable Recipes | Pasta Recipes | Poultry Recipes | Beef Recipes | Pork Recipes | Veal Recipes | Lamb Recipes | Seafood Recipes | Pizza Recipes | Cooking for Kids | Italian Cheese | Italian Wine | Dessert Recipes | Coffee and Espresso| Italian Dinner Music | Food Glossary | About the Cook | Sitemap | Share This Site | Contact | Privacy Policy | Disclaimer | Submit Your Recipes | Your Italian Recipes | Archived Menus