Great Italian Chefs
featuring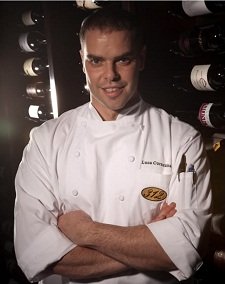 Executive Chef Luca Corazzina
Chef of 312 Chicago
---
Contemporary
Chef Luca Corazzina's modern take on Italian classic cuisine is widely known here in Chicago. His recipes for pasta, meats and seafood are simply elegant and his commitment to using only quality ingredients reflects the taste of his dishes.
Chef Corazzina's experience in the preparation and execution of Italian dishes continues to draw dedicated clientele to 312 Chicago and we are lucky to have him as a part of Chicago's culinary community.
I would like to thank Chef Corazzina for sharing his recipe for "Roasted Pacific Halibut with Summer Vegetables". I'm sure it's one we will all enjoy.
Phillip J. Speciale
---
Chef's Bio
An Italian native, Luca Corazzina brings a wealth of knowledge about the cuisine and culture of his home country to 312 Chicago. Born in Padova, his mother was a professional chef and passed on her expertise of Northern Italian cuisine to her son, who as a boy would help out in the kitchen, prepping or washing dishes. In pursuit of "the American dream" Corazzina's family emigrated from Italy to Chicago in 1986 and realized that dream, opening a restaurant in the Little Italy neighborhood two years later.
Forgoing his other childhood dream, that of being a spy, Corazzina realized his passion and committed himself to learning the intricacies of the kitchen, working at the family restaurant as well as several other Chicago eateries to broaden his knowledge and hone his natural talent.
In 1993, Corazzina accepted the position as Executive Sous Chef at the very popular VIVO and in 1995, was named Executive Chef at Pane Caldo in Miami Beach, Florida. At Pane Caldo, the young chef embraced the opportunity by running the kitchen, setting the menu and training the staff. His Venetian Italian menu was heartily received with both consumer and critical acclaim. Over the next several years, Corazzina worked both in Florida and Chicago, building his reputation and skill set. Working for the Walt Disney World Resort (Orlando), he took on more operational responsibilities and oversaw special events, working with talented chefs from all over the world. In early 1998, Corazzina returned to VIVO as Executive Chef and three years later, accepted an Executive Chef position within the rapidly growing Francesca Group.
Here, Corazzina continued to broaden his knowledge of the restaurant industry, working both back- and front-of-house. Corazzina chose this route with his goal of ownership always the focus, and in 2004 he opened Figo Ristorante in suburban Glen Ellyn, Illinois. Building upon their success, he and his partner opened a second location in St. Charles in 2006. Assisting a friend, Corazzina consulted on the menu and worked as Chef de Cuisine for the opening of Prosecco restaurant in Chicago (2008) and found he thoroughly enjoyed consulting. That summer, he began consulting for the Kimpton Group and the business relationship blossomed.
A mutual respect evolved and when 312 Chicago's longtime Chef announced he would be departing at the end of year, it was a natural fit for Corazzina to assume that role. He accepted the Executive Chef position at 312 Chicago and his menu showcases his contemporary take on classic Italian cuisine. As homage to his mother, his greatest culinary mentor, Corazzina's menu is very fresh and seasonal, and when asked about his culinary philosophy, Corazzina simply states "My mother taught me that the basis for fine cuisine is the use of the best available ingredients. The best ingredients, treated with care, can result in perfection – that is the recipe for success." Corazzina is passionate about true Italian cuisine and finds the greatest reward in the appreciation from his diners, seeing them thoroughly enjoy a dish.
When not in the kitchen or spending time with his wife and two sons, he can be found visiting his hometown, where he always find inspiration and ideas for his menu.
View Chef Luca Corazzina's recipe for "Roasted Pacific Halibut".
Don't forget to click on the logo below and subscribe to my
NEW NEWSLETTER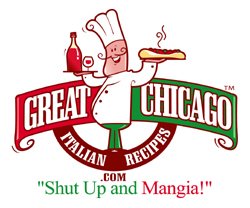 That's a discovery! That' Italian! That's
Great-Chicago-Italian-Recipes.com
Leave Luca Corazzina and Return to Italian Recipes
Leave Luca Corazzina and Return to Great Italian Chefs
---
---
Home | The Italian Grocer | Italian Heritage | Italian Chefs | New Contest | What's New | Restaurant Reviews | Your Reviews | Appetizer Recipes | Soup Recipes | Salad Recipes | Bread Recipes | Vegetable Recipes | Pasta Recipes | Poultry Recipes | Beef Recipes | Pork Recipes | Veal Recipes | Lamb Recipes | Seafood Recipes | Pizza Recipes | Cooking for Kids | Italian Cheese | Italian Wine | Dessert Recipes | Coffee and Espresso| Italian Dinner Music | Food Glossary | About the Cook | Sitemap | Share This Site | Contact | Privacy Policy | Disclaimer | Submit Your Recipes | Your Italian Recipes | Archived Menus