Italian Style Meatloaf
---
---
Comforting
Meatloaf has always been a great example of traditional home cooking. It's always been referred to as comfort food and always seems to bring back great memories from our childhood. Meatloaf defines family living.
This recipe blends ground beef and pork with fresh herbs and tomatoes to make a marvelous dinner. You could serve this dish with roasted white potatoes or my special garlic mashed. A little steamed string beans, cauliflower or broccoli on the side and your all set to cuddle up next to this dish and eat.
Though the roasted potatoes are delicious, I prefer the garlic mashed with this dish. I usually make roast potatoes when I'm in a hurry. I think the only reason I make this dish is for the cold sandwiches the next day, if you're lucky enough to have leftovers.
INGREDIENTS
3 Tbls of extra virgin olive oil
3 cloves chopped garlic
1 red bell pepper, diced
2 carrot, diced
1 yellow onion, diced
2 stalk of celery, diced
1/4 cup of fresh chopped parsley
1 pound of ground chuck
1/2 pound of ground pork
1/4 cup of fresh chopped basil
1 15oz can of diced tomatoes
1/2 cup of plain bread crumbs
1/2 cup of freshly grated Parmesan cheese
1/2 cup of dry white wine
2 eggs lightly beaten
1/2 tsp salt
1/2 tsp black pepper
1/2 cup of ketchup

PREPARATION
In a large frying pan saute the garlic, bell pepper, onions, carrots, celery and parsley for 2 to 3 minutes.
Let the mixture cool down
Combined the vegetable ingredients with the meat in a large bowl.
Add the basil, tomatoes,breadcrumbs, cheese, wine and eggs.
Season with salt and pepper.
Mix thoroughly.
Shape meat into a loaf.
Place in roasting pan with rack so the oil has a place to drain.
Top with ketchup.
Pre-heat oven to 375 degrees
Bake covered for 1 hour and 30 minutes.

Serve with roasted potatoes or the great garlic mashed potatoes below.

My Garlic Mashed Potatoes

INGREDIENTS
6 large white potatoes peeled and cut into pieces
1 bunch of long green onions chopped
3 cloves of chopped garlic
1/4 cup of bacon bits
3/4 stick of butter
1 Tbl of vegetable oil
1/4 cup of milk or whipping cream
1/4 cup of chicken broth
1/2 tsp salt
1/2 tsp pepper



PREPARATION
Boil potatoes in 4 quarts of water until tender.
Saute onions and garlic for 2 minutes in oil and 1/4 stick of butter.
Drain potatoes and place in a large bowl.
Mix all the ingredients together with an egg beater or Kitchen Aid until potatoes are smooth and fluffy.

Serve sliced meatloaf with these mashed potatoes on the side. Add your favorite vegetables and your in for a great evening.



---
Don't forget to click on the logo below and subscribe to my
NEW NEWSLETTER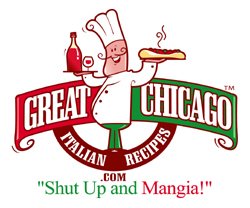 That's a discovery! That' Italian! That's
Great-Chicago-Italian-Recipes.com
Leave Italian Style Meatloaf and Return to Italian Recipes

Leave Italian Style Meatloaf and Return to Italian Beef Dishes
---
---
Home | The Italian Grocer | Italian Heritage | Italian Chefs | New Contest | What's New | Restaurant Reviews | Your Reviews | Appetizer Recipes | Soup Recipes | Salad Recipes | Bread Recipes | Vegetable Recipes | Pasta Recipes | Poultry Recipes | Beef Recipes | Pork Recipes | Veal Recipes | Lamb Recipes | Seafood Recipes | Pizza Recipes | Cooking for Kids | Italian Cheese | Italian Wine | Dessert Recipes | Coffee and Espresso| Italian Dinner Music | Food Glossary | About the Cook | Sitemap | Share This Site | Contact | Privacy Policy | Disclaimer | Submit Your Recipes | Your Italian Recipes | Archived Menus