Great Italian Chefs
featuring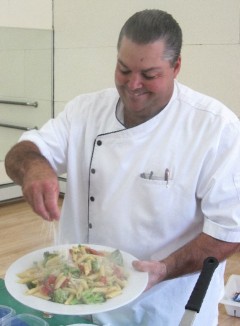 Chef Pat Marone
Executive Chef of The Regency
at Glen Cove
---
Passion
Chef Pat Marone's contribution to the culinary industry has spanned over 25 years. He has been associated with numerous five star restaurants including Naples 25, located in the Gold Coast of Long Island's premier luxury shopping center, Americana Manhasset.
Currently Chef Marone is the Executive Chef of The Regency at Glen Cove, New York, an assisted seniors living facility. His program at the facility, called "Cooking Light for Seniors" showcases his passion for Italian cuisine as well as entertains the seniors. For this, Chef Marone, we salute you.
Phillip J. Speciale
---
Chef's Bio
Being a dishwasher at the age of 15, started Chef Marone on his culinary adventure. He knew then that his only interest was to become a chef. He learned to sharpen his skills through hands on experience in many restaurant kitchens.
Chef Marone's specialty is of course, Italian cuisine, which he enjoys immensely. He creates and serves new and exciting pasta dishes which his guests truly enjoy. Among his favorites are "Cavatelli with Sausage, Mushrooms and Shallots" in a pink cognac sauce and "Salmon al Forno" with capers, tomatoes, white wine and lemon which are included on the menu's he handcrafts daily for the residents of The Regency.
He states, "I love to create new taste sensations for our residents especially for those with dietary restrictions. The Regency residents have become my family and I enjoy making their dining experience special."
Besides demonstrating his "Cooking Light for Seniors" program at the Regency, Chef Marone also performs demonstrations at senior centers, libraries and churches. The seniors look forward to attending his cooking demonstrations, loves his humor and most of all eating all the great food he prepares. He has introduced a new approach to the senior dining experience, implementing many changes that enhance The Regency's cuisine. He has thrown his heart and soul into the creation of flavorful menus that appeal to a wide range of seniors without infringing on their dietary restrictions.
With all that you would think it would be enough. But, Chef Marone has also worked as an extra in two movies that featured Robert DeNiro, A Bronx Tale and Analyze That. A great second career just in case the cooking stuff don't pan out. And I don't think that is going to happen anytime soon.
Thanks Chef great job. I'm sure we're all going to enjoy the recipe you sent. I know I am. Cream sauces are always a favorite of mine.
View Chef Pat Marone's recipe for "Penne alla Cognac"
Don't forget to click on the logo below and subscribe to my
NEW NEWSLETTER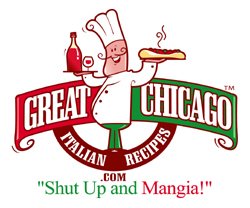 That's a discovery! That' Italian! That's
Great-Chicago-Italian-Recipes.com
Leave Pat Marone and Return to Italian Recipes
Leave Pat Marone and Return to Great Italian Chefs
---
---
Home | The Italian Grocer | Italian Heritage | Italian Chefs | New Contest | What's New | Restaurant Reviews | Your Reviews | Appetizer Recipes | Soup Recipes | Salad Recipes | Bread Recipes | Vegetable Recipes | Pasta Recipes | Poultry Recipes | Beef Recipes | Pork Recipes | Veal Recipes | Lamb Recipes | Seafood Recipes | Pizza Recipes | Cooking for Kids | Italian Cheese | Italian Wine | Dessert Recipes | Coffee and Espresso| Italian Dinner Music | Food Glossary | About the Cook | Sitemap | Share This Site | Contact | Privacy Policy | Disclaimer | Submit Your Recipes | Your Italian Recipes | Archived Menus