Re-Creating a Perfect Chicago-Style Italian Beef Sandwich
---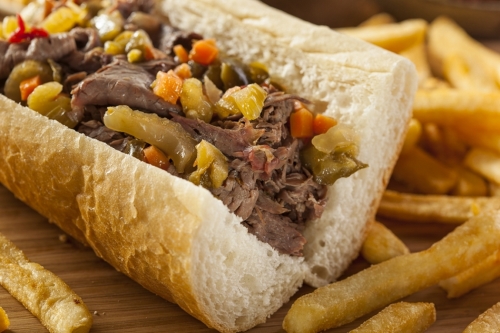 ---
Delicious Beef

If anyone has every bit down on a Chicago-Style Italian Beef Sandwich then they know the magical experience you get from the great combination of flavors. Italian beef sandwiches are made from thinly sliced or shredded sirloin or top/bottom round roast. The meat is then slow roasted in a juice made from broth, garlic and a perfect blend of herbs and spices. Once sliced or shredded, the beef is then returned to the juice and allowed to soak up its perfect blend of flavors.
The type of bread you use is very important. It must be a chewy type that is able to withstand the dripping beef without falling apart. Typically the bread is a dense Italian dinner roll around 6 to 8 inches long. The sandwich itself is then sometimes dipped in the juice before being topped with various items. Most people prefer sweet peppers and/or hot or mild giardinaira on there sandwich. Others might choose sport peppers or cheese like provolone or mozzarella. It all depends on what combination of flavors you enjoy the most. Traditionally it is just sweet peppers and giardinaira.
Chicago-Style Giardinaira is a condiment which is made with Serrano peppers, green olives, carrots, cauliflower, celery, bell peppers and pimentos. Then it is jarred and marinated in vegetable or olive oil. True traditional Italian giardinaira is usually mild and pickled in white wine vinegar and consists of onions, zucchini, cauliflower, carrots and celery. It is commonly served with salads or eaten as an antipasto. Since its creation, Chicago-Style giardinaira is usually found on Italian beef and sausage sandwiches. It is also great with meatball or sub sandwiches and especially tasty on top of pizza.
The Chicago-Style Italian Beef Sandwich was created on the Southside of Chicago sometime in the early 1900's. As one story goes, it was an Italian immigrant named Pasqual Scala, a butcher and sausage maker, who popularized the sandwich during the depression. During this time, thin slices of beef served on a roll could feed a large number of people. This proved to be very economical and soon after Italian beef sandwiches were being served at weddings and political events all over Chicago. Though some will debate this story, you can not think of an Chicago Style Italian Beef Sandwich without thinking of the Scala Beef Company. They are now the largest suppliers of beef to the many of of Chicago's most famous beef stands.
Many people who grew up in Chicago and relocated to other parts of the county, crave the taste of a high quality beef sandwich. Unfortunately in States such as Florida, Texas, Arizona and California, the sandwich is almost impossible to be found anywhere. Your best bet under these circumstances is to re-create the taste of a Chicago-Style beef sandwich in your own home. Thanks to the availability of a slow cooker or crock pot it is very easy to make as long as you have the right balance of seasoning to flavor the meat. Of course you can choose the traditional slow roasted oven method which will also produce a great sandwich.
The internet provides a great variety of Chicago-Style Italian Beef Sandwich recipes. The seasoning choices and the amounts used differs from recipe to recipe. Some use three ingredients while others use eight ingredients. After a while of trial and error you will come up with a perfect balance of flavors. That is exactly what we did at Great Chicago Italian Recipes.com. We combined a variety of our favorite ingredients until we found the best balance of herbs and spices needed to re-create the perfect sandwich.
Chicago-Style Italian Beef Seasoning eliminates the need for trial and error. We have combined the right balance of flavors in order to create a consistent beef sandwich every time you make it. The seasoning produces a beef sandwich that not only tastes great but will bring back many fond memories of Chicago.
Our Chicago-Style Italian Beef Seasoning is currently available online only. Along with the bottle of seasoning you will receive two beef sandwich recipes. One is the slow cooker method and the other is the slow oven roasted method. Both are delicious. Enjoy "Re-Creating a Perfect Chicago-Style Beef Sandwich".
"Like" "Chicago-Style Italian Beef Seasoning" on Facebook.

---
---
Don't forget to click on the logo below and subscribe to my
NEW NEWSLETTER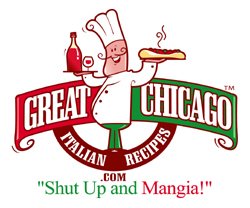 That's a discovery! That's Italian! Thats
Great-Chicago-Italian-Recipe.com
---
Leave Re-Creating a Perfect Chicago-Style Italian Beef Sandwich and Return to Italian Recipes

Leave Re-Creating a Perfect Chicago-Style Italian Beef Sandwich and Return to Italian Food Tips and Info

---
---
Home | The Italian Grocer | Italian Heritage | Italian Chefs | New Contest | What's New | Restaurant Reviews | Your Reviews | Appetizer Recipes | Soup Recipes | Salad Recipes | Bread Recipes | Vegetable Recipes | Pasta Recipes | Poultry Recipes | Beef Recipes | Pork Recipes | Veal Recipes | Lamb Recipes | Seafood Recipes | Pizza Recipes | Cooking for Kids | Italian Cheese | Italian Wine | Dessert Recipes | Coffee and Espresso| Italian Dinner Music | Food Glossary | About the Cook | Sitemap | Share This Site | Contact | Privacy Policy | Disclaimer | Submit Your Recipes | Your Italian Recipes | Archived Menus
Copyright 2014 by Great Chicago Italian Recipes.com, All Rights Reserved