Savory Polenta
---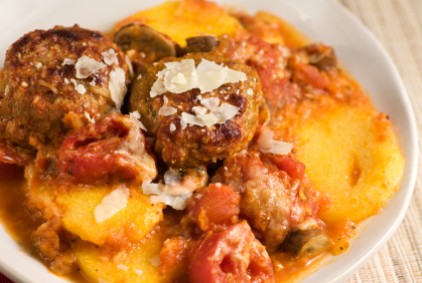 ---
Creamy
Characterizing this
Savory Polenta
as Italian peasant food has dramatically changed over the years.  The simplicity and versatility of this Northern Italian staple now graces the menus of many fine dining establishments.
The history of polenta expresses the history of the Italian people.  It is a very ancient dish that was once made with grains or chickpeas before the introduction of corn in the late 1700's.  Even though bread was widely available in Ancient Rome, polenta was still widely consumed in either a soft creamy form or a hard cake like form much like it is today.
Traditionally this Savory Polenta is placed on a spianatoia (pastry board) and placed in the center of the table to be shared by all.  Each person would start eating on the outside and work there way toward the delicious center which was topped with a pork ragu or sausage.
Today polenta is served in some of the finest restaurants throughout the world and goes very  well with braised dishes such as Osso Bucco, Lamb Shanks,  Short Ribs and Oxtail.  It can also be  baked, grilled or fried and served with Rack of Lamb, grilled vegetables, poultry or seafood.   It can be infused with olive oil, seasoned with herbs and spices, mixed with cheeses and topped with almost anything you could imagine.  Everyday, Chefs are conjuring up different ways to serve this very simple staple.
Though the creation of instant polenta expedites its making, experts agree that the best way to cook polenta is to cook it slowly in a paiolo (copper pot) while constantly stirring  with a wooden spoon until the edges pull away from the pot and it's ready to be served.  This process usually takes around an hour but it is well worth the extra effort to ensure the quality of flavor.
Savory Polenta has defied its humble beginnings.  The people of Italy who had to make due with what they had,  left us a rich versatile dish that  is not only filling but flavorful.
INGREDIENTS
3 cups of water or 4 cups for a creamier polenta
1/2 tsp of salt
1 cup of polenta (cornmeal)
1/2 cup of fresh grated Parmesan

PREPARATION
In a heavy saucepan bring the water and salt to a boil.
Gradually whisk in the cornmeal in a stream.
Lower the heat and cook the polenta while stirring constantly until it is very thick and pulls away from the sides of the saucepan.  About 40 to 50 minutes. Plate and sprinkle with Parmesan.

You are now ready to serve it with your favorite topping..  Enjoy!

Mangia Italiano!



---
Don't forget to click on the logo below and subscribe to my
NEW NEWSLETTER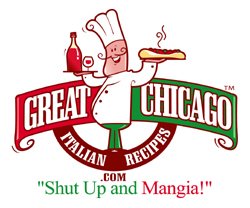 That's a discovery! That' Italian! That's
Great-Chicago-Italian-Recipes.com
Leave Savory Polenta and Return to Italian Recipes
Leave Savory Polenta and Return to Best Tasting Pasta Recipes
---