Shrimp Parmesan
---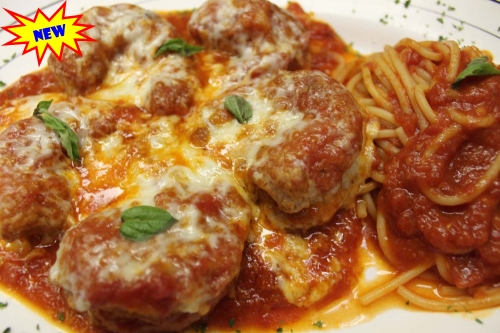 ---
Spicy Shrimp

I was trying to figure out something different to do with fried shrimp when I decided to try a Shrimp Parmesan recipe. Never had it before and I totally fell in love with it. Why not? What's not to love? Crispy seasoned shrimp smothered in a delicious spicy red gravy and topped with melted fresh mozzarella and fontina cheese.
I first mix the Italian breadcrumbs and the Panko breadcrumbs together with a little seasoning and Parmesan cheese. This create a nice crisp crusting on the shrimp before baking in the oven. The spiciness of the gravy enhances the flavor of the shrimp and then topping it with the mozzarella, fontina mixture rounds it out
Serve with a crusty Italian bread and a nice bottle of wine. Two great Sicilian wines match this dish perfectly. The first is Fia Nobile Frappato and the second is Cerasuolo di Vittoria. Both wines are medium bodied and aromatic. The red berry base and the light tannins in these two wines, blend well with spicy tomato sauce.
Ingredients:
2 pounds of shrimp, peeled, deveined and butterflied
1 cup of flour
1/2 tsp of salt
1/2 tsp of fresh ground black pepper
2 eggs
1/4cup of milk
1 cup of Italian-Style breadcrumbs
1 cup of Panko breadcrumbs
2 Tbs of dried basil
1 Tbs of dried oregano
1 tsp of ground garlic powder
1/2 cup of fresh grated Parmesan cheese
1/4 cup of fresh Italian flat leaf parsley, chopped
Vegetable oil for frying
1 Tbs of butter
2 cups of arrabbiata sauce
10 slices of fresh buffalo mozzarella
1 cup of Fontina cheese, shredded
Directions:
Place the flour in a medium size bowl and season with salt and pepper.
In another medium size bowl whisk together the eggs and milk
In another medium size bowl mix together the breadcrumbs with the basil,oregano, ground garlic, Parmesan cheese and parsley.
Dip the shrimp in the flour mixture, then the eggs and the roll in the breadcrumb mixture and set aside.
Heat the oil and butter in a large skillet and fry the shrimp until the are crisp and browned, Around 2 minutes on each side.
Drain the shrimp on a paper towel
Place a layer of arrabbiata sauce in a large baking dish
Add a layer of shrimp and another layer of arrabiata sauce.
Top the shrimp with the mozzarella and grated Fontina cheese.
Place the baking dish under a boiler until the cheese is bubbly and slighty browned on top. Be careful not to burn the cheese.
Serves 4 people
---
---
Don't forget to click on the logo below and subscribe to my
NEW NEWSLETTER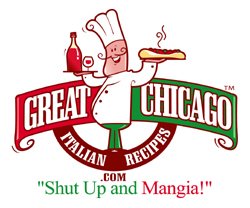 That's a discovery! That's Italian! Thats
Great-Chicago-Italian-Recipe.com
---
Leave Shrimp Parmesan and Return to Italian Recipes

Leave Shrimp Parmesan and Return to Seafood Recipes

---
---
Home | The Italian Grocer | Italian Heritage | Italian Chefs | New Contest | What's New | Restaurant Reviews | Your Reviews | Appetizer Recipes | Soup Recipes | Salad Recipes | Bread Recipes | Vegetable Recipes | Pasta Recipes | Poultry Recipes | Beef Recipes | Pork Recipes | Veal Recipes | Lamb Recipes | Seafood Recipes | Pizza Recipes | Cooking for Kids | Italian Cheese | Italian Wine | Dessert Recipes | Coffee and Espresso| Italian Dinner Music | Food Glossary | About the Cook | Sitemap | Share This Site | Contact | Privacy Policy | Disclaimer | Submit Your Recipes | Your Italian Recipes | Archived Menus
Copyright 2014 by Great Chicago Italian Recipes.com, All Rights Reserved