Terragusto Italian Cafe and Market
"An Italian Night Out"
---
---
ORGANIC ITALIAN
Early Saturday afternoon I received a phone call from my friend John from Bacchus Wines here in Chicago. He said "Be ready by 4:30 we're going out to dinner. You haven't done a review lately and you need another one." He was right I haven't been out in a while and I needed to get things done. He told me we were going to an Italian restaurant on the North side but wouldn't tell me which one.
We arrived at a place called Terragusto Italian Café and Market in the Roscoe Village neighborhood. It was a small joint with about ten tables and doesn't sell liquor so you have to bring your own bottle which a lot of people don't seem to mind now a day even though I do. Anyway, in the front window was a pasta making area where they make fresh pasta daily plus all the dishes are made completely with organic ingredients. Nice surprise, I knew I was in for something different from the start.


While we waited for our friend Chuck from Oenos Wine Imports to arrive John opened a non-vintage De Favari Prosseco, a very nice sparkling wine to start off the evening. He also decanted a 1996 bottle of Castelle Di Rampole Sammarco which was excellent with our first course. When Chuck arrived he brought a 2005 bottle of Thursten Wolf Vinognor Pinot Gris and the highlight of the evening, a 1979 Bruno Giacosa Barbaresco. There's definitely an advantage to dining with two wine connoisseurs.


Now on to the food. Like traditional Italian dining , the food is served in courses. Terragusto recommends sharing and so do I. This is a great way for everyone to try the different dishes they have to offer. We started with an appetizer combination which was served with a nice crostini (grilled bread rubbed with olive oil). The appetizers were good but uneventful. A simple plate of fresh mozzarella, mussels, hard boiled eggs and fresh shredded vegetables were served with some delicious roasted brussel sprouts.


We had our choice of three pasta dishes and two meat or fish dishes. We decided on the "Tagliatelle con Patate, Fagiolini, Nocciola e Pecorino Romano" which is whole grain tagliatelle pasta with potatoes, green beans, and walnuts topped with a salty aged sheep's milk cheese. I was different in texture and not full of flavor though the pasta was cooked to perfection. Next we tried the "Pasticcio alla Gnocchi di Semola" which seemed like I couldn't get enough of. This dish of semolina Swiss chard dumplings baked with sage, sweet gorgonzola and parmigiano cheese was a nice change from some of the Italian meals I've ate. The best part of the whole dinner was the unbelievable "Pasta alla Bolognese". All three of us agreed that this tagiatelle pasta dish with its creamy four meat sauce, tomatoes, red wine and parmigiano cheese was the best any of us ever had.


We also ordered the skirt steak and the pork which was served with yellow squash and grilled polenta. Again we all agreed it was good but uneventful. The meats just were not seasoned in the true Italian tradition which we were accustom too. Dessert was simple as it should be. The bread pudding was least desired but the maple cream panna cotta with julienne cut Granny Smith apples truely topped off the meal.


Would I eat at Terragusto again? Yes! Chef Theo Gilbert is exceptionally creative and the menu does change every week. Remember if you decide to go, make reservations in advance. The place is small and difficult to get into.


Terragust Italian Café and Market
1851 West Addison
Chicago, Illinoi 60613
1-773-248-2777

---
Don't forget to click on the logo below and subscribe to my
NEW NEWSLETTER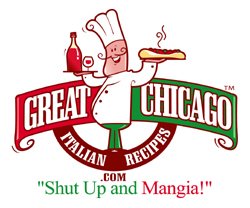 That's a discovery! That's Italian! That's
Great Chicago Italian Recipes.com
---
Leave Terragusto and Return to Italian Recipes

Leave Terragusto and Return to Italian Restaurant Reviews
---
---
Home | The Italian Grocer | Italian Heritage | Italian Chefs | New Contest | What's New | Restaurant Reviews | Your Reviews | Appetizer Recipes | Soup Recipes | Salad Recipes | Bread Recipes | Vegetable Recipes | Pasta Recipes | Poultry Recipes | Beef Recipes | Pork Recipes | Veal Recipes | Lamb Recipes | Seafood Recipes | Pizza Recipes | Cooking for Kids | Italian Cheese | Italian Wine | Dessert Recipes | Coffee and Espresso| Italian Dinner Music | Food Glossary | About the Cook | Sitemap | Share This Site | Contact | Privacy Policy | Disclaimer | Submit Your Recipes | Your Italian Recipes | Archived Menus