Great Italian Chefs
featuring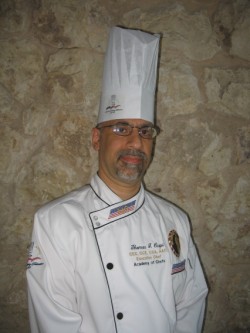 Executive Chef Thomas G. Ciapi
(GreenRidge at Buckner Villas)
---
Heritage
It has been said that people who can't do, teach. This is definitely not the case for Chef Thomas G. Ciapi who is capable of doing and teaching. With almost thirty years experience in the industry, Chef Ciapi is an Executive Chef, Certified Culinary Educator, Certified Culinary Administrator and an inductee in the acclaimed American Academy of Chefs.
In the dedication from his new book, "Tastes and Tales of Sicilian Cookery: A Back to Queens Cookbook", Chef Ciapi states,
"This book is dedicated to Grandpa Renda, the Foundation of my Heritage and of whom I am very proud. He captured the present with his lovely technique, not only for cooking, but also for life. To my parents, who believed in their Heritage and for the life they shared with their children as Italians. To my better half, my wife, Lisa Marie, and to my daughter, Danielle Nicole, my pride and joy! My dearest wish is to pass on my Heritage to you both, the delights of my life. For the Almighty above, I thank You for everything, for the changes, the wonders, and most of all the acceptance of life. To my brother, Steve, for helping me on this project financially and for your wonderful words of encouragement.. Thank you. To the simplicity of cooking and to those who have the passion for it. And finally, to my growing-up friends of yesteryear who gave me the renewed desire to finish this simple Heritage Cookbook."
This alone sums up his passion for cooking, family and friends. For this and your commitment to sharing your knowledge and experience with the rest of us we salute you. I'm truly looking forward to making your recipe for "Braised Texas Hill Country Provincial Lamb Shanks".
Thank You,
Phillip J. Speciale
---
Chefs Bio
Chef Thomas G. Ciapi is of Italian decent and was born in Queens N.Y.. His love for cooking started early in life and he determined then that the hospitality and culinary industry was for him. After he completed an apprenticeship program from the American Culinary Federation in 1984 from Houston, Texas he became a certified cook.
In 1988, Chef Ciapi became a certified working chef. He also became an avid ice carver as the years had progressed. In 1990 he became a Certified Culinary Educator and was teaching the Chefs Apprenticeship Program in Austin, Texas which started his tenure in 1987. He taught for 10 years and was also the chapter's apprenticeship chairman for 10 years
In 1994, Chef Ciapi became a Certified Executive Chef and has been working on advanced skills for the last 20 years. He was able to obtain a certification with the National Restaurant Association in 1995, his certification as Culinary Administrator in 2004, and induction into the American Academy of Chefs in 2005 .
Chef Ciapi went on to achieve many trophies, awards, and medals in culinary competitions throughout Texas. His work experience is diverse. He has worked in Private Clubs, Resorts, Hotels, Business and Industry, and also has been in the private sector for Assisted Living and Long Term Care. His teaching skills have helped his profession in the teaching sector as well in the health sector and he will soon be lecturing for culinary schools throughout the United States.
His background has helped him contribute to others who want to learn and work in the culinary profession and to achieve higher goals in learning. He has published two new books. The first entitled "An American Chefs Dream" that was published about the hospitality industry and the second book, "Tastes and Tales of Sicilian Cooking" is a compilation of his favorite family recipes which he dedicated to his beloved Grandpa Renda. Chef Ciapi states, "I am willing to teach those who have their hearts set on becoming a professional in the industry."
He has a wonderful daughter and a significant other in his life who he gives more to now than he has in the past thanks to a profession he truly loves. They now live and reside in the Texas Hill Country.


View Chef Thomas Ciapi's recipes for "Braised Texas Hill Country Provincial Lamb Shank, served with Roast Vegetable Risotto, Seasoned Broccolini, Pan Roasted Tomatoes, and Grilled Squash Rosemary Garnish"
Don't forget to click on the logo below and subscribe to my
NEW NEWSLETTER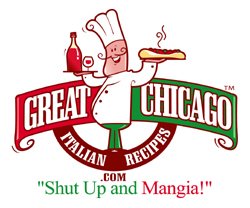 That's a discovery! That' Italian! That's
Great-Chicago-Italian-Recipes.com
Leave Thomas Ciapi and Return to Italian Recipes
Leave Thomas Ciapi and Return to Great Italian Chefs
---
---
Home | The Italian Grocer | Italian Heritage | Italian Chefs | New Contest | What's New | Restaurant Reviews | Your Reviews | Appetizer Recipes | Soup Recipes | Salad Recipes | Bread Recipes | Vegetable Recipes | Pasta Recipes | Poultry Recipes | Beef Recipes | Pork Recipes | Veal Recipes | Lamb Recipes | Seafood Recipes | Pizza Recipes | Cooking for Kids | Italian Cheese | Italian Wine | Dessert Recipes | Coffee and Espresso| Italian Dinner Music | Food Glossary | About the Cook | Sitemap | Share This Site | Contact | Privacy Policy | Disclaimer | Submit Your Recipes | Your Italian Recipes | Archived Menus