Tips on Making Perfect
Pasta Every Time
---
---
Perfect Pasta

Pasta is an essential staple when it comes to Italian food and cooking. There are a large variety of different kinds of entrees and pasta meals you can prepare which include spaghetti, manicotti, lasagna and a basic penne pasta. It doesn't matter which type of pasta you make, there are still some basic steps to follow to insure that your pasta is perfect every time.
The most important part of enjoying a great Italian meal if to make sure the pasta is cooked properly. Under cooked the pasta will remain hard, over cooked pasta will become mushy. Both can ruin the entire meal no matter what type of sauce you serve it with. You want the pasta to be al dente or to the tooth. Not to hard and not to soft but a little in between. Fresh pasta is always best but dried pasta works just as well.
The main thing to remember is each kind of pasta cooks on a different time frame. Where as penne pasta may cook in 9 to 13 minutes a thicker rigatoni type pasta will cook in 12 to 15 minutes. Noting the difference in time and pasta types is a tremendous tip. I have compiled a list of pasta cooking times below so you can get a better idea of how long it might take to cook a particular pasta. Look at the cooking times and monitor the pasta closely.
To begin, bring around 6 quarts of water to a rapid boil. Once the water is boiling add some salt and wait a few minutes before adding the pasta. When the pasta is done, totally immerse the pasta into the sauce so the noodles absorb all the flavors. Pasta is like a sponge it soaks up whatever they are surrounded in.
When the pasta is done, drain the water in a large colander and shake the excess water out. There is nothing worse than pasta and gravy sitting in a puddle of water. Place the pasta in a pasta bowl and toss in the sauce and mix to blend the flavors of the two together. This allows you to get a true Italian pasta flavor.
We have some great pasta recipes on our site. So give it a try and soon you will be preparing that perfect pasta dish. Enjoy!
Dried Pasta Cooking Times
Acini de pepe – 5 to 6 minutes     

Cappellini

Egg Noodles – 8 to 10 minutes

Elbow Macaroni – 8 to 10 minutes

Farfalle – 13 to 15 minutes

Fettuccine – 11 to 13 minutes

Fusilli – 11 to 13

Lasagna – 12 to 15 minutes

Linguini – 9 to 13 minutes

Mafalda – 8 to 10 minutes

Manicotti – 10 to 12 minutes

Mostaccioli - 12 to 14 minutes
Penne – 9 to 13 minutes

Radiatore – 9 to 11 minutes

Rigatoni – 12 to 15 minutes

Rosamarina – 8 to 10 minutes

Rotelle – 10 to 12

Rotini – 8 to 10 minutes

Shells (Jumbo) – 12 to 15 minutes

Shells (Medium or Small) – 9 to 11 minutes

Spaghetti – 8 to 10 minutes

Vermicelli – 5 to 7 minutes

Ziti – 14 to 15 minutes
Fresh Pasta Cooking Time
Capellini – 1 to 2 minutes

Farfalla – 2 to 3 minutes
Fettuccine – 1 to 2 minutes

Linguine – 1 to 2 minutes

Ravioli – 6 to 8 minutes

Tortellini – 8 to 10 minutes
---
---
Don't forget to click on the logo below and subscribe to my
NEW NEWSLETTER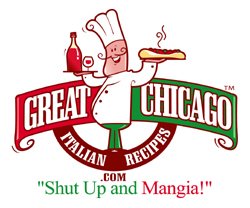 That's a discovery! That's Italian! Thats
Great-Chicago-Italian-Recipe.com
---
Leave Tips on Making Perfect Pasta Every Time
Leave Tips on Making Perfect Pasta Every Time
---
---
Home | The Italian Grocer | Italian Heritage | Italian Chefs | New Contest | What's New | Restaurant Reviews | Your Reviews | Appetizer Recipes | Soup Recipes | Salad Recipes | Bread Recipes | Vegetable Recipes | Pasta Recipes | Poultry Recipes | Beef Recipes | Pork Recipes | Veal Recipes | Lamb Recipes | Seafood Recipes | Pizza Recipes | Cooking for Kids | Italian Cheese | Italian Wine | Dessert Recipes | Coffee and Espresso| Italian Dinner Music | Food Glossary | About the Cook | Sitemap | Share This Site | Contact | Privacy Policy | Disclaimer | Submit Your Recipes | Your Italian Recipes | Archived Menus
---
Copyright 2014 By Great Chicago Italian Recipes.com, All Rights Reserved