Great Italian Chefs
featuring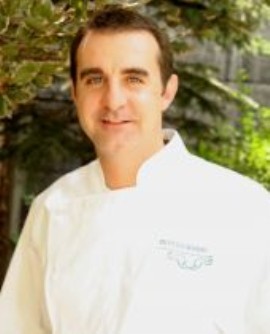 Executive Chef Tony Priolo
Chef/Owner of Piccolo Sogno
---
Little Dream
For years Piccolo Songo's Chef/Owner Tony Priolo has been honing his craft. His food and his creative style has been deemed "One of a Kind" by many in the industry. He has been developing dishes that can only be created through his dedication and passion for Italian food.
I would like to thank Chef Priolo for allowing me to share his story and his recipe for "Branzino con Sale". I've been trying to make it over to Piccolo Sogno all summer. Hopefully I'll be able to stop by soon.
Phillip J. Speciale
---
Chef Tony Priolo, former chef/partner at Chicago's Coco Pazzo and Coco Pazzo Cafe, together with Italian wine specialist Ciro Longobardo, opened Piccolo Sogno on July 16, 2008. Piccolo Sogno, which translates to "little dream" in Italian, is Priolo and Longobardo's dream restaurant featuring fresh, seasonal, rustic Italian cuisine and an all-Italian wine program. Crain's Chicago Business named Piccolo Sogno one of its "Best Restaurants for Business 2010."
Chef's Bio
Tony Priolo has known since childhood that he wanted to be a chef. Growing up in Chicago, he started cooking at the age of eight with his Sicilian grandmother in her kitchen on the Northwest Side of the city, and his first restaurant job was as a 16-year-old prep cook in an Italian restaurant near his house. He went on to graduate at the top of his class from the Cooking and Hospitality Institute of Chicago in 1989, and quickly dived into Chicago's competitive Italian restaurant scene.
Priolo's style of simply-prepared Italian food caught the attention of Chicago restaurant critics and diners in 1997, when he opened Coco Pazzo Café as the Executive Chef. After a year, he moved over to become Executive Chef at the flagship Coco Pazzo, and later was made partner in both restaurants. During his time with Coco Pazzo, he traveled to Italy regularly, and even worked for a short time at Da Delfina, a Michelin two-star country restaurant in Tuscany, with famed Chef/Owner Delfina Cioni.
Under Priolo's direction, Coco Pazzo was honored by many leading food organizations. It won the AAA Four Diamond and DiRona awards, and received high ratings by local and national restaurant critics from the Chicago Tribune, La Cucina Italiana, Zagat and Fodor's. Priolo also has been a regular guest on Chicago television stations, and is known for his support of local charities, including Meals on Wheels Chicago, St. Jude's Hospital and the Cystic Fibrosis Foundation.
Priolo brings his rustic, clean cooking style to Piccolo Sogno. His philosophy is to find the best ingredients possible for his guests, and he sources specialty items, including heirloom vegetable seeds from local organic farmers, fish from the Mediterranean, Italian "00" pizza flour, San Marzano tomatoes and mozzarella from Naples. He says it's all part of providing his guests with a true Italian dining experience.


View Chef Tony Priolo's recipe for "Brazino con Sale".
Don't forget to click on the logo below and subscribe to my
NEW NEWSLETTER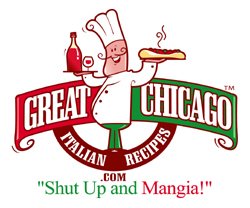 That's a discovery! That' Italian! That's
Great-Chicago-Italian-Recipes.com
Leave Tony Priolo and Return to Italian Recipes
Leave Tony Priolo and Return to Great Italian Chefs
---
---
Home | The Italian Grocer | Italian Heritage | Italian Chefs | New Contest | What's New | Restaurant Reviews | Your Reviews | Appetizer Recipes | Soup Recipes | Salad Recipes | Bread Recipes | Vegetable Recipes | Pasta Recipes | Poultry Recipes | Beef Recipes | Pork Recipes | Veal Recipes | Lamb Recipes | Seafood Recipes | Pizza Recipes | Cooking for Kids | Italian Cheese | Italian Wine | Dessert Recipes | Coffee and Espresso| Italian Dinner Music | Food Glossary | About the Cook | Sitemap | Share This Site | Contact | Privacy Policy | Disclaimer | Submit Your Recipes | Your Italian Recipes | Archived Menus