Trattoria No. 10
"An Italian Night Out"
---
---
DOWNTOWN ITALIAN
Trattoria No. 10 has been a Chicago favorite since 1989. It's a great place to stop before the theater or after work. This place has a great bar, an elegant atmosphere and serves many original Italian dishes under the direction of Executive Chef Douglas D'Avico. If you work downtown or are just visiting the city, they have a marvelous bar buffet between 5:00 and 7:30 p.m.. The buffet includes shrimp cocktail, antipasti, pastas and salads. Perfect for an after work get together.
I went there for the first time with my two wine experts John and Chuck and we met another guy who's opening a wine store. Needless to say I was out of my league when it came to the conversation but I'm still learning. They brought a few bottles for dinner and ended up ordering one off the menu. We started off with Ferarri Brut, a nice non vintage Italian sparkling wine. After that we drank a bottle of 1999 Zine Humbrecht Riesling and ended up with a great bottle of 2001 Brolio Barolo for dinner.
Dinner was excellent. Trattoria No. 10 specializes in homemade ravioli, seafood, fresh risotto and pastas. The risotto with smoked mozzarella, spinach and Parmigiano Reggiano served with four slices of tender skirt steak was to die for. I just couldn't get enough of this wonderful dish. The smoked flavor of the mozzarella just set this dish apart from any other. Executive Chef Doug D'Avico was nice enough to share this Risotto with Grilled Skirt Steak recipe. Thanks Chef, I appreciate it.
Along with the risotto we ordered the farfalle pasta with duck confit, asparagus, mushrooms, pearl onions and pine nuts. Both dishes were a great choice before the entrees arrived.
Two of our guests order filets which you don't particularly need to go to an Italian restaurants to order. If I want steak I'll go to one of our many excellent steak houses in the city, not to an Italian restaurant.
One of my friends ordered the veal scaloppini which was cooked to perfection. Served with roasted asparagus, artichokes, sage and lemon garlic and wine, this dish is an excellent choice for anyone who loves veal.
I finally decided on the cavatappi pasta with beef tenderloin, mushrooms, roasted red onions, red wine and parmesan cheese. Though a little oily for my taste, it was still almost as good as the risotto.
A great place in the heart of downtown Chicago.
Trattoria No. 10 is located at 10 North Dearborn. Their menu changes daily but you can visit their site at www.trattoriaten.com for more information and reservations.
---
Don't forget to click on the logo below and subscribe to my
NEW NEWSLETTER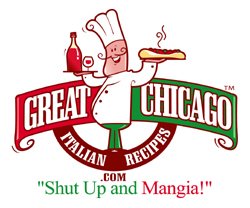 That's a discovery! That's Italian! That's
Great Chicago Italian Recipes.com
---
Leave Trattoria No. 10 and Return to Italian Recipes

Leave Trattoria No. 10 and Return to Italian Restaurant Reviews
---
---
Home | The Italian Grocer | Italian Heritage | Italian Chefs | New Contest | What's New | Restaurant Reviews | Your Reviews | Appetizer Recipes | Soup Recipes | Salad Recipes | Bread Recipes | Vegetable Recipes | Pasta Recipes | Poultry Recipes | Beef Recipes | Pork Recipes | Veal Recipes | Lamb Recipes | Seafood Recipes | Pizza Recipes | Cooking for Kids | Italian Cheese | Italian Wine | Dessert Recipes | Coffee and Espresso| Italian Dinner Music | Food Glossary | About the Cook | Sitemap | Share This Site | Contact | Privacy Policy | Disclaimer | Submit Your Recipes | Your Italian Recipes | Archived Menus