Trippa alla Romano
---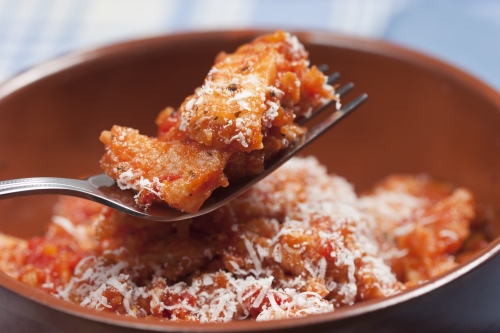 ---
ROMANS KNOW BEST
Trippa alla Romano is a classic Roman dish. Tripe can be prepared a dozen ways depending on the region. In Florence, tripe braised with tomato and marjoram is called Lampredotto. Tripe made in the Emilia Romangna region uses nutmeg among it's ingredients and the region of Piedmont prefer their tripe with sautéed mushrooms on the side. As you can see the variations are endless.
What makes Trippa alla Romano so delicious is the Pecorino Romano used to finish the dish. Pecorino Romano is an ancient cheese which is made from fresh sheep's milk. The cheese is typically aged for eight months and has a delicious sharp flavor. Yes, it's expensive but well worth the investment.
The mint leaves used in this dish truly set it apart from other recipes. I love this dish but rarely make due to the fact that I can't get my wife and kids to try it. So sometimes I go off by myself and selfishly make it just for me.

INGREDIENTS
3lbs of beef honeycomb tripe
1/4 cup of extra virgin olive oil
1 large yellow onion, chopped
3 carrots, chopped
3 stalks of celery, chopped
2 cloves of garlic, chopped
1/4 tsp of salt
1/2sp of fresh ground black pepper
1/2cup of dry white wine
2 15oz cans of crushed tomatoes
2 cups of cold water
1/2cup of fresh mint leaves
Shaved Pecorino Romano cheese

PREPARATION
Trim the fat from the tripe.
Rinse the tripe under cold water.
Then soak the tripe in a bowl of cold water for around an hour.
Rinse again.
Put the tripe in 8 quarts of boiling water then drain and rinse again.
Re-fill the pot with more fresh water and bring to a boil.
Add the tripe and reduce the heat simmer for around four hours adding more water if needed.
Drain the tripe and cool completely.
In a large pot sauté the onions, carrots, celery and garlic until tender. About 3 minutes.
Season with the salt and pepper
Add the wine and bring to a boil for about 1 minute while stirring.
Add the tomatoes to the vegetable mixture with 2 cups of cold water and the mint leaves.
Simmer uncovered for about a half hour.
Trim any remaining fat from the tripe and cut the tripe into 1 and a half inch strips.
Add the tripe to the sauce and simmer for around an hour.

Plate the tripe and serve it topped with the shaved Pecorino Romano. Tripe can also be served over your favorite pasta.

Serves 4 people.




---
Don't forget to click on the logo below and subscribe to my
NEW NEWSLETTER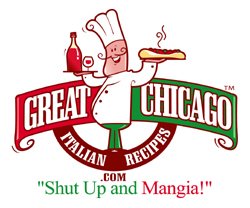 That's a discovery! That's Italian! That's
Great Chicago Italian Recipes.com
Leave Trippa alla Romano and Return to Italian Recipes

Leave Trippa alla Romano and Return to Italian Beef Dishes
---
---
Home | The Italian Grocer | Italian Heritage | Italian Chefs | New Contest | What's New | Restaurant Reviews | Your Reviews | Appetizer Recipes | Soup Recipes | Salad Recipes | Bread Recipes | Vegetable Recipes | Pasta Recipes | Poultry Recipes | Beef Recipes | Pork Recipes | Veal Recipes | Lamb Recipes | Seafood Recipes | Pizza Recipes | Cooking for Kids | Italian Cheese | Italian Wine | Dessert Recipes | Coffee and Espresso| Italian Dinner Music | Food Glossary | About the Cook | Sitemap | Share This Site | Contact | Privacy Policy | Disclaimer | Submit Your Recipes | Your Italian Recipes | Archived Menus