Veal Braciola
---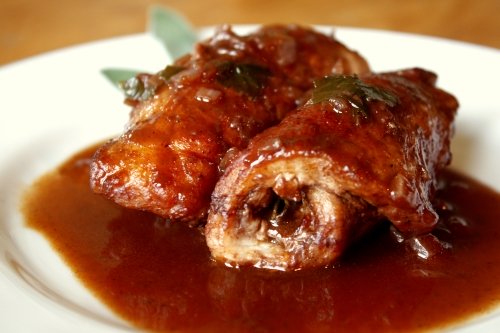 ---
Rolls
Veal Braciola is tender veal cutlets rolled up with a delicious filling and braised until fork tender in you favorite tomato sauce. My Grandmother's recipe uses beef or specifically flank steak. I prefer making both types of braciola when family and friends come to visit.
The word braciola means many things depending on the region. They can mean cutlets or rolled up scallops. In this recipe it means rolled up and stuffed with pine nuts, Romano cheese, prosciutto and other ingredients that make up an excellent side dish to accompany pasta or a main dish all by itself.
This Veal Braciola recipe is easy to make and very impressive at the dinner table. Enjoy!
INGREDIENTS
8 pieces of veal cutlets, pounded thin
1/2 cup of fresh grated pecorino Romano cheese
1/2 cup of pine nuts
1/4 cup of currants
4 oz of prosciutto, chopped
1 cup of fresh Italian flat leaf parsley, chopped
4 cloves of garlic, chopped
3 eggs
1/2 tsp of salt
1/2 tsp of fresh ground pepper
3 Tbls of extra virgin olive oil
2 oz of pancetta, diced into small pieces
1 large yellow onion. Chopped
2 15oz cans of tomato sauce
2 cups of red wine
1 tsp of dried basil
1/2 tsp of dried oregano

PREPARATION
In a large bowl mix together the cheese, currants, prosciutto, parsley, eggs and garlic.
Divide the mixture among the 8 pieces of veal.
Roll the veal up and tie with butchers twine so that none of the filling falls out.
Season with salt and pepper.
In a large casserole dish sauté the pancetta for 2 minutes.
Add the onions and sauté for another 2 minutes.
Remove the pancetta and onion with a slotted spoon and set aside.
Add the veal and brown on all sides then remove from the pot and set aside.
Deglaze the pan with the wine.
Add the tomato sauce and bring to a boil.
Add the veal, onions and pancetta back to the pan.
Season with basil and oregano, cover and simmer for about 1 hour until fork tender.

Serves 4 to 6 people



---
Don't forget to click on the logo below and subscribe to my
NEW NEWSLETTER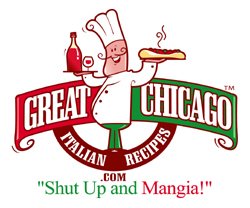 That's a discovery! That' Italian! That's
Great-Chicago-Italian-Recipes.com
Leave Veal Braciola and Return to Italian Recipes
Leave Veal Braciola and Return to Italian Veal Dishes
---
---
Home | The Italian Grocer | Italian Heritage | Italian Chefs | New Contest | What's New | Restaurant Reviews | Your Reviews | Appetizer Recipes | Soup Recipes | Salad Recipes | Bread Recipes | Vegetable Recipes | Pasta Recipes | Poultry Recipes | Beef Recipes | Pork Recipes | Veal Recipes | Lamb Recipes | Seafood Recipes | Pizza Recipes | Cooking for Kids | Italian Cheese | Italian Wine | Dessert Recipes | Coffee and Espresso| Italian Dinner Music | Food Glossary | About the Cook | Sitemap | Share This Site | Contact | Privacy Policy | Disclaimer | Submit Your Recipes | Your Italian Recipes | Archived Menus