Veal Marengo
---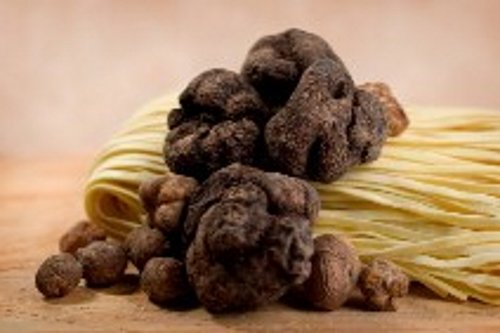 ---
TENDER VEAL
Veal Marengo originated in the Northwest Piedmont region of Italy. The beautiful region of Piedmont is known for its marvelous wines, excellent cuisine and very expensive white truffles. This tender veal dish is made with a rich sauce which compliments the veal very well.
The month of October begins the hunt for one of the most expensive foods in the world. The delicious white truffle, which reaches prices of over one thousand dollars a pound, is a delicacy which can be found in many Piedmontese dishes including pastas, meat and poultry. Obviously the white truffle is optional for this dish. If your lucky enough to be able to purchase them, then please shave some on the top of the veal before serving.
This Veal Marengo dish is unbelievable. The veal, seasoned with thyme and tarragon and cooked with white wine and plum tomatoes, would be perfect served with a nice bottle of Borolo. The only problem with this dish is your guests may never leave.
INGREDIENTS
4 pounds of veal shoulder, cubed
1 cup of flour for dredging
1 green bell pepper, chopped
1 red bell pepper, chopped
2 large yellow onion, chopped
10 baby Portobello mushrooms, sliced
4 cloves of garlic, crushed
1/4 cup of olive oil
2 cups of dry white wine
1 cup of chicken stock
2 15oz cans of diced plum tomatoes
1 tsp of dried tarragon
1 tsp of dried thyme
2 bay leafs
1/2 tsp of salt
1/2 tsp of freshly ground black pepper
1/2 cup of fresh flat leaf parsley, chopped
1 white truffle (optional but recommended)
1 pound of linguini (optional)



PREPARATION
Dredge the veal in the flour and set aside.
In a large skillet or casserole dish sauté the veal in half of the oil until browned on all sides.
Remove the veal from the skillet.
Sauté the onions, peppers and garlic in the rest of the oil until tender.
Bring the wine and the broth to a boil, reduce and simmer for ten minutes.
Add the veal and tomatoes to the pan.
Season with the salt, pepper, thyme, tarragon and bay leaf.
Cover and cook for 45 minutes.
Add the mushrooms and cook for another 15 minutes.
Plate the veal and garnish with the chopped parsley.
Serve with shaved white truffles on top.
Serve over linguini (optional)

Serves 8 to 10 people.




---
Don't forget to click on the logo below and subscribe to my
NEW NEWSLETTER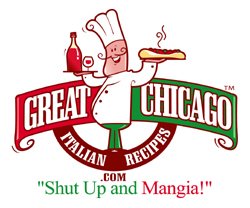 That's a discovery! That's Italian! That's
Great Chicago Italian Recipes.com
Leave Veal Marengo and Return to Italian Recipes
Leave Veal Marengo and Return to Italian Veal Dishes
---
---
Home | The Italian Grocer | Italian Heritage | Italian Chefs | New Contest | What's New | Restaurant Reviews | Your Reviews | Appetizer Recipes | Soup Recipes | Salad Recipes | Bread Recipes | Vegetable Recipes | Pasta Recipes | Poultry Recipes | Beef Recipes | Pork Recipes | Veal Recipes | Lamb Recipes | Seafood Recipes | Pizza Recipes | Cooking for Kids | Italian Cheese | Italian Wine | Dessert Recipes | Coffee and Espresso| Italian Dinner Music | Food Glossary | About the Cook | Sitemap | Share This Site | Contact | Privacy Policy | Disclaimer | Submit Your Recipes | Your Italian Recipes | Archived Menus