Veal Scaloppini
with Morel Mushrooms
---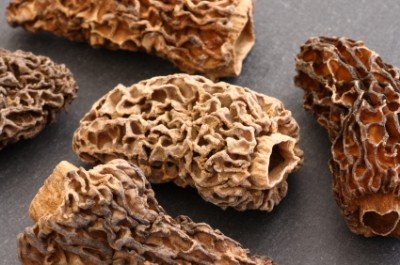 ---
THE TASTIEST OF ALL
These Veal Scaloppini with morel mushrooms and morel risotto recipes will surely delight your family and friends. You just can't get enough of these delicious little mushrooms. Yes, I am a morel junkie. Spending my rent money just to get my weekly fix would not be unusual. OK, not really, but I like them a whole lot.
Spring is almost here and morel mushroom hunting season has almost begun. Unfortunately it hasn't started for me here in Chicago. Unlike thousand of people each year who actually go into the woods searching for these mushrooms, I hunt for my mushrooms at Amazon or on Ebay.
All through the winter there are people waiting in anticipation for spring to hunt down these delectable little morsels. Not often do you find entire web sites devoted to fungi. You can actually visit the Morel Mushroom Hunting Club at www.morelmushroomhunting.com or www.thegreatmorel.com for more information regarding the adventures of morel hunting.
And let's not forget the National Morel Mushroom Festival in Boyne City, Michigan or the festival in Muscota, Wisconsin, the self acclaimed capital of morel mushrooms. Here you will find great entrees being made, songs being sung and recipes being exchanged.
If you're not lucky enough to be able to go on a hunt, just shop online like I do. You can get fresh morels shipped to you overnight when in season or you can purchase them dried and use them throughout the year, if you are willing to pay the price. Don't be surprised to pay ten dollars an ounce for these delicacies. Once you try them you'll be hooked.
So now let's get to my Veal Scaloppini and morel risotto recipes for you to enjoy.
INGREDIENTS
Veal Scaloppini
INGREDIENTS
6 slices of veal cutlets, about 1 pound
1/2 cup of flour
1/2 of a cup of chopped green onions
2 cloves of garlic chopped
1/2 cup of chopped parsley
3/4 of a cup of small dried morel mushrooms reconstituted
1/2 cup of Marsala wine
1/2 cup of chicken broth
3/4 cup of heavy whipping cream
2 Tbls of butter
2 Tbls of extra virgin olive oil
1/4 tsp of salt
1/4 tsp of fresh ground black pepper

PREPARATION
Place the veal between two sheets of wax paper and pound thin with a mallet.
Season the veal scaloppini with salt and pepper.
Dredge veal in flour.
Place 1 Tbls of butter and 1 Tbls of oil in a large skillet and sauté veal 2 minutes on each side.
Remove veal and set aside.
Add the other tablespoon of oil and butter to the skillet and sauté garlic and onions for I minute.
Add mushrooms and sauté another minute.
Add wine and chicken broth and bring to boil and reduce liquid to about half.
Stir in whipping cream.



To serve, plate the veal scaloppini and top with the creamy morel mushroom sauce.



NOTE: To reconstitute mushrooms soak in warm water for about thirty minutes. Drain liquid and dry the mushrooms thoroughly.


Morel Risotto

INGREDIENTS
1 cup of small dried morel mushrooms reconstituted and cut in quarters
1 medium sized yellow onion chopped
2 cloves of garlic chopped
4 Tbls of butter
6 cups of chicken stock
1/2 cup of Marsala wine
2 and 1/2 cups of arborio rice
1/2 cups of freshly grated parmesan cheese
1/4 tsp salt
1/4 tsp of freshly ground black pepper



PREPARATION
Pour broth in a medium size saucepan and heat to a simmer.
In a slightly larger saucepan add the butter and sauté the garlic and onions for about 1 minute.
Add rice and mix well coating the rice with the butter.
Stir in the wine until it has evaporated.
Stir in mushrooms.
Add broth 2 cup at a time and stir until broth has been absorbed.
Repeat until all the broth is used.
When rice is tender mix in parmesan cheese.

Serve on the side with the scaloppini and you may overdose on the mushrooms.
Simply delicious. Mangia!
Veal and risotto will serve 4 to 6 people.





---
Don't forget to click on the logo below and subscribe to my
NEW NEWSLETTER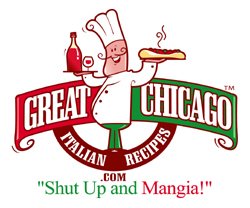 That's a discovery! That's Italian! That's
Great Chicago Italian Recipes.com
Leave Veal Scaloppini and Return to Italian Recipes

Leave Veal Scaloppini and Return to Italian Veal Recipes
---
---
Home | The Italian Grocer | Italian Heritage | Italian Chefs | New Contest | What's New | Restaurant Reviews | Your Reviews | Appetizer Recipes | Soup Recipes | Salad Recipes | Bread Recipes | Vegetable Recipes | Pasta Recipes | Poultry Recipes | Beef Recipes | Pork Recipes | Veal Recipes | Lamb Recipes | Seafood Recipes | Pizza Recipes | Cooking for Kids | Italian Cheese | Italian Wine | Dessert Recipes | Coffee and Espresso| Italian Dinner Music | Food Glossary | About the Cook | Sitemap | Share This Site | Contact | Privacy Policy | Disclaimer | Submit Your Recipes | Your Italian Recipes | Archived Menus