Venetian Glass from Murano
---
---
Artisan Glass
Located off the coast of Venice, Italy is the island of Murano. Murano, today referred  to as Glass Island, is known for centuries for its fine artisan glass.  The ancient tradition of Venetian glass making dates back to 1291.  During this time the Republic of Venice ordered glass makers to move their foundries to Murano because the foundries posed a fire threat to the mostly wooden houses of Venice.
During this period glass makers became virtual prisoners on the island to protect their techniques from being divulged to outsiders.  After all,  Murano glass making became a major source of trading income for the Venetian Republic.  Also during this time Murano glass makers were the only ones in Europe who new how to make mirrors.
This particular glass is know for its extraordinary delicate beauty.  The skills and artistry of these craftsman show in every piece created.  Today people from all over the world come to Murano workshops to see firsthand how these beautiful pieces are created.  Venetian glass is at its pinnacle, and is world renown for its quality and beauty.  This is why Murano glass has been highly collectible throughout the last ten years.
Murano glass was at the height of its popularity in the 50's and 60's.  During this time glass was exported all over the world and tourist in Venice and Murano purchased large quantities to take back home. Pieces during this period are much sought after by collectors.
While writing this I found a great site that shows you all the decorative figurines, vases and sculptures as well as other items available for purchase.  If you already collect Murano glass or are interested in starting a collection, then MuranoNet.com is a great place to visit.  Here you will find everything you need to begin your journey as a collector.
---
Don't forget to click on the logo below and subscribe to my
NEW NEWSLETTER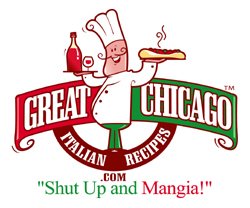 That's a discovery! That' Italian! That's
Great-Chicago-Italian-Recipes.com
Leave Venetian Glass and Return to Italian Recipes
Leave Venetian Glass and Return to The Italian Experience
---
---
Home | The Italian Grocer | Italian Heritage | Italian Chefs | New Contest | What's New | Restaurant Reviews | Your Reviews | Appetizer Recipes | Soup Recipes | Salad Recipes | Bread Recipes | Vegetable Recipes | Pasta Recipes | Poultry Recipes | Beef Recipes | Pork Recipes | Veal Recipes | Lamb Recipes | Seafood Recipes | Pizza Recipes | Cooking for Kids | Italian Cheese | Italian Wine | Dessert Recipes | Coffee and Espresso| Italian Dinner Music | Food Glossary | About the Cook | Sitemap | Share This Site | Contact | Privacy Policy | Disclaimer | Submit Your Recipes | Your Italian Recipes | Archived Menus